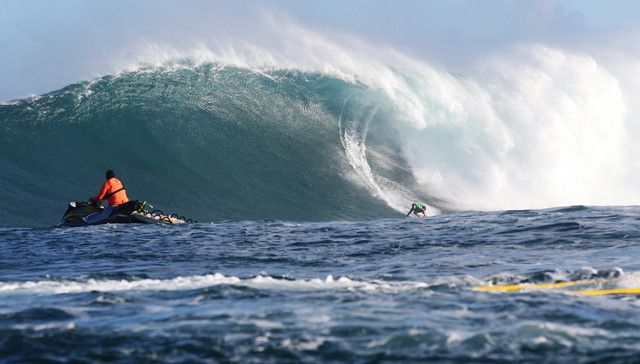 Our strong El Nino has a name, meet "Darth Nino"
Billy Kemper winning the Pe'ahi event last month © WSL/Cestari
The phenomenon is expected to peak this month before tapering off
Surf News Network, 12 January, 2016 – Both Hawaii and the U.S. West Coast are being hit with XXL swells at the moment courtesy of an unusually strong El Nino pattern that's predicted to peak in January.
The strongest el nino since 1997-98, this one's been dubbed "Darth Nino" by some meteorologists and media.
Jeff Masters of Weather Underground told Inverse that the storm battering California with rain and flooding roads with debris deserves a sinister moniker. Masters says NOAA and the National Weather Service "have to be conservative in their use of media-generated terminology," however, this name seems to be sticking.
The El Niño system has brought more than $22 billion in damages worldwide in the form of drought and wildfires and generally disrupted many, many lives, so it could be viewed as ruthless and evil. Yes, just like that Darth guy from Star Wars.
And he's still going strong. According to NOAA this El Niño will continue through the Northern Hemisphere winter 2015-16, peaking in January.
Last month NOAA said forecaster consensus remains nearly unchanged from last month, with the expectation that this El Niño will rank among the three strongest episodes (as measured by their SST departures which date back to 1950.)
El Niño has already produced significant global impacts and is expected to affect temperature and precipitation patterns across the United States during the upcoming months. Seasonal outlooks indicate an increased likelihood of above-median precipitation across the southern tier of the United States, and below-median precipitation over the northern tier of the United States. Above-average temperatures are favored in the West and northern half of the country with below-average favored in the southern Plains and along the Gulf Coast.