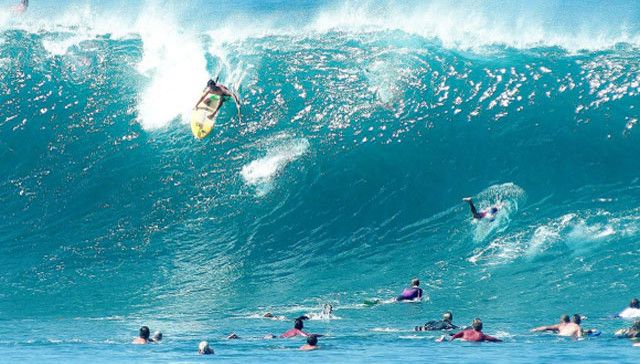 The waiting period will kick off with surf that's far too big for not only Pipe, but Sunset and frankly every 'inside' reef along the NS for Monday. The Bay will be 15-25′ at the peak of this NW with outer reefs seeing tons of action. Peahi will likely hit 30′. Surf will still be marginal for Tuesday the 5th but we'll let you know right here.
Waiting period from January 4 – 16
 Surf News Network, 1 January, 2016. 30 of Pipeline's most respected Surfers will step up to do battle at the 2016 Da Hui Shootout in Memory of Duke Kahanamoku
With the coming of the New Year, we see the return of the Da Hui Shootout in Memory of Duke Kahanamoku. Now in its 20th year, Pipeline is set to deliver in what is a holding period that is stacked with back to back WNW swells.
With 30 of the most respected Pipeline Surfers in the unique format featuring up to 6 rounds of non elimination competition, where the absolute best waves will decide who is the 2016 Shootout Champion, a prestigious title indeed.
There is no doubt that the likes of Jamie O'Brien, Mason Ho and Bruce Irons are going to be some of the leading contenders, but the depth of local talent is astonishing, mixed with a few mainland and international stars such as Bobby Martinez, Dean Morrison and Jay Davies.
The Teams represented in this year's Shootout are as follows:
Hurley
Quiksilver
Da Hui Wax Team 1
Volcom
Da Hui Wax Team 2
RVCA
North Shore Surf Shop
The whole event will be broadcast LIVE at immersedtv.com with a holding period that kicks off this coming Monday 4th January and runs until the 16th
Surfers:
Kainoa McGee (Oahu)
Nolan Keaulana (Oahu) – Art in Surf
Noa Ginella (Oahu) – Naish
Mo Freitas (Oahu) – Focus SUP
Robin Johnston (Oahu) – Coreban
Kai Lenny (Maui) – Naish
Zane Schweitzer (Maui) – Starboard
Keali'i Mamala (Big Island)
Ikaika Kalama (Big Island) – Rogue
Bullet Obra (Big Island)
Alternate List:
Caio Vaz (BRA) – Art in Surf
Justin Holland (AUS) – Starboard
Keahi de Aboitiz (AUS) – JP Australia
Sean Poynter (USA) – Starboard
Kody Kerbox (Maui) – Naish
Bernd Roediger (Maui) – Naish