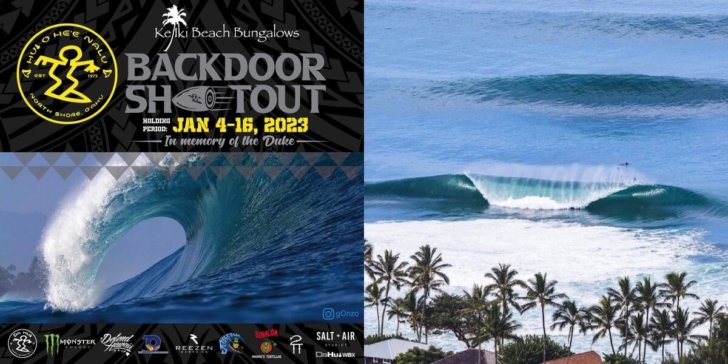 Window starts today Wednesday: January 4-16, 2023
We've got insane waves coming. A Solid 8′ maybe 10′ NW Monday the 9th. Then a 20'+ NW washes us out late Wednesday into Tuesday 11-12th. Saturday the 14th a solid 10′ NW sets us up for an amazing day of comp if the long-range forecast holds up. SNN.
The Da Hui Backdoor Shootout offers a unique take on the Pipeline surf contest concept.
It begins with eight teams of four before whittling down to the finals.
Further unlike WSL surf contests, which have a 10-point ride at the top of the scoring scale, the Backdoor Shootout recognizes that there needs to be room for those extra-throaty barrels, and therefore adjusts the scale to include 12-point spitters.
Organizers awaited permit clearance until the last minute for 2023, but have now been cleared with an early to mid-January holding period. 

Tentative teams:
Team Da Hui Japan
Team Da Hui Wax
Team Quiksilver
Team Volcom
Team A New Earth Project
Team Snapt5
Team Tubos Surf School Peru
Team Pipeline Hammerz