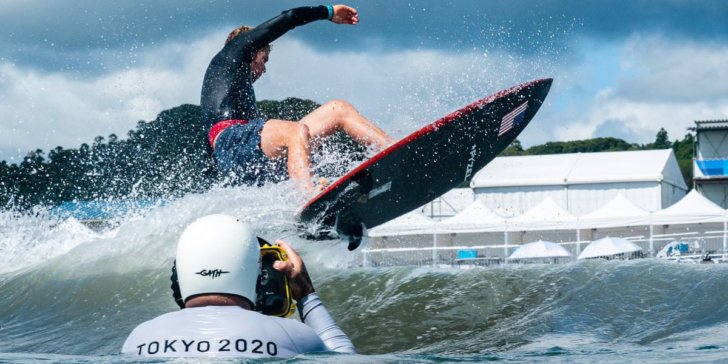 WSL. John John Florence Withdraws From Final Two Events Of 2021 Championship Tour Season
The prodigy takes the long view: to take care of his body first. SNN
Front page Image: Hawaii native John John Florence making his Olympic debut  in the 2020 Tokyo Olympic Games.(USA Surfing)
After a herculean effort to get his body ready for the Olympic Games, John John Florence has announced that he is withdrawing from the up coming Corona Open Mexico presented by Quiksilver and Outerknown Tahiti Pro to continue to focus on his recovery from knee surgery.
"This was a really hard decision to make, but I'm not 100% healed from my knee surgery and I'm trying to do the right thing for my future health and goals," Florence explained on Instagram.
"The opportunity to surf in Tokyo was once in a lifetime, and a risk I was willing to take. But looking at the rest of the year and talking with my medical team the best step forward is continuing with physical therapy for the next 60 days.
I want to make sure there is nothing that keeps me from competing, and surfing the way I want to in the long term."
Florence noted that he does expect to return to competition in time for the Pipe Masters this coming winter.
Florence made it into Round 3 of the Olympic Games, where he came up on the losing end of a heat against his United States teammate Kolohe Andino. During the event, Florence noted that he had been considering withdrawing from Mexico and Tahiti.
"The surgery I got was a repair and not a recovery so I'm within the time frame that it's pretty good to compete," Florence said.
"But waves like Mexico and Tahiti are very powerful. With a healthy knee it's risky so even if my knee is at 90 percent it's a little more risk and I want to take all of that into account before I commit to those events."
Florence injured his left knee during his Round of 16 heat at the Boost Mobile Margaret River Pro presented by Corona. Shortly thereafter he underwent surgery to repair the damage.
From the onset of his injury, Florence made it clear his goal was to get back in the water in time to compete in the Olympics, which he successfully did.
And now, for the next few months he will continue to rehab and recover, and hopefully be back to full strength to give the 2022 World Title race everything he's got.
The Pipe Masters at Florence's home break on Oahu's Banzai Pipeline is scheduled to kick off next season's WSL tour this December.
View this post on Instagram
View this post on Instagram