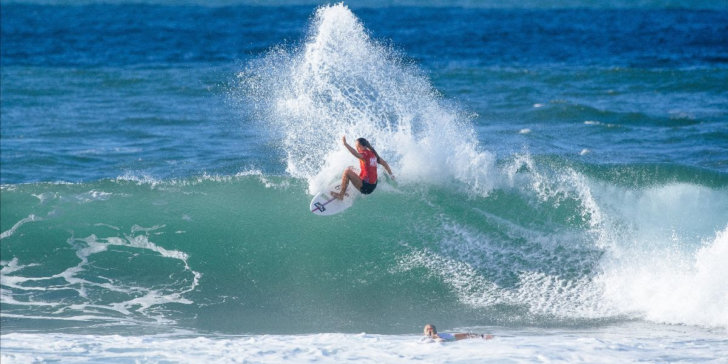 Flurry of Championship Tour Qualification Hopefuls' Dreams Left to Chance

Bettylou Sakura Johnson Leads Women's Charge in Their Debut

Next Call Tuesday, November 30 at 7:30 a.m. HST

Front Page: North Shore, Oahu's own Bettylou Sakura Johnson dismantled her home lineup for the day's top performance. Credit: © WSL /  Heff
HALEIWA, Oahu/Hawaii (Tuesday, November 29, 2021) – The World Surf League (WSL) Michelob ULTRA Pure Gold Haleiwa Challenger, the final stop of the 2021 Challenger Series, fired back into action with four-to-six foot swell delivering for competitors to put on a showcase of high-performance surfing despite the wind-swept and challenging conditions. Men finalized their stacked Round 3 draw after the conclusion of Round 2 before the women made their brilliant debuts in solid conditions to complete Round 1.
Women's Long-Awaited Return to Haleiwa an Electric Start
The women haven't competed in over a decade on the WSL stage at the hallowed grounds of Haleiwa and all that changed with a brilliant showing from rising talents and veterans.

North Shore, Oahu's own Bettylou Sakura Johnson sent shockwaves through the event with her electric debut to garner an outstanding 16.60 (out of a possible 20), including an 8.77 (out of a possible 10) on home turf for the day's best performance. The 16-year old came into this event open to the opportunity of qualification but has her expectations grounded with plenty of work ahead.

"It's totally a blessing to be here at home and I'm super excited to have this contest back here," said Sakura Johnson. "Having homefield advantage here comes into play. I'm frothing to be here but just trying to keep my cool and got a little excited in that first heat. Just going to keep the same momentum and keep a smile on my face."
Pictured: 
Pauline Ado (FRA) returned to a jersey at Haleiwa for the first time since 2010. 
Credit
: © WSL /  Bielmann
France's former Championship Tour (CT) competitor Pauline Ado, who competed the last time this event ran, accounted for the first heat win of the event in comeback fashion, securing a 6.50 (out of a possible 10) in the dying minutes to overtake Kauai, Hawaii's and 'The Ultimate Surfer' runner-up Brianna Cope as both advanced. Ado currently sits at No. 11 on the Challenger Series rankings and needs a crucial result here to rejoin the world's best.
"I'm very excited to get a win in that heat even though the wind made it pretty hard out there," said Ado. "I had a few falls and bad waves at the beginning and I did better after, so I'm happy. 2010 wasn't exactly a great memory for me because I lost early but I still qualified that year, so it was a good memory in the end. In those last ten years I've only come back once here, so I'm super happy to be back."
Pictured: 
Qualifying Series veteran Philippa Anderson (AUS) right at the cusp of qualification once more. 
Credit
: © WSL /  Bielmann
Year in and year out Philippa Anderson (AUS) gives everything toward qualifying and has come up just short from 2015 to 2019. But, the Australian's relentlessness keeps her charging back each year and that determination showed with a brilliant 7.33 before taking to defense to secure a clutch victory over fellow Aussie and former CT competitor Dimity Stoyle (AUS).
"It was pretty anxious times at the end there and it usually never goes my way – it either goes flat or the wave doesn't provide the right opportunity," said Anderson. "But, I had a seven; I knew I could do it and just had a few waves to guard at the end and luckily it went my way. I've got a bit to go before I can qualify, but it's just about the journey and it's so cool for the girls to be back in Hawaii."
Pictured: 
Sara Wakita (JPN) heading into the Haleiwa arena before securing a vital heat win 
Credit
: © WSL /  Bielmann
A clutch performance from Spain's Leticia Canales Bilbao helped eliminate CT hopeful Kirra Pinkerton as the San Clemente, California competitor was left searching for a 4.85 as time expired.
But, it was an immaculate showing from Japan's Sara Wakita who kept her qualification hopes alive with a women's Round 1 best of 7.83 as conditions cleaned up in the afternoon. The emerging threat came close to making her dreams a reality in 2019, finishing No. 16 on the rankings, and now has a chance at redemption.
"It's such a good wave out there and it's always crowded so to be out there with the three girls, I was stoked to get a good one," said Wakita. "I knew if I caught the set and put myself on a good one I could perform but it didn't really come so I just got a backup which worked out."
Important wins were notched for Portuguese qualification hopefuls Teresa Bonvalot and Yolanda Hopkins, South Africa's lone women's qualification threat Sara Baum, North Shore, Oahu's own Zoe McDougall, Leticia Canales Bilbao (ESP), 'The Ultimate Surfer' winner Tia Blanco (USA), and Maui, Hawaii's Savanna Stone.
But victory for some meant heartbreak for others as Pinkerton, Samantha Sibley (USA), Ariana Ochoa (EUK), Shino Matsuda (JPN), and Sophie McCullough (AUS) were eliminated from competition.
Men's Action Returns, Qualification Hopefuls Left on the Bubble
A tricky start to the morning provided more drama for the race to men's CT qualification as tribulation continued for CT qualification hopefuls such as Imaikalani deVault (HAW) who fell to an electric performance from a Brazilian duo, former CT competitors Alex Ribeiro and Wiggolly Dantas. Ribeiro finished with a solid heat win, showcasing his dominant backhand attack to leave Kade Matson (USA) and deVault searching for a score.
Pictured: 
Former event finalist Deivid Silva (BRA) was all business in his debut. 
Credit
: © WSL /  Bielmann
However, it was Deivid Silva (BRA), who will return to the CT in 2022, that lit up Haleiwa with his insurmountable backhand attack to garner a 14.20 heat total, helping to eliminate current Challenger Series No. 29 Alejo Muniz (BRA), while No. 15 hopeful Jordan Lawler (AUS) advanced. Silva's ability to read the conditions and deliver the day's strongest performance put his fellow competitors on notice that his year is not quite done following his runner-up finish at the Corona Open Mexico CT finale.
"I have great memories here making the Final in 2018, I like these waves and I'm very happy (to make it through)," said Silva. "This event is a smart one for me to come to and get ready for the CT and I'm stoked to be here at Haleiwa and I'm looking for a good result."
Fellow Brazilians Samuel Pupo, looking to jump into the Top 12 qualification bubble, and former CT competitor Caio Ibelli, both earned vital heat wins to secure their dominance of Round 2.
Pictured: (L) 
Maui's competitors soared once again with Cody Young earning a massive heat win. (R) Current Challenger Series No. 9 Liam O'Brien's (AUS) last-minute effort earned him passage into Round 3. 
Credit
: © WSL /  Heff
Hawaii's brilliance continued with Maui surfers Ian Gentil and Cody Young notching massive heat wins. Between the two of them, the duo eliminated other CT qualification hopefuls Shun Murakami (JPN), Michael Dunphy (USA), Challenger Series No. 7 Nat Young (USA) and former CT competitor Patrick Gudauskas (USA).
"It felt good to start the heat like that and then I felt a bit cold actually just sitting there for a long time," said Young. "I'm used to the wind. This is a pretty normal day at home so it doesn't bother me. I know I have to win this event for a shot at qualifying, but I'm just trying to knock as many guys as I can along the way to help my friend Imai (deVault)."
Former WSL Junior Champion Vasco Ribeiro (PRT) closed out a decisive end to Round 2, earning the day's highest heat total of 15.10, along with Liam O'Brien (AUS), who earned a crucial runner-up spot with the day's highest single-wave score of an 8.23 to keep his CT hopes alive while eliminating North Shore's Barron Mamiya (HAW).

"That was really exciting and I was so ready to surf after watching the first day of incredible waves and now the first heat is done," said Ribeiro. "That was a fun heat with Liam (O'Brien), Michel (Bourez), and Barron (Mamiya), and I knew I had to bring out my best. That was the game plan and now I'm ready to go for it all."

A call tomorrow, Tuesday, November 30, at 7:30 a.m. HST call will determine a possible 8:00 a.m. HST start.
Watch LIVE
The Michelob ULTRA Pure Gold Haleiwa Challenger will be broadcast LIVE on WorldSurfLeague.com, the WSL app, and on WSL's YouTube Channel. Also, check local listings for coverage from the WSL's broadcast partners.For more information, please visit WorldSurfLeague.com.The Michelob ULTRA Pure Gold Haleiwa Challenger is proudly supported by Michelob ULTRA, Vans, Shiseido, Hydro Flask, Sambazon, Draft Kings, Expedia, and HIC.

COVID-19 Updates
The health and safety of athletes, staff, and the local community are of the utmost importance and the WSL has been working closely with local authorities to put in place a robust set of procedures in place. This includes testing and advance screening protocols, physical distancing, and limited personnel on-site.