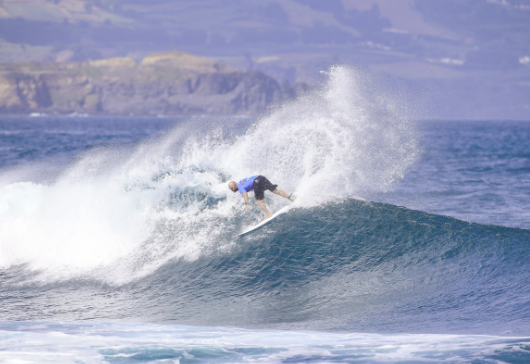 – PATERSON, BESCHEN, EGAN LOOK POISED TO FIGHT FOR MASTERS TITLE
– GREAT SURFING ON THIRD CONSECUTIVE DAY OF ACTION
 Jake Paterson (AUS) has been the most impressive so far in the Masters division.
Credit: © WSL / Masurel
PRAIA DE SANTA BARBARA, Sao Miguel – Azores Islands (Thursday, September 20, 2018) –The Azores Airlines World Masters Championship continued in excellent conditions on Day 3 and witnessed amazing performances from some of the best competitors from previous generations.
Jake Paterson (AUS) continued to dominate the field and posted an inspiring performance in his second heat against another form surfer in this event Damien Hardman (AUS). The two-time QS Champion Paterson annihilated a clean set wave on his backhand with two radical turns for a near-perfect 9.40. He then continued to pick the right waves and scored his backup 7.50 on a right this time. Paterson claimed a third win in the afternoon over Derek Ho (HAW) and advanced into the Quarters.
"When I'm out there I'm actually thinking of what I preach but I still made a couple of mistakes and I'm sure my guys will text me and let me know about it, for example when I lost priority paddling for a wave I didn't get," Paterson stated. "All these guys I've looked up to and competed against in my day so it's entertaining to be here."
Luke Egan (AUS) had a similar good second and third heats and defeated Dave Macaulay (AUS) first and local wildcard Joao Alexandre (PRT) in the next to get his ticket for the Quarterfinals. Runner-up in the world to Sunny Garcia (HAW) in 2000, Egan has been displaying powerful surfing on the lefts and incredible flow linking maneuvers gracefully to post some of the biggest scores of the event.
"It looks super nice out there but with the backwash coming in it's super hard to read and I did struggle a bit at first," Egan admitted. "It's so cool to see everyone is still as passionate about their surfing. I think it goes to show that no matter how old you are, if you really put the effort in you can still keep a very high level. What I love most I think is seeing so many guys ride their own equipment, the pros nowadays unfortunately don't have time to do so."
Another runner-up in the World Title race but in 1996 and to Kelly Slater, Shane Beschen (HAW) had a spotless run through the early round in Azores, with three wins over Matt Hoy (AUS), Gary Elkerton (AUS) and finally Tom Curren (USA). Beschen completed the trio that took control of the Over-45 Masters category alongside Paterson and Egan, his longtime rivals from their earlier life on tour.
"It was my first time ever surfing against Tom Curren, that's incredible," Beschen said. "I learnt a lot surfing with Tom when I was young at J-Bay, in Mozambique, in the Canary Islands and that was a very special part of my career, just watching him and his technique. I've seen Jake and Luke ripping out there, if the guys get the good waves they can still lay some big turns, there will be some big heats in the next round."
Along with the three aforementioned surfers, Sunny Garcia (HAW), Damien Hardman (AUS), Dave Macaulay (AUS), Fabio Gouveia (BRA), Matt Hoy (AUS) have also qualified through their results and will advance to the Quarterfinals of this event.
The last heat of the day saw Grand Masters Glen Winton (AUS), Michael Ho (HAW) and Hans Hedemann (HAW) fight it out for the fourth, fifth and sixth places in the event. Yesterday's top scorer Glen 'Mr. X' Winton put a solid heat together and held on to the lead for over 29 minutes but a last-second effort from Hawaii's Ho turned the situation to settle the results with Ho finishing fourth, Winton fifth and Hedemann sixth of the Grand Masters category.
Surfers will be back at 10:30 a.m Friday for the important Quarter and Semifinals of the three categories to set up for a great finals weekend.
Watch the event LIVE via wsl.tv/azores18.
The Azores Masters & Grand Masters Pro are scheduled from September 18 – 23, 2018 at PRAIA DE SANTA BARBARA, Sao Miguel – Azores Islands. For all results, photos, video highlights and press releases, log on to worldsurfleague.com.
The Azores Masters & Grand Masters Pro are organized by DAAZ Eventos with the support of the following event partners:  Azores Airlines, Governo Regional dos Acores, Turismo dos Açores, Câmara Municipal da Ribeira Grande, SEAT , MEO, MagicSeaWeed amongst others.
UPCOMING AZORES AIRLINES WORLD MASTERS CHAMPIONSHIP QUARTERFINAL MATCHUPS:
QF 1: Jake Paterson (AUS) vs. Dave Macaulay (AUS)
QF 2: Fabio Gouveia (BRA) vs. Damien Hardman (AUS)
QF 3: Luke Egan (AUS) vs. Matt Hoy (AUS)
QF 4: Shane Beschen (HAW) vs. Sunny Garcia (HAW)
UPCOMING AZORES AIRLINES WORLD GRAND MASTERS CHAMPIONSHIP SEMIFINAL MATCHUPS:
SF 1: Rob Bain (AUS) vs. Cheyne Horan (AUS)
SF 2: Rob Bain (AUS) vs. Simon Anderson (AUS)
SF 3: Cheyne Horan (AUS) vs. Simon Anderson (AUS)
UPCOMING AZORES AIRLINES WORLD WOMEN'S MASTERS CHAMPIONSHIP SEMIFINAL MATCHUPS:
SF 1: Layne Beachley (AUS vs. Pauline Menczer (AUS)
SF 2: Frieda Zamba (USA) vs. Rochelle Ballard (HAW)
AZORES AIRLINES WORLD GRAND MASTERS CHAMPIONSHIP ROUND 2 SURF-OFF:
4th Place: Michael Ho (HAW) 13.34
5th Place: Glen Winton (AUS) 13.24
6th Place: Hans Hedemann (HAW) 7.83
REMAINING AZORES AIRLINES WORLD MASTERS CHAMPIONSHIP ROUND 1 RESULTS:
Heat 10: Sunny Garcia (HAW) 12.67 def. Joao Alexandre (PRT) 6.83
Heat 11: Matt Hoy (AUS) 12.50 def. Gary Elkerton (AUS) 0.00
Heat 12: Jake Paterson (AUS) 16.90 def. Damien Hardman (AUS) 13.17
Heat 13: Luke Egan (AUS) 14.07 def. Dave Macaulay (AUS) 11.67
Heat 14: Shane Beschen (HAW) 16.03 def. Tom Curren (USA) 3.70
Heat 15: Fabio Gouveia (BRA) 10.27 def. Derek Ho (HAW) 8.84
Heat 16: Luke Egan (AUS) 14.50 def. Joao Alexandre (PRT) 9.83
Heat 17:  Matt Hoy (AUS) 13.50 def. Tom Curren (USA) 8.00
Heat 18:  Jake Paterson (AUS) def. Derek Ho (HAW)