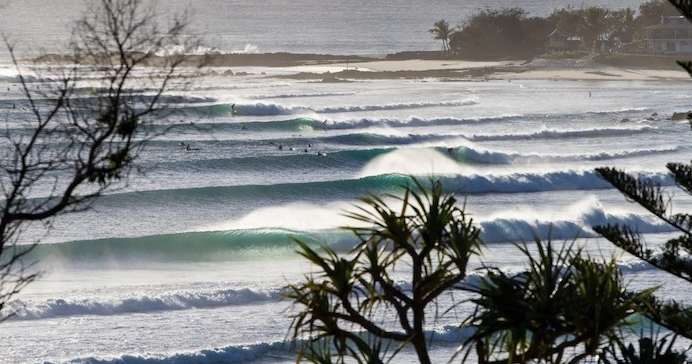 Gold Coast © Sean Scott/Save The Waves
Save The Waves Coalition Call for WSR applications
Surf News Network, 3 July, 2016 – After a successful run of breaks being added to the growing list of World Surfing Reserves, Save The Waves Coalition has put out the call to find the next World Surfing Reserve.
Applications will be judged on how well they score on each of the four main World Surfing Reserve criteria: Wave Quality and Consistency; Environmental Characteristics; Culture and Surf History; Capacity and Local Support.
World Surfing Reserves proactively identifies, designates and preserves outstanding waves, surf zones and surrounding environments around the world. Save The Waves Coalition, along with key partners National Surfing Reserves (NSR) Australia and the International Surfing Association (ISA), launched World Surfing Reserves in 2009.
The program serves as a global model for preserving wave breaks and their surrounding areas by recognizing and protecting the key environmental, cultural, economic and community attributes of surfing areas.  Watch the video on the recent dedication at Australia's Gold Coast summarizing the value WSRs bring to coastal communities.
The WSR Vision Council will meet in October to select the newest World Surfing Reserve joining the ranks of the other eight World Surfing Reserves around the world including Malibu, California; Ericiera, Portugal; Manly Freshwater Beach, Australia; Santa Cruz, California; Huanchaco, Peru; Bahia de Todos Santos, Baja California, Mexico; Punta de Lobos, Chile; and Gold Coast, Australia. Watch the video for a glimpse into the WSR Vision Council's approval process.
World Surfing Reserves play an important role in supporting local community efforts to preserve their waves and coastal resources.  With Save The Waves support, each World Surfing Reserve develops a Local Stewardship Plan to help identify the key coastal issues and outline strategies for permanent and legal protection of their coastline.
Most recently the World Surfing Reserve program has been focused on a diverse array of conservation strategies in program locations including obtaining federal protection along Huanchaco, Peru's WSR, advocating for the first state park in Baja California, improving water quality at Cowell's Beach in Santa Cruz, and establishing a land-trust conservation model at Punta de Lobos, Chile.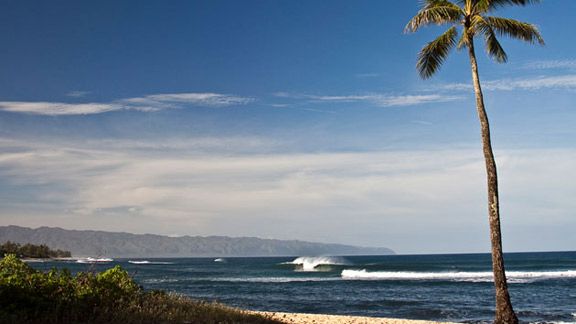 "Hello, surfer dude." Gov. Linda Lingle (R) said to Sen. Fred Hemmings (R, Kailua-Hawaii Kai) upon entering the press conference at the executive chamber meeting room of the Hawaii State Capitol. The politicians and media had gathered to announce the signing of Executive Order No. 10-07, which establishes the Duke Kahanamoku Surfing Reserve (surf breaks from the Ala Wai canal to Waikiki War Memorial Natatorium) and the North Shore Reserve (waves from Ali'i Beach Park to Sunset Beach) on Oahu.
It essentially preserves these world-class waves as historic landmarks and "acknowledges the cultural, sports and historic significance of important surf sites in Hawaii." Furthermore, Executive Order 10-07 allows the Department of Land and Natural Resources to receive donations to distinguish surf reserves with signs or markers.
"Governor, this is an effort in the right direction for Hawaii to regain its prominence and leadership in surfing and that's why I appreciate what you've done here," said Hemmings. Hemmings took Lingle surfing for her first time years ago and they share a bond as surf instructor and student, as well as politicians in the same party.
Sen. Hemmings, standing up for surfing.
Hemmings was a highly successful contest surfer in the 1960s, winning the Makaha International four different occasions and the World Surfing Championship in 1968 at Rincon, Peurto Rico. He also created the Triple Crown of Surfing and has been a politician in Hawaii for a decade.
Sen. Hemmings is retiring from politics this year and attempted to preserve the Waikiki and North Shore waves by introducing Senate Bill 2646 in the 2010 legislative session. It was shot down in the House of Representatives during the final hours of the session and it would be recommitted to a future year. This was a brutal display of partisan politics because the legislative branch of the Hawaii State government is primarily Democrats. There are only 6 Republican representatives in the House compared to 45 Democrats. Hemmings is one of two Republicans in the Senate while there are 23 Democrats.
"When we began our administration we knew that, being a Republican governor and having a legislature that was majority Democrat, there would be a challenge to get a variety of things done," said Lingle of the challenges of passing laws like Senate Bill 2646. "This was a real labor of love for people on our side because it's such a good idea."
Hemmings got the concept for the surfing reserves from the National Surfing Reserves Australia program. Hemmings hopes this executive order will bring back recognition and prominence to Hawaii in the international surf community. Executive Order 10-07 creates no cost to tax payers.
"Surfing is Hawaii's gift to the world," said Hemmings. "We must regain the cultural and sports leadership of the world of surfing, and surfing reserves are a step in that direction. It's a great day for surfing."