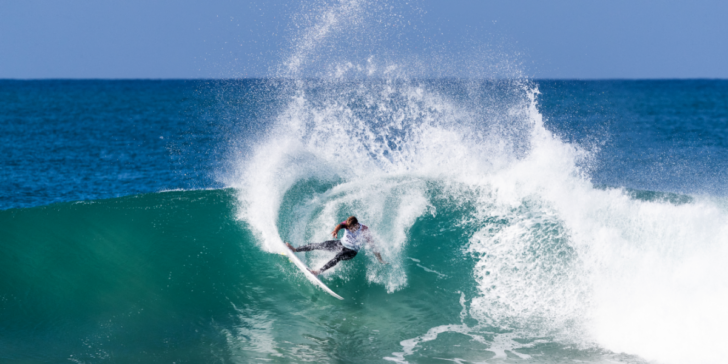 Cover shot: Sebastian Zietz (HAW) scored a near-perfect 9.07 (out of a possible 10) in the Round of 32 at the Corona Open J-Bay today. Credit: © WSL / Sloane
JEFFREYS BAY, South Africa (Saturday, July 13, 2019) – The long-awaited SW swell finally arrived at the Corona Open J-Bay, the sixth stop on the 2019 World Surf League (WSL) Championship Tour (CT), after two consecutive lay days. The four-to-six foot (1.2 – 1.8 meter) waves were critical for the elimination heats in the men's Round of 32 and women's Round of 16 (Heats 1 – 6) as both utilized the overlapping format to take advantage of the conditions today.
South African Jordy Smith Feeling the Home-Crowd Support
Jordy Smith (ZAF) won the opening heat of the men's Round of 32, eliminating rookie Soli Bailey (AUS). Smith uncharacteristically fell on his first few waves while dealing with the early morning bumpy conditions. The South African showed his experience at the right-hand pointbreak when he found a great-looking wave for an excellent 8.50 (out of a possible 10) and quickly backed it up with a 7.17 to put pressure on the rookie. Bailey was in a combination situation, requiring two new scores to take over the lead, but it was Smith who finally advanced to the next round (despite an injury that required three stitches to the back of his head). Smith is the only South African on the CT and, after Michael February's (ZAF) elimination today is now the only South African left in the draw. He is feeding off the home-crowd support coming into his next matchup in the Round of 16.

"I had some good waves, and I had the opportunity for the barrel when the mid-section came down and my board flipped and hit me straight in the head," said Smith. "I'll probably need a stitch or two, but that's it. There are some good waves out there too. I'm just stoked on the 46-minute heats, it really allowed me to wait for the good ones. The event has been great. I just connect with South Africans around the Tour, even though they aren't on the Tour. I'll take the support anywhere I can get it. In Brasil, it felt like I was the only person standing there, but it's alright hopefully it's the other way around for the guys over here."
Wildcard Michael February Falls to Defending Event Winner Filipe Toledo 
Defending event winner Filipe Toledo (BRA) looks set for another great result in Jeffreys Bay after comfortably winning his heat with a pair of 7-point rides against event wildcard February. Toledo was off to a lightning start, sneaking a set wave in the first ten seconds of the heat for a 7.67 and waited a long time for another set wave to come through, while February tried to build on his total on the scoreboard. Patience paid off as Toledo found a back-up ride for a 7.10 to win the heat with a total of 14.77 out of a possible 20.

"I definitely enjoyed being here," said February. "Obviously, I fell off Tour last year and it was just a rad experience last year to be part of it. It was nice to get the call up to another event, especially at home. To get the opportunity to surf J-Bay with just one other guy out is pretty epic. Even though I fell off Tour, I learned a lot and I'm slowly but surely improving. Just coming here, I feel like I had a better event than last year and I'll just take those positives and hopefully, I can make it back here again."
Zietz, Igarashi, and Marks Score Above and Beyond
Sebastian Zietz (HAW) 
dropped the highest single-wave score of the day
when he opened his account against 2018 event runner-up Wade Carmichael (AUS) with a near-perfect 9.07 (out of a possible 10). Carmichael, who put on a show last year with his incredible rail-game, could not find a wave with the required scoring potential and exits in 17th place. Zietz will now advance to the Round of 16 against Michel Bourez (FRA).
"The waves are pumping," said Zietz. "There are little barrel double-ups. It's so fun. I think I caught the best waves in that heat,  and you just need to slow yourself down. It's such a long, perfect wall you can get overexcited. I saw lots of guys butchering it this morning, just over surfing it, so I'm just going to 'Tom Curren' it and slow it down."
Kanoa Igarashi (JPN) owned the second highest single-wave score of the day, a near-perfect 9.03, and the highest two-wave total, a commanding 17.53 (out of a possible 20). The feat took down injury replacement Frederico Morais (PRT) in Heat 13.
Caroline Marks (USA) displayed her beautiful backhand and ability to read the Supertubes wall to score an 8.67 and an 8.00 for an excellent heat total of 16.67 to dismiss Paige Hareb (NZL). Marks' heat total was the highest of the women's heats today and second highest overall behind Igarashi.
"I was just having so much fun out there," said Marks. "It's so cool that we have a lot more swell today. We've been getting such good waves. My coach, Luke (Egan), has won out here before, which is super cool. He's been coming out here for longer than I've been alive so he knows the lineup so well. We've been surfing together and he's been giving me some pointers, so it's rad to have him in my corner for this event."
Other notable heats today included Ezekiel Lau (HAW) defeating Title contender Julian Wilson (AUS) in Heat 7, R/32, Johanne Defay (FRA) taking out Tatiana Weston-Webb (BRA) in Heat 4, R/16, Italo Ferreira (BRA)overcoming Jack Freestone (AUS) in Heat 16, R/32, and Malia Manuel (HAW) eliminating rookie Brisa Hennessy (CRI) in Heat 6, R/16.
WSL Champions Gilmore, Moore, Medina, and Slater Continue Charge
Seven-time WSL Champion Stephanie Gilmore (AUS) is through to the Quarterfinals after a nerve-racking heat against fellow CT veteran Silvana Lima (BRA). Although sitting with a 6.00 and 7.27 to Lima's 6.67 and 5.83, the 46-minute heat had Gilmore anxious about the Brasilian's progressive surfing. Time ran out for Lima with only a 0.77-point advantage going to defending event winner. Gilmore, who is currently No. 3 on the Jeep Leaderboard, will now face Marks, World No. 5, in the opening Quarterfinal matchup.

"The waves are tough out there," Gilmore said. "It looks like it's firing, you're paddling to one and it looks like it's a 9-point ride then it will race off and do some weird tricky things with the high tide. I never felt like I was comfortable at any one point, so I was quite anxious but I'm really happy I made it. Nerves are a big thing, I enjoy them, they remind you that you are excited about where you are. You just have to channel that energy and put it into good surfing, it makes you switch on."

Three-time WSL Champion Carissa Moore (HAW) will meet Defay in the second Quarterfinal after dispatching injury replacement Keely Andrew (AUS)in Heat 3, R/16. Defay eliminated No. 7 Weston-Webb in the Round of 16 with an excellent 8.50 and a 7.50.

"I've got Duncan Scott in my corner," said Moore. "He's a sweetheart. I met him and his family last year. I'm grateful for his help and his heart. I came straight from Brasil and I'm staying with them. I knew coming up against Keely (Andrew) was going to be tough, she grew up surfing pointbreaks so I'm stoked to get into Quarters. I get just as nervous as always, but it just shows that I care."

Gabriel Medina (BRA) was seen with stitches to his eye after an incident a few days ago while free surfing. The Brasilian seemed unphased in his Round of 32 heat against California's Griffin Colapinto (USA), who failed to complete a lot of his big maneuvers on crucial waves. Medina will move on to the next round where he will meet Ryan Callinan (AUS).

"I tried an air and the board's nose hit me straight in the eye," said Medina. "Fortunately, it wasn't too bad, it's just two stitches. Griffin (Colapinto) is a good friend, he's a really fun guy and he rips. There are waves and they look fun, but they're kind of hard to surf, and kind of slow, but when you find a good one it's just so fun. I'm really happy to make it through. I was nervous on that one because I know Griffin and he's capable of doing anything on a wave. Hopefully the next round gets a little better."

After injuring his foot at J-Bay in 2017, Kelly Slater (USA) will get a boost of confidence after winning his heat against injury replacement Caio Ibelli (BRA). While both Slater and Ibelli only managed mid-range scores, Slater survived thanks to Ibelli missing his opportunity on some of the best waves. Slater will face Ferreira in the final heat of the men's Round of 16.

"It's been a long road coming back, getting that confidence back, learning how to surf heats again, and it just takes a while to get into the flow of things," said Slater. "It was a strange heat, I wasn't super patient. Caio (Ibelli) got the better waves but he fell, so I dodged a bullet there."

The Corona Open J-Bay is Adriano de Souza's (BRA) second event back to full-time competition after recovering from a sidelining knee injury. Unfortunately for the 2015 WSL Champion, his time in J-Bay will be cut short thanks to World No. 2 Kolohe Andino (USA) in Heat 5, R/32. Andino's next heat will be against rookie Deivid Silva (BRA), who defeated veteran Jeremy Flores (FRA) in Heat 6 today. Silva recently won the Ballito Pro Qualifying Series event and will hope to bring that momentum against Andino to surpass the Round of 16 for the first time this season.
Michael February Styles Through Corona Highline 
Pictured: From Left to Right – Stephanie Gilmore (AUS), Michael February (ZAF), Johanne Defay (FRA), Ryan Callinan (AUS). Credit: © WSL / Van Gysen
The Corona Highline event is a celebration of surfing where old and new worlds of surf collide. Stephanie Gilmore, Michael February, Johanne Defay, and Ryan Callinan rode 5'11 refined Channel Islands twin fins at picture-perfect J-Bay in this unique expression session. February shaped the Highline boards in the CI Durban factory in a special opportunity to work alongside the local shaping community. February won the fans' votes throughout the session and will claim the Highline win with his stylish performance.
The next call for the Corona Open J-Bay will be tomorrow, Sunday, July 14, at 7:30 a.m. SAST for a possible 8:05 a.m. start.

The Corona Open J-Bay will be broadcast LIVE on WorldSurfLeague.com and Facebook.com/WSL. Also check local listings for coverage from the WSL's broadcast partners.

For more information, please visit WorldSurfLeague.com.
Corona Open J-Bay Men's Round of 32 Results:
Heat 1: Jordy Smith (ZAF) 15.67 DEF. Soli Bailey (AUS) 10.74
Heat 2: Owen Wright (AUS) 11.40 DEF. Joan Duru (FRA) 11.27
Heat 3: Gabriel Medina (BRA) 15.00 DEF. Griffin Colapinto (USA) 10.00
Heat 4: Ryan Callinan (AUS) 13.10 DEF. Yago Dora (BRA) 11.33
Heat 5: Kolohe Andino (USA) 12.33 DEF. Adriano de Souza (BRA) 9.80
Heat 6: Deivid Silva (BRA) 13.43 DEF. Jeremy Flores (FRA) 11.70
Heat 7: Ezekiel Lau (HAW) 11.60 DEF. Julian Wilson (AUS) 10.56
Heat 8: Adrian Buchan (AUS) 14.74 DEF. Conner Coffin (USA) 10.86
Heat 9: Filipe Toledo (BRA) 14.77 DEF. Michael February (ZAF) 10.40
Heat 10: Willian Cardoso (BRA) 14.03 DEF. Michael Rodrigues (BRA) 12.10
Heat 11: Sebastian Zietz (HAW) 14.94 DEF. Wade Carmichael (AUS) 11.50
Heat 12: Michel Bourez (FRA) 13.60 DEF. Ricardo Christie (NZL) 12.83
Heat 13: Kanoa Igarashi (JPN) 17.53 DEF. Frederico Morais (PRT) 13.50
Heat 14: Peterson Crisanto (BRA) 13.50 DEF. Seth Moniz (HAW) 11.66
Heat 15: Kelly Slater (USA) 13.57 DEF. Caio Ibelli (BRA) 11.90
Heat 16: Italo Ferreira (BRA) 15.16 DEF. Jack Freestone (AUS) 9.70

Corona Open J-Bay Men's Round of 16 Matchups:
Heat 1: Jordy Smith (ZAF) vs. Owen Wright (AUS)
Heat 2: Gabriel Medina (BRA) vs. Ryan Callinan (AUS)
Heat 3: Kolohe Andino (USA) vs. Deivid Silva (BRA)
Heat 4: Ezekiel Lau (HAW) vs. Adrian Buchan (AUS)
Heat 5: Filipe Toledo (BRA) vs. Willian Cardoso (BRA)
Heat 6: Sebastian Zietz (HAW) vs. Michel Bourez (FRA)
Heat 7: Kanoa Igarashi (JPN) vs. Peterson Crisanto (BRA)
Heat 8: Kelly Slater (USA) vs. Italo Ferreira (BRA)

Corona Open J-Bay Women's Round of 16 (H1 – 6) Results:
Heat 1: Stephanie Gilmore (AUS) 13.27 DEF. Silvana Lima (BRA) 12.50
Heat 2: Caroline Marks (USA) 16.67 DEF. Paige Hareb (NZL) 7.90
Heat 3: Carissa Moore (HAW) 14.83 DEF. Keely Andrew (AUS) 11.30
Heat 4: Johanne Defay (FRA) 16.00 DEF. Tatiana Weston-Webb (BRA) 12.20
Heat 5: Sally Fitzgibbons (AUS) 13.33 DEF. Macy Callaghan (AUS) 11.93
Heat 6: Malia Manuel (HAW) 11.50 DEF. Brisa Hennessy (CRI) 8.97

Corona Open J-Bay Remaining Women's Round of 16 (H7 – 8) Matchups:
Heat 7: Courtney Conlogue (USA) vs. Nikki Van Dijk (AUS)
Heat 8: Lakey Peterson (USA) vs. Bronte Macaulay (AUS)

Corona Open J-Bay Women's Quarterfinal Matchups:
QF 1: Stephanie Gilmore (AUS) vs. Caroline Marks (USA)
QF 2: Carissa Moore (HAW) vs. Johanne Defay (FRA)
QF 3: Sally Fitzgibbons (AUS) vs. Malia Manuel (HAW)
QF 4: TBD