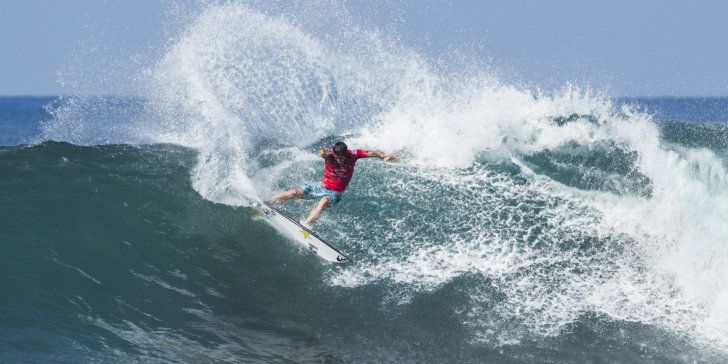 –
 EZEKIEL LAU DROPS POWER-PACKED PERFORMANCE & ONE OF THE BEST TURNS OF THE YEAR SO FAR. 
–  MATT WILKINSON RETURNS TO FORM
Ezekiel Lau (HAW) posting the highest heat total of the event so far, a 15.57, in his win over Patrick Gudauskas (USA) at the Corona Bali Protected.
Credit: © WSL / Cestari
Location:   
  Keramas, East Bali, Indonesia
Event window:
  May 27 –  

June 8, 2018

Today's call:
 Men's Round 2 completed
Conditions:
 Clean 4 – 6 Foot 
Keramas, Bali/Indonesia (Tuesday, May 29, 2018) –  The Corona Bali Protected presented by Hurley, Stop No. 5 on the World Surf League (WSL) Championship Tour (CT), resumed at Keramas today, completing men's Round 2 in onshore but high-performance conditions.
Currently sitting at World No. 6 on the Jeep Rankings, Ezekiel Lau (HAW) is having a breakout start to his 2018 season. The Hawaiian powerhouse continued his solid form with a dominant win over Californian Patrick Gudauskas (USA) in Heat 10 of Round 2. Lau's rail-game was perfectly in sync with the big, open walls of Keramas and saw him post a heat total of 15.57 (out of a possible 20), the highest of the event so far. Gudauskas was left in a combination situation (needing two new scores) from early in the heat and, unable to hunt it down,  was eliminated from the Corona Bali Protected.
"My coach told me before that heat that I'm sixth in the world so I just need to surf like I'm sixth in the world," Lau said. "That definitely gave me confidence and inspired me to put on a solid performance, especially after my first round heat where I didn't get many opportunities. I was really nervous even with that lead as there was so much time left on the clock and Pat (Gudauskas) is so talented, anything could have happened."
The opening heat of the day got off to a slow start as Frederico Morais (PRT) and Ian Gouveia (BRA) paddled each other off the peak, battling for priority. Eventually, Morais took control with his trademark power-wraps. Although Gouveia did his best to stay in contention, it was Morais who ended the heat in the progressing spot, leaving Gouveia to end his campaign in Equal 25th place.
"It's always important to get the first wave of a heat," Morais said. "I had to settle the nerves and not think about priority, but it can mean you end up off the peak like that. Even though the waves weren't big and hollow like the last few days, there was still a lot of opportunity for solid, on-the-face surfing, which was good. I'm really happy to make it through Round 2, it is always a tough situation to be in."
After success World Title campaigns in recent years, Matt Wilkinson (AUS) has found himself uncharacteristically low on the rankings in 2018. But, after today's heat, the Australian looks fired up to make amends at the Corona Bali Pro. Wilkinson executed his trademark hooks and tail-whips to amass two 7-point-rides to easily advance to Round 3 over Joan Duru (FRA).
"It's about time I get a good result this year, so hopefully I can get on a roll here," Wilkinson said. "I'm mad about not being in the Uluwatu CT, so I wanted to go out and perform and make a few heats here at the Corona Bali Protected. It hasn't been a great start to the year for me, but I feel like I have been surfing good and my preparation has been good, but in my heats, I get one wave and then I don't see another one. Hopefully, that heat turns everything around and I can get on a roll."
Two exciting Brasilian rookies matched up in Heat 11, Michael Rodrigues (BRA) versus Yago Dora (BRA). Both are known for their high-flying aerial antics and both went for broke in the onshore conditions that were perfect for big airs. Unfortunately, nerves got the best of them as they uncharacteristically fell time-after-time in the matchup. As the heat wound down, they both managed to launch and land some impressive airs, but it was Rodrigues who took the win by a mere 0.13 points.
"It's so hard to compete against other Brazilians because we are like a family," Rodrigues said. "I am not very happy with my performance. I felt like I was surfing good this morning, but in the heat, it took me eight waves to get a score. Maybe I was nervous because Yago (Dora) is such a great surfer. We both scored a couple waves in the end, it was close so I am happy to win that one and move on to Round 3."
Other heat winners on Day 3 included 2018 CT Rookie Jesse Mendes (BRA), who looked sharp on his backhand to take down Japanese competitor Kanoa Igarashi (JPN). 2017 Rookie of the Year Connor O'Leary (AUS) fell short in his heat against 2018 CT Rookie Tomas Hermes (BRA) and was eliminated in the last heat of the day.
The WSL Commissioners will reconvene tomorrow morning at 6:00 a.m. local time to reassess the conditions and make the next call for a potential 6:30 a.m. start at Keramas.
The Corona Bali Protected presented by Hurley will be broadcast LIVE on the WSL's Facebook page, WorldSurfLeague.com, and the WSL app. Also, check local listings for coverage from the WSL's broadcast partners.
Easing SSW swell on Tuesday but still plenty of overhead waves in the tank, especially early. Then a fresh series of overlapping SSW-SW swells move in through the middle to end of the week with a long run of chest-head high to slightly overhead sets. More fun size SSW swell lines up for 5th-7th. Overall, expect surf to be best through the first half of each morning with the more favorable tide/wind scenario. Surfline
Corona Bali Protected Remaining Men's Round 2 Results:
Heat 7: Frederico Morais (PRT) 12.07 def. Ian Gouveia (BRA) 8.43
Heat 8: Matt Wilkinson (AUS) 14.94 def. Joan Duru (FRA) 7.00
Heat 9: Jesse Mendes (BRA) 12.33 def. Kanoa Igarashi (JPN) 10.56
Heat 10: Ezekiel Lau (HAW) 15.57 def. Patrick Gudauskas (USA) 8.67
Heat 11: Michael Rodrigues (BRA) 11.40 def. Yago Dora (BRA) 11.27
Heat 12: Tomas Hermes (BRA) 12.66 def. Connor O'Leary (AUS) 11.34
Corona Bali Protected Men's Round 3 Matchups:
Heat 1: John John Florence (HAW) vs. Jesse Mendes (BRA)
Heat 2: Michel Bourez (PYF) vs. Ezekiel Lau (HAW)
Heat 3: Owen Wright (AUS) vs. Willian Cardoso (BRA)
Heat 4: Adrian Buchan (AUS) vs. Michael Rodrigues (BRA)
Heat 5: Matt Wilkinson (AUS) vs. Griffin Colapinto (USA)
Heat 6: Julian Wilson (AUS) vs. Mikey Wright (AUS)
Heat 7: Gabriel Medina (BRA) vs. Michael February (ZAF)
Heat 8: Frederico Morais (PRT) vs. Jeremy Flores (FRA)
Heat 9: Jordy Smith (ZAF) vs. Conner Coffin (USA)
Heat 10: Italo Ferreira (BRA) vs. Tomas Hermes (BRA)
Heat 11: Adriano de Souza (BRA) vs. Joel Parkinson (AUS)
Corona Bali Protected Women's Pro Round 1 Matchups:
Heat 1: Tyler Wright (AUS), Johanne Defay (FRA), Coco Ho (HAW)
Heat 2: Tatiana Weston-Webb (HAW), Caroline Marks (USA), Bronte Macaulay (AUS)
Heat 3: Stephanie Gilmore (AUS), Sage Erickson (USA), Carol Henrique (PRT)
Heat 4: Lakey Peterson (USA), Keely Andrew (AUS), Paige Hareb (NZL)
Heat 5: Carissa Moore (HAW), Silvana Lima (BRA), Courtney Conlogue (USA)
Heat 6: Nikki Van Dijk (AUS), Sally Fitzgibbons (AUS), Malia Manuel (HAW)