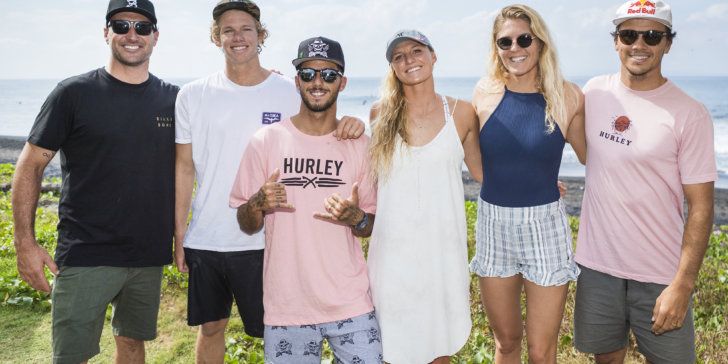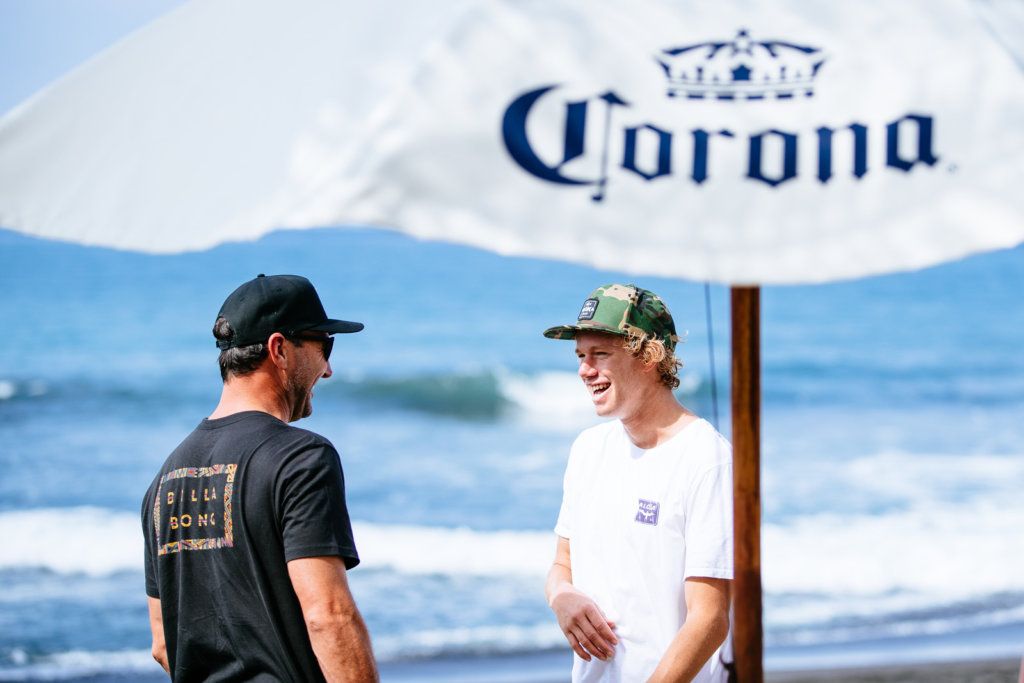 2 close generations…2 World Champs. Iamge Sloan: WSL
– EPIC FORECAST FOR OPENING DAYS OF EVENT WINDOW
– COMPETITION WINDOW OPENS TOMORROW, MAY 27 (18 HOURS AHEAD OF HAWAII SO LOOK FOR A POSSIBLE STARTS  AS EARLY AS  12:30-1PM)
WSL Competitors from left to right: Joel Parkinson (AUS), John John Florence (HAW), Filipe Toledo (BRA), Lakey Peterson (USA), Stephanie Gilmore (AUS), and Julian Wilson (AUS) have arrived at Keramas ahead of the Corona Bali Protected, which commences 

tomorrow

, 

May 27

.
Credit: © WSL / Cestari
Location:   
  Keramas, East Bali, Indonesia
Event window:
  

May 27 –  June 9, 2018

Today's call:
 Event Upcoming
Conditions:
 Upcoming
Keramas, Bali/Indonesia (Saturday, May 26, 2018) – The Corona Bali Protected, Stop No. 5 on the World Surf League (WSL) Championship Tour (CT), begins tomorrow with a competitive window from May 27 through June 9, 2018.
It will be the first time the WSL's elite Championship Tour returns to Indonesia, a global surfing mecca, since 2013 and will once again bring the best surfers in the world to the island paradise of Bali. With a great forecast for the opening days of the event, Keramas is sure to offer competitors a mixture of intense tube rides, powerful open-face carves, and massive aerial opportunities.
Current Jeep Leader Julian Wilson (AUS) is renowned for putting on some of the most ground-breaking performances in both competition and free-surfing sessions at Keramas. Wearing the yellow Jeep Leader Jersey, Wilson is a clear favorite to move deep into the draw this week. The Australian natural-footer sits at the top of the rankings and looks to strengthen his campaign for his maiden World Title.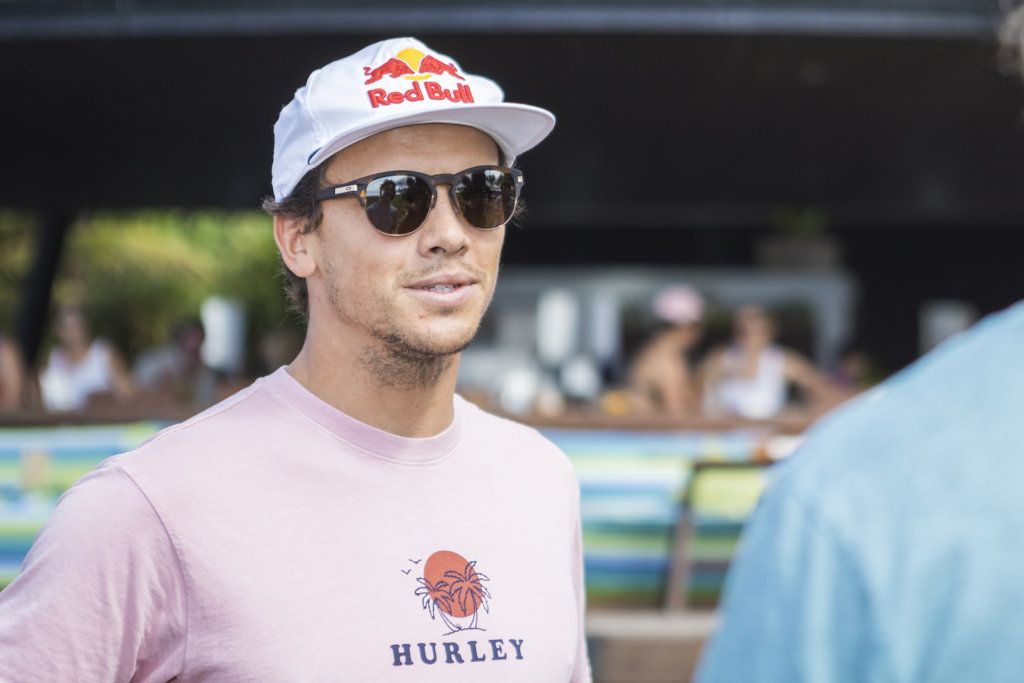 Current #1 wants to keep it that way. Image Cestari: WSL
"To be back competing in Bali is really exciting," Wilson said. "I try and make a trip to Bali every 12 months so having the opportunity to compete here is awesome. Keramas is one of my favorite waves on the planet. It has it all: barrels, power, and air sections. It's going to be really entertaining. It's good to be in the Jeep Leader Jersey because it means I've had a good season so far, but there is still half the season to go, so I need to keep my focus going and make sure I'm around the mark at the end of the year."
Fresh off a win at the Oi Rio Pro in Brasil last week is six-time WSL Champion Stephanie Gilmore (AUS), who has had one of her best starts to the season in years. Gilmore currently leads the Jeep ratings and has a solid chance of equaling Layne Beachley's record of seven World Titles this season. Gilmore's trademark forehand turns will be well-suited to the walls ofKeramas as the women's CT kicks off for the first time ever on Indonesian shores. Gilmore will take on Sage Erickson (USA) and event wildcard Carol Henrique (PRT) in Heat 3 of Round 1.
"This is the first time that the women have had an event here in Indonesia, which is really special," Gilmore said. "The Keramas wave is truly world-class and is such a good wave to watch with the fans literally sitting meters away from the break catching all of the action, it's a really special vibe. The WSL is always searching for the world's best waves and so coming to Indonesia is a no-brainer as it is so renowned for having such epic surf spots. It's like heaven. I hope this event stays on tour for a long time. Winning in Brasil was really important to me as it's previously been an event where the wheels have fallen off, so it was cool to get a win there. Having Lakey (Peterson) in the final means that it's game on now for a really exciting title race."
Filipe Toledo (BRA) is the current World No. 2 after taking a show-stopping event win at the last CT event in Brasil. He will be one to watch when he takes on Conner Coffin (USA) and Mikey Wright (AUS) in Heat 4 of the opening Round of the Corona Bali Protected.
"I am super excited to be back in Bali," Toledo said. "The last time we were here was one of the best events ever. Bali is incredible because of the waves, the food, the people and Keramas breaks really close to the beach, so it's really good to watch. I just love it. My plans have been working over the last few weeks and I'm feeling good and ready to go."
Reigning, two-time WSL Champion John John Florence (HAW) is thrilled to be back in Bali to compete in an event that is sounding the alarm on one of the biggest threats to the survival of the world's oceans: marine plastic pollution, a cause that Florence is passionate about. The last time Florence competed in Bali, he was eliminated by eventual event winner Joel Parkinson (AUS), who scored a Perfect 20 out of 20 heat to Florence's almost as impressive 19.20, in what was one of the best heats of all time.
"It's scary to think what's happening to our oceans," Florence said. "I was super happy to see that WSL and Corona are raising awareness and helping the cause of trying to protect the ocean. I am super psyched that Keramas is back on Tour. The last time we were here it was such a great event. I hope we keep coming back every year. This is such a high-performance wave and it raises the level of everyone's surfing."
Lakey Peterson (USA), current World No. 2 is enjoying a stellar start to the season and showing no signs of the injury that has hampered her performance over the past few years. Although Peterson is having a standout year, she admitted she had her work cut out to keep up with Gilmore's ever-increasing lead.
"I am excited for this opportunity for the women's CT to compete here for the first time and I'm excited to show people what we can do out here," Peterson said. "Keramas is a great high-performance wave. It can offer you tube rides, turns, and air sections. I went online to watch the highlights of the men's event in 2013. I watched a lot of John John (Florence) and, of course, Joel (Parkinson) who won. It got me really excited to get out there. I'm super happy right now. I'm in a really good place. I'm trying to really enjoy every event and keep the consistency going and hopefully keep up with Steph (Gilmore) on the rankings."
2012 WSL Champion Joel Parkinson (AUS) won his last CT event at Keramas in 2013, even posting a Perfect heat (20/20) along the way, a feat that has only been achieved a few times in WSL history. Currently sitting uncharacteristically low on the ratings, Parkinson is in need of a big result at the Corona Bali Protected. Having proven himself year in and year out at Keramas, he will certainly be a challenger when he hits the water in the opening heat of Round 1.
"It's so good to be back competing in Bali, I love this place," Parkinson said. "It's a perfect righthander that you can sit and watch by the pool all day. It's such a cool vibe. I've surfed here a lot over the years so feel super comfortable, plus I surfed in a few QS 1,000 events here in recent years so definitely feel confident with that in mind. It's going to be such an amazing event and I can't wait to get it started."
Kelly Slater (USA) continues to recover from a foot injury he sustained last year and will be replaced by Hawaiian prodigy Barron Mamiya (HAW). Mikey Wright (AUS) will grab another opportunity on the big stage with the WSL wildcard, while Indonesia's own Oney Anwar (IDN)has been awarded the local men's wildcard.
Winning the Hurley Women's Trials was Carol Henrique (PRT), who will have her first ever appearance in a Championship Tour event. The young Portuguese competitor will have her work cut out for her, taking on Gilmore and Erickson in Heat 3 of Round 1.
"I can't believe this," Henrique said. "It feels amazing to win. There is a lot of pressure on me but it will be good for my surfing. I think I'm the first Portuguese female to compete in a CT outside of Portugal which is really special. I'm so excited for the event to start and to be competing against my heroes."
The WSL Commissioner's Office will convene tomorrow morning at 6:00 a.m. local time to assess the conditions and make the call for a potential 6:30 a.m. start.
The Corona Bali Protected will be broadcast LIVE on the WSL's Facebook page, WorldSurfLeague.com, and the WSL app. Also, check local listings for coverage from the WSL's broadcast partners.
Corona Bali Protected Men's Round 1 Matchups:
Heat 1: Italo Ferreira (BRA), Joel Parkinson (AUS), Keanu Asing (HAW)
Heat 2: Owen Wright (AUS), Ezekiel Lau (HAW), Michael February (ZAF)
Heat 3: John John Florence (HAW), Michael Rodrigues (BRA), Miguel Pupo (BRA)
Heat 4: Filipe Toledo (BRA), Conner Coffin (USA), Mikey Wright (AUS)
Heat 5: Gabriel Medina (BRA), Tomas Hermes (BRA), Barron Mamiya (HAW)
Heat 6: Julian Wilson (AUS), Connor O'Leary (AUS), Oney Anwar (IDN)
Heat 7: Kolohe Andino (USA), Jeremy Flores (FRA), Ian Gouveia (BRA)
Heat 8: Jordy Smith (ZAF), Kanoa Igarashi (JPN), Joan Duru (FRA)
Heat 9: Adrian Buchan (AUS), Griffin Colapinto (USA), Jesse Mendes (BRA)
Heat 10: Michel Bourez (PYF), Matt Wilkinson (AUS), Patrick Gudauskas (USA)
Heat 11: Wade Carmichael (AUS), Frederico Morais (PRT), Willian Cardoso (BRA)
Heat 12: Adriano de Souza (BRA), Sebastian Zietz (HAW), Yago Dora (BRA)
Corona Bali Protected Women's Pro Round 1 Matchups:
Heat 1: Tyler Wright (AUS), Johanne Defay (FRA), Coco Ho (HAW)
Heat 2: Tatiana Weston-Webb (HAW), Caroline Marks (USA), Bronte Macaulay (AUS)
Heat 3: Stephanie Gilmore (AUS), Sage Erickson (USA), Carol Henrique (PRT)
Heat 4: Lakey Peterson (USA), Keely Andrew (AUS), Paige Hareb (NZL)
Heat 5: Carissa Moore (HAW), Silvana Lima (BRA), Courtney Conlogue (USA)
Heat 6: Nikki Van Dijk (AUS), Sally Fitzgibbons (AUS), Malia Manuel (HAW)