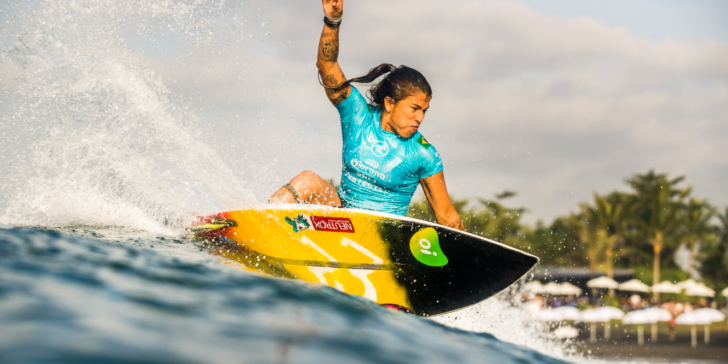 Jeep Frontrunner Caroline Marks Falls to World No. 18 Silvana Lima

Bronte Macaulay Eliminates Defending Event Winner Lakey Peterson

WSL Champions Stephanie Gilmore and Carissa Moore Through to Quarterfinals
 Veteran Silvana Lima (BRA) eliminates current World No. 1 Caroline Marks (USA) in the Round of 16 at the Corona Bali Protected. 
Credit: © WSL / Dunbar
Keramas, Bali/Indonesia (Thursday, May 16, 2019) – Stop No. 3 of 10 on the women's 2019 World Surf League (WSL) Championship Tour (CT), the Corona Bali Protected, is down to its eight Quarterfinalists after big eliminations in the Round of 16. The women blitzed through the two-to-four foot (0.6 – 1.2 metre) waves at Keramas and will now await the anticipated weekend swell for Final Series.
Jeep Frontrunner Caroline Marks Falls to World No. 18 Silvana Lima 
The highly anticipated Heat 3 matchup saw Current World No. 1 Caroline Marks (USA), the youngest competitor on Tour (17 years old), battle World No. 18 Silvana Lima (BRA), the oldest surfer on the women's Tour (34 years old). Marks started strong with two mid-range scores, but Lima kept pushing her scoreline until she surpassed the American with a 1.3-point advantage.

The Corona Bali Protected is Lima's first event back in 2019 after suffering a knee injury at the Corona Open J-Bay last year. The Brasilian's renewed intensity has been evident in her last two heats, and she will utilize this confidence coming up against Sally Fitzgibbons (AUS) in the Quarterfinals.

"When I saw that I was coming up against Caroline (Marks), I was so nervous," Lima said. "She is such an amazing surfer with such a perfect backhand, so it was going to be really hard to beat her. Taking that win gives me one-hundred percent confidence in myself and my surfing. It's such a good feeling. This is my first event back and now I'm in the Quarterfinals, which is so good for me and my seed especially for the Olympic qualification."

Marks will exit Stop No. 3 of 10 in Equal 9th, her worst result after a first-place finish on the Gold Coast and third place at Bells Beach.

"I had a really good freesurf this morning and one yesterday afternoon so to lose that heat is a big bummer," Marks said. "I made a few mistakes out there especially being too selective with the waves I caught. I should have stayed more active rather than sitting and waiting, but I guess I can learn from that. That's the best thing about losing is that you can learn a lot. I wanted to win this event so losing is the worst thing ever. I really hate it but it definitely makes me way more fired up for the next event. Silvana (Lima) surfed really well in that heat and definitely got the best waves, so I wish her luck with the rest of the event."
Bronte Macaulay Eliminates Defending Event Winner Lakey Peterson
With the high tide slowing down the lineup, the later heats saw decreased opportunities in the Round of 16. Bronte Macaulay (AUS) was forced to stay patient in her heat against defending event winner Lakey Peterson (USA). Macaulay's selectiveness paid off with better scoring opportunities on the heat's more sizable waves. Only chasing mid-range scores, Peterson was eliminated with her second 9th place finish of the season.

"I had a feeling it was going to get slow with the tide running out," said Macaulay. "It was quite small so you had to be on the right waves. My dad said to be aware of how slow it could be out there and I just tried to capitalize on my opportunities. It is nice just to breakthrough that round. It is a really hard one to get through, so just to do that an be in the Quarters is really nice. It is just a huge confidence booster and hopefully, I can keep going and have some better heats. Lakey (Peterson) is just incredible. It is a bummer that we didn't get to just open up and surf. I love Lakey, she is one of my good friends on Tour. But, I think the best is still yet to come."
World Champions Gilmore and Moore Through to Quarterfinals
Stephanie Gilmore (AUS), seven-time WSL Champion, came flying out of the gates in her Round of 16 matchup with fellow Aussie Keely Andrew (AUS), posting the highest two-wave total of the women's event so far. Andrew held the upper hand leading into the heat, having beaten Gilmore in both of their previous head-to-head matchups. This seemed to fire up Gilmore as she mixed her trademark style and power with progressive, fins-free surfing to dominate the heat. Gilmore now moves into the Quarterfinals, continuing her hunt for an event win in 2019.

"I knew I had to be on my game to beat Keely (Andrew) because we've had a few matchups in the past and she's always come out on top," Gilmore said. "Especially in waves like this, she is so fast and dynamic in small waves, so I knew I had to be on the set waves and make the most of the opportunities I had. Last year at Keramas, I was left waiting for a score and that is a scary place to be. I just wanted to make sure I got two decent waves and finished them. My loss here last year was a real turning point in my season. I love it here and want to perform well and would love to win the event. The board I'm riding is actually the one I won Bells and J-Bay on last year, so it felt nice to pull it out because it feels insane."

Three-time WSL Champion Carissa Moore (HAW) stopped Paige Hareb (NZL) in the opening heat with two 6-point rides. Hareb came close to her first heat win of the year but fell less than one point short of advancing. The New Zealander dropped off Tour for 2015 but battled back on the Qualifying Series to rejoin the elite contingent last season. With requalification on the line again, Hareb will focus on turning her season around at the Margaret River Pro to secure her position on the CT.
Big Wins From Hennessy, Conlogue, and Van Dijk
 Brisa Hennessy (CRI) Credit: © WSL / Dunbar
Brisa Hennessy (CRI) continues to stand out in her rookie season after booking herself a spot in the Quarterfinals for the second event in a row. Hennessy showed poise as she was pushed right to the end of her matchup with French competitor Johanne Defay with just over one point separating the two by the end of the heat.

"That was such a good win for so many reasons," Hennessy said. "I'm stoked to make it to the Quarterfinals because it gets me closer to my first Semifinal appearance. It will help my ranking for requalification and also with the Rookie of the Year race. It's just so wonderful to be here in Bali. Keramas is a really tidal wave so it's fun to try and judge what it is going to do through the morning, as surfers we all have to be good at that."

Courtney Conlogue (USA) continued her epic 2019 start, progressing into the Quarterfinals for the second straight event. Conlogue surfed a smart heat to take down current World No. 2 Malia Manuel (HAW) in a rematch of the recent Bells Beach Final.

Nikki Van Dijk (AUS) defeated World Title hopeful Tatiana Weston-Webb (BRA) in the Round of 16 to land herself her first Quarterfinal appearance of 2019. Van Dijk found a good rhythm as the tide dropped and conditions slowed, while Weston-Webb struggled with wave selection, resulting in her 9th place elimination.
The next call for the Corona Bali Protected and Red Bull Airborne will be tomorrow, Friday, May 17, at 6:25 a.m. WITA for a possible 6:35 a.m. start. At this time, event organizers will assess the conditions to decide the day's competition schedule.

The Corona Bali Protected and Red Bull Airborne will be broadcast LIVE on WorldSurfLeague.com and Facebook.com/WSL .

Also check local listings Spectrum 20… WSL broadcast partner.

For more information, please visit WorldSurfLeague.com.
Corona Bali Protected Women's Round 3 (Round of 16) Results:
Heat 1: Carissa Moore (HAW) 12.56 DEF. Paige Hareb (NZL) 11.57
Heat 2: Brisa Hennessy (CRI) 11.60 DEF. Johanne Defay (FRA) 10.40
Heat 3: Silvana Lima (BRA) 12.56 DEF. Caroline Marks (USA) 11.26
Heat 4: Sally Fitzgibbons (AUS) 12.03 DEF. Coco Ho (HAW) 9.77
Heat 5: Stephanie Gilmore (AUS) 14.34 DEF. Keely Andrew (AUS) 6.37
Heat 6: Courtney Conlogue (USA) 10.40 DEF. Malia Manuel (HAW) 7.83
Heat 7: Bronte Macaulay (AUS) 11.10 DEF. Lakey Peterson (USA) 6.17
Heat 8: Nikki Van Dijk (AUS) 10.60 DEF. Tatiana Weston-Webb (BRA) 8.50Corona Bali Protected Women's Quarterfinal Matchups:
QF 1: Carissa Moore (HAW) vs. Brisa Hennessy (CRI)
QF 2: Silvana Lima (BRA) vs. Sally Fitzgibbons (AUS)
QF 3: Stephanie Gilmore (AUS) vs. Courtney Conlogue (USA)
QF 4: Bronte Macaulay (AUS) vs. Nikki Van Dijk (AUS)Corona Bali Protected Men's Round 3 (Round of 32) Matchups:
Heat 1: Julian Wilson (AUS) vs. Jadson Andre (BRA)
Heat 2: Yago Dora (BRA) vs. Michael Rodrigues (BRA)
Heat 3: John John Florence (HAW) vs. Joan Duru (FRA)
Heat 4: Wade Carmichael (AUS) vs. Deivid Silva (BRA)
Heat 5: Italo Ferreira (BRA) vs. Jack Freestone (AUS)
Heat 6: Willian Cardoso (BRA) vs. Jeremy Flores (FRA)
Heat 7: Conner Coffin (USA) vs. Griffin Colapinto (USA)
Heat 8: Kolohe Andino (USA) vs. Ricardo Christie (NZL)
Heat 9: Filipe Toledo (BRA) vs. Caio Ibelli (BRA)
Heat 10: Seth Moniz (HAW) vs. Ryan Callinan (AUS)
Heat 11: Owen Wright (AUS) vs. Kelly Slater (USA)
Heat 12: Michel Bourez (FRA) vs. Rio Waida (IDN)
Heat 13: Gabriel Medina (BRA) vs. Leonardo Fioravanti (ITA)
Heat 14: Mikey Wright (AUS) vs. Adrian Buchan (AUS)
Heat 15: Kanoa Igarashi (JPN) vs. Peterson Crisanto (BRA)
Heat 16: Jordy Smith (ZAF) vs. Jesse Mendes (BRA)

Red Bull Airborne Bali Remaining Qualifying Round Matchups (H4-6):
Heat 4: Ian Crane (USA), Filipe Toledo (BRA), Jack Freestone (AUS), Mason Ho (HAW), Kalani David (HAW), I Made Darma Yasa (IDN)
Heat 5: Noa Deane (AUS), Reef Heazlewood (AUS), Finn McGill (HAW), Eli Hanneman (HAW), Oliver Kurtz (USA), Eric Geiselman (USA)
Heat 6: Yago Dora (BRA), Chippa Wilson (AUS), Eithan Osborne (USA), Matt Meola (HAW), Lee Wilson (IDN), Bronson Meydi (IDN
About the WSL 
The World Surf League (WSL) is dedicated to celebrating the world's best surfing on the world's best waves through a variety of best-in-class audience platforms. The organization, headquartered in Santa Monica, is a global sport with regional offices in Australasia, Africa, North America, South America, Hawaii, Japan and Europe.The WSL has been championing the world's best surfing since 1976, annually running more than 180 global events across the Men's and Women's Championship Tours, the Big Wave Tour, the Longboard Tour, Qualifying Series, Junior Championships, as well as the WSL Big Wave Awards. The League possesses a deep appreciation for the sport's rich heritage while promoting progression, innovation and performance at the highest levels, and in doing so crowns the undisputed Men's and Women's World Champions across all tours.Showcasing the world's best surfing on its digital platform at WorldSurfLeague.com, the WSL has a passionate global fan base with millions tuning in to see world-class athletes like Kelly Slater, Stephanie Gilmore, Tyler Wright, John Florence, Lakey Peterson, Paige Alms, Kai Lenny, Steven Sawyer, Soleil Errico, Carissa Moore, Gabriel Medina, Courtney Conlogue and more battle on the most dynamic field of play of any global sport.For more information, please visit WorldSurfLeague.com