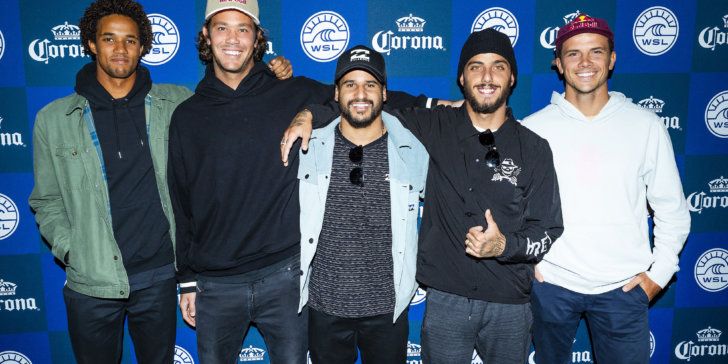 – MEN'S CORONA OPEN J-BAY EVENT WINDOW OPENS 

TOMORROW

– WILSON LEADS JEEP RANKINGS WITH 2017 EVENT WINNER TOLEDO IN SECOND– LOCAL STARS SMITH AND FEBRUARY READY FOR PROMISING SUPERTUBES FORECAST
From Left to Right: Michael February (ZAF), Jordy Smith (ZAF), Italo Ferreira (BRA), Filipe Toledo (BRA), and Julian Wilson (AUS) at the men's Corona Open J-Bay press conference.
Credit: © WSL /  Cestari
Location:   
  Jeffreys Bay, Eastern Cape, South Africa
Event window:
  

July 2 – 16, 2018

Today's call:
  Upcoming – First call 

tomorrow

 at 

7:10 a.m.

 SAST 
Conditions:
  Upcoming – First call 

tomorrow

 at 

7:10 a.m.

 SAST
JEFFREYS BAY, South Africa (Sunday, July 1, 2018) – Tomorrow, July 2, will kick off the highly-anticipated Corona Open J-Bay, Stop No. 6 on the World Surf League (WSL) Championship Tour (CT). The men's competition window will open tomorrow and close Friday, July 13, 2018. The women's event window will open on Friday, July 6 and run through Monday, July 16, 2018.
With favorable conditions expected for the beginning of the waiting period, current Jeep LeaderJulian Wilson (AUS), local star Jordy Smith (ZAF), 2017 event winner Filipe Toledo (BRA), 2018 CT Rookie Michael February (ZAF), and current World No. 3 Italo Ferreira (BRA) are eager to compete on the elite CT's midway point hosted at the world-renowned Jeffreys Bay in South Africa.
Last season, Supertubes turned on the charm with Toledo taking the win in firing, eight-foot rights. The unprecedented drama, upsets, and performances made the 2017 Corona Open J-Bay an instant classic. All eyes will wait to see what unfolds this year with a promising forecast, a new crop of hungry rookies, and a new level of progression brought by all competitors. This year's competition will also see the women's CT return to J-Bay for the first time since 2000. None of the women currently on Tour have ever surfed at J-Bay during a CT event.
Wilson currently tops the Men's Jeep Leaderboard with mixed results, including three Top 3 finishes and two 13th place results. 1,315 points separate Wilson from World No. 2 Toledo heading into this event. The Australian comes ready with an impressive track record at Jeffreys Bay and will look for his breakthrough CT win in South Africa when competition gets underway.
"I've had a lot of fun here since qualifying for the Tour," said Wilson. "This stop was absent from the tour for a few years, but since coming back, we've been blessed with really good waves and the forecast looks nice again for this year. I've had some good results but the excitement of going to bed and waking up with those perfect lines is consuming my mind at the moment. I'm hoping for a great result."
On his way to winning this event last year, Toledo produced the Perfect 10 seen around the world with his double aerials. After a great start to the season with a win at the Oi Rio Pro and three Quarterfinal finishes, the Brazilian sits in second place on the Jeep Leaderboard. A back-to-back win here will significantly boost his World Title campaign.
"It feels good to be back," said Toledo. "It feels like home here and last year was so amazing. It was some of the best heats I've ever had. I'm sitting at No. 2 in the rankings right now, which is the closest I've ever come to the Title, but it's still early in the year and there's still a lot of heats to be won. When you're No. 1 you have a giant target on your back. But I'm No. 2, so it's awesome. I'm just chasing one guy."
Rookie February is ready to compete at this event for the first time as a full-time CT competitor. February grew up in Cape Town, about an eight-hour drive outside of Jeffreys Bay, and competed as a wildcard in 2015 and 2017. Despite a difficult start to the season, February could make up some ground with a big result in his home country.
"This is my first year competing in this event as a Championship Tour surfer," said February. "I love going up against the local guys that have a ton of experience. It's nice being in a familiar place surrounded by my friends and family. When I was told I was surfing this event as a wildcard, I would find out a few days before and it would always be pretty hectic. This year, I've known about it so I've been able to prepare a little more and focus more of my energy on it. I'm excited for things to kick off."
Two-time event winner Smith, who is from Durban South Africa, is motivated to get another good result on his record. After two solid results in Bali, Smith continues to push the level of powerful and progressive surfing. The 30-year-old shined at last year's event with 2017's only Perfect 20.
"There's a lot of swell on the way so I think we're all in a great position," said Smith. "Everyone just seems really excited. This is one of the few events that I'm able to surf in front of my friends and family, so I'm doing it for them. They don't get to travel and see what my life looks like on a day to day basis. I just want to show them my love and what this is all about."
Ferreira currently sits at World No. 3 after two event wins this season (Rip Curl Pro Bells Beach and Corona Bali Protected). But, the 24-year-old has also had three 13th place results mixed into his career-best winnings. Ferreira's J-Bay record only reflects early exits, but the World Title contender will use his momentum to climb the rankings.
"I am so happy to be back here and get some good waves," said Ferreira. "It is so hard to surf J-Bay. I haven't gotten a good result here yet, but I am just trying to better myself and just enjoy. I love surfing on my backhand, especially here in J-Bay. The wave is so fast and good for big turns and big maneuvers, and I cannot wait for us to start."
Ferreira will be up against 11-time WSL Champion Kelly Slater (USA) and Kanoa Igarashi (JPN) in Heat 3 of Round 1. This event marks Slater's return to the CT for the first time in a year after sustaining a foot injury at this event in 2017.
Caio Ibelli (BRA) remains sidelined by a foot injury sustained earlier this year and will be replaced by Miguel Pupo (BRA). John John Florence (HAW) has withdrawn as well after injuring his knee ahead of the Uluwatu CT event. Florence will be replaced by Wiggolly Dantas (BRA). 
Mikey Wright (AUS), current World No. 7 on the Jeep Leaderboard, is the WSL pre-selected event wildcard.
Matthew McGillivray (ZAF), the 20-year-old from Jeffreys Bay, will take the second wildcard entry into the event. McGillivray is the highest ranked WSL Africa surfer on the men's Qualifying Series, sitting at No. 17 after the Ballito Pro. Earlier this year, McGillivray won the Netanya Pro QS 3,000 in Israel and the Vans Surf Pro Classic QS 1,500 at Lamberts Bay, South Africa last month. In his career-first CT event, the local favorite will be up against Wilson and 2012 WSL Champion Joel Parkinson (AUS) in Round 1 Heat 6.
The WSL Commissioner's Office will convene tomorrow morning at 7:00 a.m, local time (SAST) for a possible 7:30 a.m. start. The women's press session will kick off on July 3, ahead of the Corona Open J Bay – Women's event window, which opens July 6.
The Corona Open J-Bay will be broadcast LIVE on the WSL's Facebook page. Also, check local listings for coverage from the WSL's broadcast partners.
Surfline, forecast partner of the WSL, is calling for:
Monday morning starts slow, but new SW swell will build through the afternoon, eventually peaking on Tuesday with offshore wind both days (strong on Monday). A larger SW swell is likely for the 5th (building during the afternoon of the 4th before fading on the 6th). The 7th-11th look relatively slow at this time, with potential for rebuilding surf around the end of the event window. 
For more information, please visit WorldSurfLeague.com.
Men's Corona Open J-Bay Round 1 Matchups:
Heat 1: Jordy Smith (ZAF), Frederico Morais (PRT), Michael February (ZAF)
Heat 2: Michel Bourez (PYF), Sebastian Zietz (HAW), Ian Gouveia (BRA)
Heat 3: Italo Ferreira (BRA), Kanoa Igarashi (JPN), Kelly Slater (USA)
Heat 4: Gabriel Medina (BRA), Tomas Hermes (BRA), Miguel Pupo (BRA)
Heat 5: Filipe Toledo (BRA), Matt Wilkinson (AUS), Wiggolly Dantas (BRA)
Heat 6: Julian Wilson (AUS), Joel Parkinson (AUS), Matthew McGillivray (ZAF)
Heat 7: Willian Cardoso (BRA), Ezekiel Lau (HAW), Keanu Asing (HAW)
Heat 8: Owen Wright (AUS), Conner Coffin (USA), Joan Duru (FRA)
Heat 9: Kolohe Andino (USA), Mikey Wright (AUS), Patrick Gudauskas (USA)
Heat 10: Adrian Buchan (AUS), Adriano de Souza (BRA), Yago Dora (BRA)
Heat 11: Griffin Colapinto (USA), Wade Carmichael (AUS), Jesse Mendes (BRA)
Heat 12: Michael Rodrigues (BRA), Jeremy Flores (FRA), Connor O'Leary (AUS)
Women's Corona Open J-Bay Round 1 Matchups:
Heat 1: Johanne Defay (FRA), Sally Fitzgibbons (AUS), Sage Erickson (USA)
Heat 2: Tyler Wright (AUS), Silvana Lima (BRA), Bronte Macaulay (AUS)
Heat 3: Lakey Peterson (USA), Malia Manuel (HAW), Bianca Buitendag (ZAF)
Heat 4: Stephanie Gilmore (AUS), Nikki Van Dijk (AUS), Macy Callaghan (AUS)
Heat 5: Tatiana Weston-Webb (BRA), Keely Andrew (AUS), Courtney Conlogue (USA)
Heat 6: Carissa Moore (HAW), Caroline Marks (USA), Coco Ho (HAW)