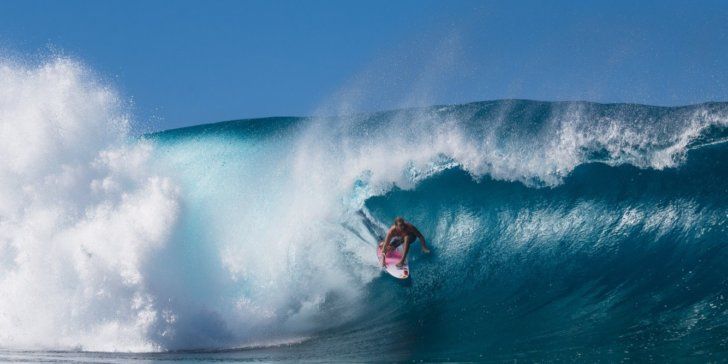 Photo: Ryan Chachi Craig
Jamie O'Brien added another win at the 2018 Da Hui Backdoor Shootout on Tuesday.
It's taken a decade to win #2 but clearly, it was worth the wait …not to mention the 40K he got for doing his JOB.
 "It feels amazing, and I'm stoked," JOB said. "I didn't know if I'd won, and I'm stoked to get two Da Hui Shootouts under my belt."
Da Hui gathered on December 30th for the opening ceremony not knowing that they'd have some of thee best surf in the history of the specialty event. 
The holding period for the Shootout (January 4th-16th) scored 6-12′ range with a variety of conditions but all in all it was epic.  Special mention and congrats  to Seth Moniz who nailed 2nd place by pulled into some of the best waves of the event…scoring a 10 out of 12. "A big Backdoor right, probably my best wave out there yet." 
Eddie Rothman summed it all up: "Everybody was charging and having a good time, smiles on everybody's faces, and the judging was right on. Local people got to shine. I think it's the best thing in the world for the surfers in Hawaii."
 Final Results
 1. Jamie O'Brien, $40,000
2. Seth Moniz, $25,000
3. Keito Matsuoka, $15,000
4. Balaram Stack, $10,000
5. Mason Ho, $5,000
 Winning Team
Da Hui Wax Team 1: Jamie O'Brien, Makai McNamara, Koa Smith, Nathan Florence
 Hard Chargers ($2,500 each)
Torrey Meister, Seth Moniz, Ola Eleogram, Tyler Newton