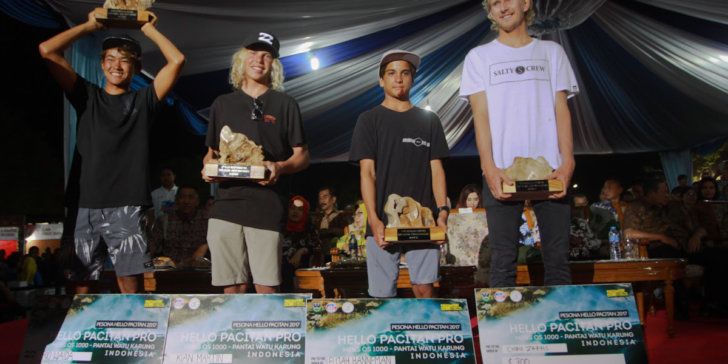 INDONESIA'S RIO WAIDA TAKES THE WIN OF HIS CAREER AT 2017 HELLO PACITAN PRO
– YOUNGSTERS RULE THE DAY
 15-YEAR-OLD KIAN MARTIN (SWD) FINISHING 2ND
 HAWAII'S 14-YEAR-OLD ELI HANNEMAN FINISHING EQUAL 3RD WITH AUSSIE CHRIS ZAFFIS  (AUS)
17-year-old Indonesian prodigy Rio Waida (IDN) has taken the win of his career at the Hello Pacitan Pro in pumping waves at Watu Karung. Alongside him in second is Kian Martin (SWE) with Eli Hanneman (HAW) and Chris Zaffis (AUS) sharing equal 3rd.
Credit: © WSL /  Tim Hain
Pacitan, West Java/Indonesia (Saturday, August 19, 2017) 
– Indonesian prodigy 

Rio Waida (IDN) 

has taken out the 2017 Hello Pacitan Pro World Surf League (WSL) Qualifying Series (QS) 1,000 event in pumping waves at Watu Karung in East Java. In

it's

first year as a WSL event, Watu Karung didn't disappoint with intense barreling 3-to-6 foot waves on offer throughout the competition window.

In a day dominated by the youngest competitors in the field Waida came up against 15-year-old Kian Martin (SWE) in the epic final matchup. After a phenomenal performance in the semifinal, Martin was unable to get a in a groove while Waida began to drop excellent scores from the get go. With a solid heat total of 15.25 (out of a possible 20) posted early in the exchange, Waida sat back while Martin tried to chase, something he was unable to do before the final buzzer.

"I'm so happy to win this event," Waida said. " It has such an amazing field so to make a few heats was special but to win it definitely exceeded my expectations. We have been lucky with the waves we have had this week, it has been absolutely pumping; this just makes the win even better."

Rio Waida riding the tube to Victory at Watu Karung.
Credit: © WSL /  Tim Hain
Having had a few solid results this year already, including a runner-up finish at Komune Bali Pro QS1,000, Waida sits on top of the WSL Asia QS rankings. If he is able to hold onto this position he will be awarded a seed into all of the 6000 and 10,000 QS events in the opening half of 2018. This is a massive leg up for someone with aspirations of qualifying for the elite WSL Championship Tour (CT).
"My biggest goal is to qualify for the CT," Waida continued. "These events is where all of that begins and to get a win at one is awesome for my confidence. There was a lot of older experienced competitors from around the world here and to overcome them feels amazing."

Rio Waida Chaired to Victory at Watu Karung.
Credit: © WSL /  Tim Hain
Kian Martin was born in Sweden but has spent the majority of his life in Bali and surfing around the islands of Indonesia meaning his comfort in hollow reef breaks is no surprise. Martin put on massive performances all event posting some of the highest combined and single scores seen throughout the week. Unfortunately for the stylish young natural footer he wasn't able to continue his roll in the final but still finished with the best result of his young career.
"I've had an amazing week here," Martin said. "Making it to the final feels so good and has definitely boosted my confidence. I got some incredible waves in my Semifinal but was unable to find a rhythm in the final. I'm stoked for Reo that he won. It's a great thing for Indonesian surfing."

Kian Martin on his way to a second place finish at Watu Karung.
Credit: © WSL /  Tim Hain
On his way to the final Martin had to take down an inform Eli Hanneman (HAW), yet another teen who dominated the event. 14-year-old Hanneman looked to be the competitor to beat, posting massive scores for his super stylish tube rides. However, during his Semi with Martin, Hanneman found himself in a combination situation (needing two scores). He was forced to go for broke and ended up taking a horrendous wipeout and hitting the shallow reef.  The young charger was forced to leave the water halfway through his heat with minor facial injuries. Hanneman was later cleared by medical staff and was commended on his solid performance at the event taking an equal 3rd alongside Aussie Chris Zaffis (AUS).

 Eli Hanneman with more composure than most between a rock and a hard place.
Credit: © WSL /  Tim Hain
It was a big day at the beach with thousands of locals heading to Watu Karung to watch the action. One of the more notable Pacitan locals in attendance was former Indonesian President Susilo Bambang Yudhoyono, who was loving every second of the action from some of the world's best surfers. His attendance, along with the massive crowds was a testament to the importance of this event to the local community.
For more images, highlights and information on the 2017 Hello Pacitan Pro , head to www.worldsurfleague.com and on the WSL App.
This QS1000 competition is part of the Hello Pacitan 2017 event that is organized by PT. Indonesia Media Network and sponsored by the Government of Pacitan, PGN (Perusahaan Gas Negara), Pertamina, Bank BNI, Bank BRI, Bank Mandiri, Jasa Raharja, and Telkom Indonesia, and that also includes a Mountain Bike Enduro and a Culinary Bazaar.