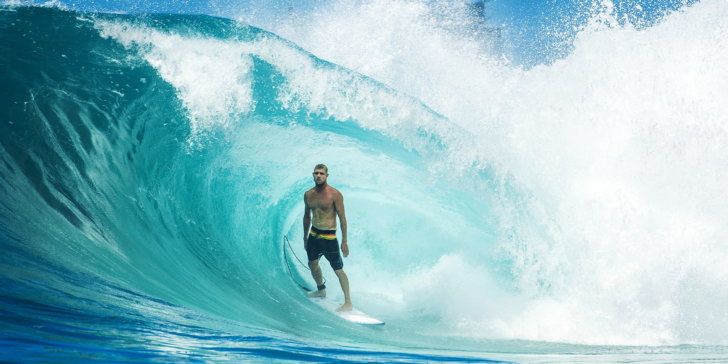 THREE-TIME WORLD SURFING CHAMPION MICK FANNING INDUCTED INTO 2017 SURFERS' HALL OF FAME ON FRIDAY, AUGUST 4 AT 9:00 AM
HUNTINGTON BEACH, Calif. – Mick Fanning, who overcame personal tragedy, a career-threatening injury and one of sport's greatest competitive dynasties (in the form of American Kelly Slater) to reach surfing's highest echelon three times to date, is one of two inductees into the 2017 Surfers' Hall of Fame.
Fanning joins Bethany Hamilton, who survived a vicious shark attack in 2003 and went on to become an inspiration to millions of surfers and non-surfers alike across the globe through her story of determination, faith, and hope. The amazing surfing duo will have their hand and footprints immortalized in cement for the ages on Friday, August 4th at 9:00 a.m. in front of Huntington Surf & Sport. This year's induction ceremony features the inductees, family, friends, pro surfers and industry titans. Further information is available at http://hsssurf.com/shof/.
"Both Bethany and Mick have inspired generations of people with their will to be unstoppable," said Surfers' Hall of Fame Founder Aaron Pai. "They are truly the King and the Queen of modern Surfing!"
Michael Eugene "Mick" Fanning, nicknamed "White Lightning," was born on June 13, 1981, in Sydney, Australia. He learned to surf at the age of five but did not focus on surfing until his family moved to Tweed Heads, New South Wales when he was 12. He grew up with fellow professional surfer, Joel Parkinson, in the Gold Coast/Northern Rivers region and attended Palm Beach Currumbin State High School together. In 1996 Mick established himself as one of the best surfers on the Queensland points by placing in the top three at the Australian National Titles.
Tragedy struck in 1998 when his brother Sean died in a car accident along with fellow surfer Joel Green (his older brother Peter would pass in December 2015 on the eve of Mick's Pipeline Master's World Title showdown). In his 2009 book "Surf for your Life," Fanning spoke of the impact Sean's death had on his life and priorities. "It just really made me appreciate life more. I had known people who had died before that — and I was rattled by it — but when it hit so close to home it was so different." He added, "I began thinking about what I wanted: I want to be a pro surfer, and that's what I'm going to do."
Fanning received a wild card entry at the Rip Curl Pro at Bells Beach in 2001, winning one of Australia's leading contests. He finished 2002 as Rookie of the Year, winning the Billabong Pro at Jeffrey's Bay and earning himself a place on the 2003 Association of Surfing Professionals (ASP) World Tour as World Qualifying Series (WQS) Champion. In 2003 Mick climbed one step higher and finished 4th and many thought 2004 would be Mick's year.
However, a catastrophic freesurfing injury changed everything. Mick ripped his hamstring clean off the bone, was out of action for six months and left questioning whether he'd ever again surf competitively.
His comeback to the World Tour was a stirring win in front of 20,000 fans at his homebreak, Snapper Rocks. Mick then put together one of the most impressive competitive seasons of all time, winning three events, finishing runner-up in another and making four semi finals. His incredible effort in 2007 saw Mick become the first Australian to unseat Slater for a world title in 15 years. In 2009, Mick clawed his way from nowhere to catch runaway rating leader, Joel Parkinson, one of his best friends, to capture World Title number two. He climbed to the top again in 2013, collecting his third World Title ahead of Slater in one of the sports most thrilling title showdowns.
Fanning became a household name in July of 2015 when he was attacked by a Great White shark during the finals of the J-Bay Open in South Africa. In a legendary move on the live webcast, Fanning punched the shark and survived unscathed. Considered to be the fastest surfer in the world and credited for bringing peak physical performance to the forefront.
"Mick has overcome some major hurdles in his life while working his way to the top of the sport, said Aaron Pai. "Throughout it all, Mick has always shown the heart of a champion and representing surfing in the most positive way! We are honored to be able to thank Mick for his achievements and contributions to our Sport of Surfing!"
Mick is a six-time Australian Male Surfer of the Year: 2002, 2004, 2007, 2008, 2010 and 2011. In 2017 Fanning was appointed an Officer of the Order of Australia for distinguished service to surfing as a professional competitor at the national and international level, and as a supporter of a range of charitable foundations. Fanning is co-owner of Balter Brewing Company with Joel Parkinson, Josh Kerr and Bede Durbidge.
The Surfers' Hall of Fame induction ceremony pays tribute to those individuals who have made an indelible mark on the sport, industry, and culture of surfing. Annually, tens of thousands of visitors travel to Huntington Beach's downtown area and literally walk in the footsteps of surfing superstars and legends from several eras including Laird Hamilton, Andy Irons, Jack O'Neill, Robert August, Bob Hurley, Sean Collins, Kelly Slater, Lisa Andersen, Gerry Lopez, George Downing, Shane Dorian, Greg Noll, Corky Carroll, Shaun Tomson, Rob Machado, Timmy Turner, Shawn Stussy, Rabbit Kekai and many more, who are already immortalized in cement.
The nation's first imprint collection of legendary surfers, the Surfers' Hall of Fame celebrated its first induction in 1997 inside of specialty retailer Huntington Surf & Sport where several slabs remain. Four years later with the blessing of the City Council and a stunning bronze statue of Duke Kahanamoku serving as a backdrop, the ceremony moved outside to the corner of PCH and Main, less than 100 feet from the famed Huntington Beach Pier, site of the Vans U.S. Open of Surfing.
SOURCE: HUNTINGTON SURF & SPORT