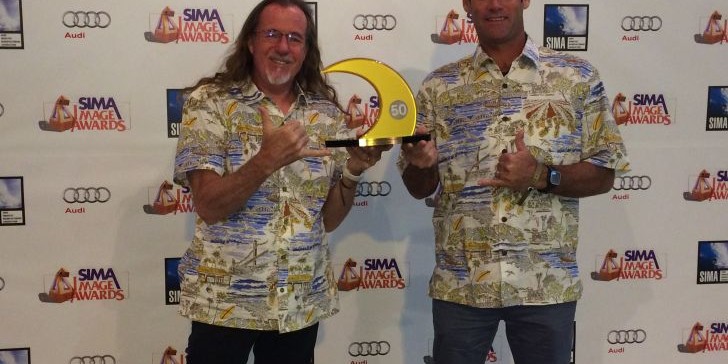 Surf n Sea, Haleiwa, HI, 1965 is Hawaii's longest running surf shop! And one of the most Iconic on the planet.
2015 SIMA Surf Shop Gold Wave Award. LAGUNA NIGUEL, Calif. (JANUARY 21, 2015) – Twenty of the nation's longest-standing surf shops were honored for their longevity, impact on surf culture and dedication to helping build surfing into the vibrant industry and community it is today. The Surf Industry Manufacturers Association (SIMA) will honor this special group of surf specialty retail pioneers with the 2015 SIMA Surf Shop Gold Wave Award, celebrating the milestone of being in business for 50 or more consecutive years. The Gold Wave Awards was presented by surf legend Shaun Tomson during this year's SIMA Image Awards ceremony on Thursday, February 12, 2015, at the City National Grove of Anaheim, Calif.
"To honor surfing's rich heritage in this way is exciting and important to the industry," said Doug Palladini, SIMA President and Vans' VP/GM North America. "These surf shops are instrumental in building the beach culture we love so much, the foundation of surf lifestyle since the 1950s and 60s. A surf shop is very influential to its local surf community – the hub of the local surf community in most cases – and these shops are legendary."
The inaugural Gold Wave Awards will be presented to the following specialty surf retail stores that have been in business for 50 or more consecutive years:
Inaugural SIMA Surf Shop Gold Wave Award Recipients
Shop Name, Original Location, Year Established
Atlantic Beach Surf Shop, Atlantic Beach, N.C., 1964
Bert's Surf Shop, Kinston, N.C., 1965
Bunger Surf, Copaigue, N.Y., 1962
Dive N' Surf, Redondo Beach, Calif., 1956
Froghouse, Newport Beach, Calif., 1962
Hansen Surfboards, Cardiff, Calif., 1961
Harbour Surfboards, Seal Beach, Calif., 1962
Haut Surfboards, Santa Cruz, Calif., 1965
Heritage Surf Shop, Sea Isle City, N.J., 1964
Hobie, Dana Point, Calif., 1954
Jack's Surfboards, Huntington Beach, Calif., 1957
Katin, Huntington Beach, Calif., 1954
McKevlin's Surf Shop, Folly Beach, S.C., 1965
O'Neill Surf Shop, San Francisco, Calif., 1952
Ron Jon's, Shipbottom, N.J., 1961
Surf 'n Wear's Beach House, Summerland, Calif., 1963
Surf n Sea, Haleiwa, HI, 1965
Surfers Supplies, Ocean City, N.J., 1962
Val Surf, North Hollywood, Calif., 1962
West Coast Surf Shop, Holmes Beach, Fla., 1964
"To be in business for 50 or more consecutive years is a tremendous milestone, and it is SIMA's honor to be able to thank these shops for their dedication to surfing for half a century," continued Palladini. "SIMA felt the Gold Wave award was a fitting name to recognize the golden anniversary of these inspiring retailers, and we look forward to continuing these awards as more and more of the shops in our industry reach the 50 consecutive year mark."
About the SIMA Image Awards
In its twelfth year, the goal of the SIMA Image Awards is to identify the surf industry's most influential companies and recognize them for their efforts to advance and grow the industry over the past year. For complete details on the nomination and voting process, as well as the complete list of nominees, visit www.simaimageawards.com. Thank you to Surf Expo for your continued partnership as the official Premier Sponsor of the SIMA Image Award ceremony, to the Blue Carpet Sponsor Audi and to RepSpark Systems for your supporting sponsorship.
About SIMA
The Surf Industry Manufacturers Association (SIMA) is the official working trade association of more than 300 surf industry suppliers. Founded in 1989, SIMA is a non-profit organization that serves to promote awareness of the surf industry and participation in the sport of surfing through public relations efforts and a variety of services, educational programs and research. In addition, SIMA  actively supports oceanic environmental efforts through its 501(c)(3) charitable environmental foundation, the SIMA Environmental Fund. In the past 25 years, SIMA's Environmental Fund has raised nearly $7 million for environmental groups seeking to protect the world's oceans, beaches and waves. The SIMA Humanitarian Fund, also a 501(c)(3) charitable foundation, was established in 2006 to award grants to various surf or boardsport related social and humanitarian non-profit organizations whose efforts are focused on improving the quality of life, health and/or welfare of people.