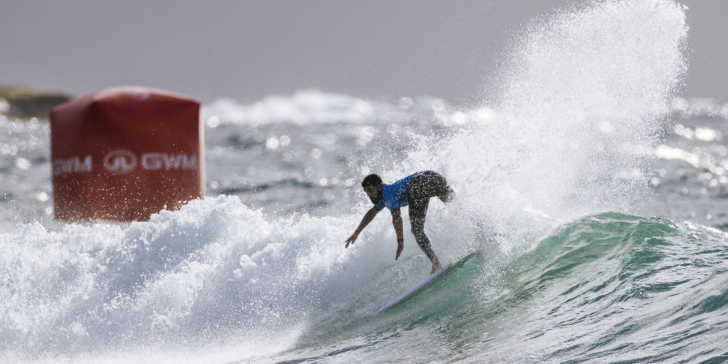 For GWM Sydney Surf Pro pres. By Rip Curl
Field Narrowed After Another Massive Day of Action at Manly 

Former CT Competitors Stamp Authority on Competition  

California and Kuta Kids Make Their Move in Sydney
Pictured fron page: Brazilian dynamo Michael Rodrigues (BRA) has continued his epic form today at the GWM Sydney Surf Pro pres. by Rip Curl at Manly Beach. 
Credit: © WSL / Dunbar
MANLY BEACH, Sydney, NSW / Australia (Saturday, May 21, 2022) –  The GWM Sydney Surf Pro presented by Rip Curl, the second stop of the 2022 World Surf League (WSL) Challenger Series (CS), has continued today in onshore, two-foot waves at Manly Beach. The tough conditions didn't detract from the action as weekend crowds were treated to a massive day of surfing action with the completion of the men's Round of 48 and the opening 4 heats of the women's Round of 32.
Pictured: Ryan Callinan (AUS) continued to find redemption at Manly today after an early round loss at Snapper Rocks last week. Credit: © WSL / Ryder
Rodrigues and Callinan Continue to Set the Pace at Manly
Former Championship Tour competitor Michael Rodrigues (BRA) continued his epic run of form in 2022, progressing into the Round of 24 here at Manly, posting another excellent two-wave combination of 16.00 to win his Round of 48 heat. Rodrigues looked fast and lively in the small, onshore conditions to take a convincing win to despatch of Former CT stars Julian Wilson (AUS) and Ezekiel Lau (HAW). 
"That was a tough heat but I felt good because conditions today are very similar to my home beach," Rodrigues said. "It was hard for me competing against Julian Wilson, he's a nice guy and for a long time he's been my idol, but in the heat I remained tough, didn't allow him to get a good wave under my priority and, well, you know – job done for me, I win and advance." 
Unlike Rodrigues, Aussie hopeful Ryan Callinan (AUS) was an early victim at stop one of the Challenger Series on the Gold Coast, an early round loss that no one saw coming. After dropping below the Mid-season Cut and losing his spot on the Championship Tour, Callinan is a surfer all surf fans are expecting to find form at the CS level and find his way back onto the CT. Today, Callinan showed some of the flare he is known for to progress into the next round and closer to clinching a keeper result early in the season. 
"I actually don't mind surfing waves like today," said Callinan. "For sure it's tough but I stay positive, stay light on my feet and most importantly try and pick the right waves that give the best scoring potential – It worked for me today. Everything is feeling good so I'm confident I can keep this going." 
Indonesian and San Clemente Upstarts Eye Off Career Best Results at Manly Beach Kade Matson (USA) and Jett Schilling (USA) are leading a young crop of competitors coming out of professional surfing hotbed San Clemente in Southern California. After falling out of the draw early on the Gold Coast, the pair are keen to turn their seasons around with solid results here at Manly. With their good friend and fellow San Clemente local Crosby Colapinto (USA) falling out of the draw in the Round of 48 today, the pair were happy to both take the second progressing spots in their heats and continue flying the flag here at stop 2 on the Challenger Series.
Another pair of youngsters who have continued to cruise through the draw here at Manly are Indonesian duo Ketut Agus (IDN) and Rio Waida (IDN) who have both progressed into the Round of 24 at the GWM Sydney Surf Pro. Waida finished in second place behind form surfer of the event Michael Rodrigues (BRA) while his good friend and countryman Agus finished in first, ahead of reigning event winner Leonardo Firoavanti (ITA) who snuck through in second place. Agus looks in good touch in the small soft conditions at Manly.
"I am so happy to surf against Italian super star Leonardo Fioravanti," Agus said. "I'm learning and enjoying competing against great international surfers and for Indonesia this is great that both Rio (Waida) and myself are doing good here – there are many good surfers in Indonesia and it's time for us to be surfing against the best world surfers – Let's go Indonesia."
North Narrabeen duo Jordy Lawler (AUS) and Dylan Moffat (AUS) are another pair of upstarts from the same hometown who continued to progress through the draw here at Manly Beach, much to the delight of local fans on the beach.
Pictured: San Clemente youngsters Jett Schilling (USA) and Kade Matson (USA) were all smiles after they both progressed into the Round of 24 at Manly today. Credit: © WSL / Dunbar
Women's Round of 32 Underway at Manly Beach 
Japanese representative Mahina Maeda (JPN) opened the women's Round of 32 with a solid heat win over Rachel Presti (GER) and Paige Hareb (NZL). With the tide dropping and onshore wind moderating, conditions were tough, but Maeda made the most of her opportunities, progressing with a mid-range two-wave total to the Round of 16 where she will take on event standout Luana Silva (HAW).
Other competitors that progressed into the Round of 16 on Saturday afternoon included Hawaiian trio Keala Tomoda-Bannert (HAW), Zoe McDougall (HAW) and Moana Jones Wong  (HAW) as well as Sawyer Linblad (USA), Teresa Bonvalot (PRT) and Sarah Baum (ZAF).
Baum and Bonvalot progressed through the final heat of the day which saw the biggest upset of the day with event standout and current No. 2 on the Challenger Series rankings Molly Picklum (AUS) losing in the dying seconds. Picklum, who is fresh off a runner-up finish on the Gold Coast will need to reset as she looks to re-qualify for the elite CT by years end.
The 2022 GWM Sydney Surf Pro presented by Rip Curl Challenger Series and WSL Longboard Tour events will run at Manly Beach through May 24, 2022. For more information, please visist WorldSurfLeauge.com or check the free WSL App.

This event is proudly supported by GWM, Rip Curl, Destination NSW, Bond University, Harvey Norman, Bonsoy, Boost Mobile, Oakberry, Oakley, Dometic Outdoor, Coopers, Northern Beaches Council, Havaianas, Bailey Ladders, and FCS. 
Watch LIVE
All Challenger Series events will be broadcast LIVE on WorldSurfLeague.com, WSL's YouTube channel, and the free WSL app. Check local listings for coverage from the WSL's broadcast partners. For fans watching in Brazil, coverage of the competition's Quarterfinals and beyond will continue exclusively on WorldSurfLeague.com and SporTV.For more information, please visit WorldSurfLeague.com.