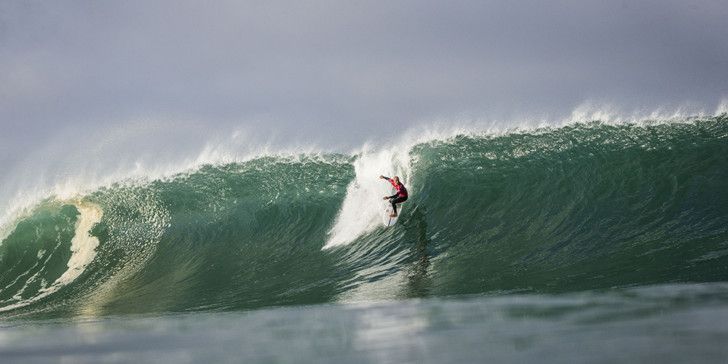 – NAT YOUNG AND KEANU ASING WIN OPENING ROUND BOUTS
(SURF WAS 5-8′ SOLID BUT MANY CLOSE OUTS)
Kelly Slater drops into a bomb but can't find the exit in his opening round matchup.. 


Image: © WSL /  Poullenot
| | |
| --- | --- |
| Location:    | Landes, Nouvelle-Aquitaine, France |
| Event window: | October 4 – 15, 2016 |
| Today's call: | Men's Round 1 – Heats 1 and 2 |
| | |
| --- | --- |
| Conditions: | Testing six-to-eight foot surf |
SEIGNOSSE/HOSSEGOR/CAPBRETON, Landes, Nouvelle-Aquitaine / France (Tuesday, October 4, 2016) -"It's really tough out there," said WSL Commissioner Kieren Perrow. "It really started to switch on this morning with some great waves coming in. Unfortunately as soon as we got going it went to two feet and there's some sets breaking and washing everything through and messing up the lineup so we have called competition off for the day."
Event organizers will reconvene at 8 a.m. local time (8PM HI TIME) tomorrow morning to assess conditions and make the next call.
The Quiksilver Pro France launched in pumping six-to-eight foot surf this morning at the plage des Culs Nus in Hossegor and ran through the opening two heats of Round One before conditions deteriorated and forced organizers to call it OFF for the rest of the day.
Nat Young (USA), 25, launched his French campaign with an important Round 1 win over Championship Tour veteran Joel Parkinson (AUS) and rookie Matt Banting (AUS), to skip elimination Round 2. Young started on a frothy solid righthander and kept a high line to navigate a deep tube on his backhand, exited cleanly to perform two turns on the open face for a 7.17, the morning's biggest score.
"That's kind of been the story of the morning, there were really good waves out there, it's just a matter of finding them," Young stated. "I started that heat off with a good one pretty much at the start and I knew I just had to back it up cause it's hard to find a good wave in 30 minutes out there, let alone two. I took out the biggest board I have here, it's a brand new one and I knew it would work."
In a wave-starved second heat, Keanu Asing (HAW) took down 11-time WSL Champion Kelly Slater (USA) and Kanoa Igarashi (USA) to advance directly into Round 3 as well. Asing locked in two average scores with  two turns on a righthander and a big backhand closeout hit on a left later in the heat. Slater, who had the heat's biggest score was unable to back it up and placed second.
"It's nice to finally beat Kelly because I've never got him before," said Asing. "The waves are tricky — it's tough to even paddle out. If the 11-time World Champion can't find a 2.00 out there, that says it all. I really just focus on myself and what I need to do to get through heat."
After only two heats, conditions degraded quickly and didn't offer anymore scoring opportunities for the World's Best surfers, forcing event officials to put a halt to competition on the opening day of the event's waiting period.
The Quiksilver and Roxy Pro France will be webcast LIVE on worldsurfleague.com and via the WSL app.
QUIKSILVER PRO FRANCE ROUND 1 RESULTS:
Heat 1: Nat Young (USA) 11.00, Joel Parkinson (AUS) 6.47, Matt Banting (AUS) 3.43
Heat 2: Keanu Asing (HAW) 8.00, Kanoa Igarashi (USA), Kelly Slater (USA) 7.00, Kanoa Igarashi (USA) 1.50
QUIKSILVER PRO FRANCE REMAINING ROUND 1 MATCH-UPS:
Heat 3: Jordy Smith (ZAF), Jadson Andre (BRA), Kai Otton (AUS)
Heat 4: Matt Wilkinson (AUS), Miguel Pupo (BRA), Leonardo Fioravanti (ITA)
Heat 5: Gabriel Medina (BRA), Dusty Payne (HAW), Ryan Callinan (AUS)
Heat 6: John John Florence (HAW), Conner Coffin (USA), Joan Duru (FRA)
Heat 7: Adrian Buchan (AUS), Stuart Kennedy (AUS), Jeremy Flores (FRA)
Heat 8: Italo Ferreira (BRA), Wiggolly Dantas (BRA), Alex Ribeiro (BRA)
Heat 9: Julian Wilson (AUS), Caio Ibelli (BRA), Alejo Muniz (BRA)
Heat 10: Kolohe Andino (USA), Sebastian Zietz (HAW), Jack Freestone (AUS)
Heat 11: Filipe Toledo (BRA), Josh Kerr (AUS), Davey Cathels (AUS)
Heat 12: Adriano De Souza (BRA), Michel Bourez (PYF), Adam Melling (AUS)
ROXY PRO FRANCE ROUND 1 MATCH-UPS:
Heat 1: Johanne Defay (FRA), Sally Fitzgibbons (AUS), Keely Andrew (AUS)
Heat 2: Tatiana Weston-Webb (HAW), Sage Erickson (USA), Lakey Peterson (USA)
Heat 3: Tyler Wright (AUS), Bianca Buitendag (ZAF), Chelsea Tuach (BRB)
Heat 4: Courtney Conlogue (USA), Nikki Van Dijk (AUS), Bronte Macaulay (AUS)
Heat 5: Carissa Moore (HAW), Laura Enever (AUS), Alessa Quizon (HAW)
Heat 6: Stephanie Gilmore (AUS), Malia Manuel (HAW), Coco Ho (HAW)