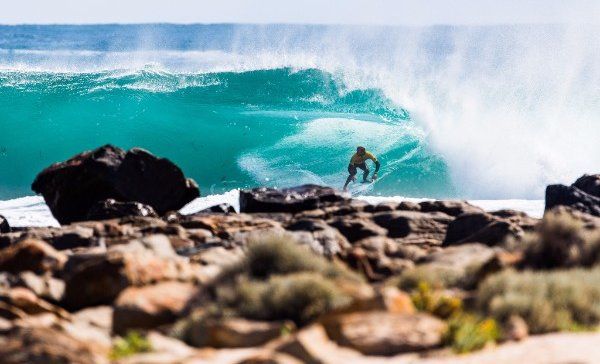 WILD CARD UPSETS MEDINA FIRST HEAT!
– MEN'S ROUND 2 CALLED ON FOR 1:05 PM HI TIME
– AT MAIN BREAK
– MEN'S ROUND 3 & WOMEN'S ROUND 1 ON STANDBY
– POTENTIAL TO SEE COMPETITION RELOCATE TO THE BOX TODAY
Round 2 of the Drug Aware Margaret River Pro will see current Jeep Ratings Leader Owen Wright (AUS) face rookie Ezekiel Lau (HAW) in Heat 3. Credit: © WSL / Dunbar
| | |
| --- | --- |
| Location:    |   Margaret River, Western Australia Australia |
| Event window: |   March 29 – April 9, 2017 |
| Today's call: |   Men's Round 2 called ON,  Men's Round 3 & Women's Round 1 on Standby |
| Conditions: |   Building eight foot (2.5 metre) |
MARGARET RIVER, Western Australia/AUS (Thursday, March 30, 2017) – The Drug Aware Margaret River Pro, Stop No. 2 of the World Surf League (WSL) Championship Tour (CT), will continue today with men's Round 2 called ON for a 7:05 a.m. start, with Round 3 and women's Round 1 on standby. After seeing an historic opening day at North Point, competition will relocate to Main Break, and if conditions permit, The Box, where the world's best surfers will face building eight foot (2.5 metre) waves.
"After an historic day at North Point yesterday, we have moved back to our primary location for Day 2," said WSL Commissioner Kieren Perrow. "Although the swell has dropped a little, it is still really solid with some eight-to-ten foot waves coming through at Main Break. We are going to get men's Round 2 underway at Main Break with Round 3 and Women's Round 1 on standby. There are some bombs coming through at The Box, but it isn't quite right at the moment, so we will keep an eye on it and are ready to head that way if conditions permit."
First up this morning will be the event's first eliminations in Men's Round 2 with Heat 1 bringing 2014 WSL Champion Gabriel Medina (BRA) against local ripper and event wildcard Jacob Willcox (AUS).
2017 CT Rookie Ezekiel Lau (HAW) will be put to the test in Heat 3 when he comes up against comeback king and current Jeep Rankings Leader Owen Wright  (AUS) in what is set to be a battle of the powerhouses in solid West Australian conditions.
Three-time WSL Champion Mick Fanning (AUS) has found himself in the unfamiliar spot of surfing in elimination Round 2. Fanning will go head-to-head with Kanoa Igarashi (USA) in Heat 11.
Heat 4 will see 2012 WSL Champion Joel Parkinson (AUS) will come up against CT Rookie Leonardo Fioravanti (ITA), who finished equal fifth at the 2016 Drug Aware Margaret River Pro as a wildcard.
A very large SSW swell will build in Wednesday, fading for the end of the week. A much smaller, but still solid, SSW swell is looking more and more likely for Friday afternoon and Saturday before fading into early next week. Favorable wind also looks likely, especially in the mornings, for the first several days of the waiting period. Beyond that, another run of medium to potentially strong surf is possible over the last 3-5 days of the waiting period, although local wind looks a little dicey at this time. Surfline.
For more information, check out WorldSurfLeague.com.
Drug Aware Margaret River Pro Men's Round 2 Match-Ups:
Heat 1: Gabriel Medina (BRA) vs. Jacob Willcox (AUS)
Heat 2: Matt Wilkinson (AUS) vs. Nat Young (USA)
Heat 3: Owen Wright (AUS) vs. Ezekiel Lau (HAW)
Heat 4: Joel Parkinson (AUS) vs. Leonardo Fioravanti (ITA)
Heat 5: Adriano de Souza (BRA) vs. Jadson Andre (BRA)
Heat 6: Filipe Toledo (BRA) vs. Joan Duru (FRA)
Heat 7: Josh Kerr (AUS) vs. Bede Durbidge (AUS)
Heat 8: Conner Coffin (USA) vs. Ethan Ewing (AUS)
Heat 9: Adrian Buchan (AUS) vs. Frederico Morais (PRT)
Heat 10: Connor O'Leary (AUS) vs. Wiggolly Dantas (BRA)
Heat 11: Mick Fanning (AUS) vs. Kanoa Igarashi (USA)
Heat 12: Stuart Kennedy (AUS) vs. Miguel Pupo (BRA)
Drug Aware Margaret River Pro Women's Round 1 Match-Ups:
Heat 1: Johanne Defay (FRA), Malia Manuel (HAW), Bronte Macaulay (AUS)
Heat 2: Courtney Conlogue (USA), Sage Erickson (USA), Coco Ho (HAW)
Heat 3: Tyler Wright (AUS),  Keely Andrew (AUS), Laura Macaulay (AUS)
Heat 4: Stephanie Gilmore (AUS), Nikki Van DIjk (AUS), Bianca Buitendag (ZAF)
Heat 5: Carissa Moore (HAW), Lakey Peterson (USA), Pauline Ado (FRA)
Heat 6: Sally Fitzgibbons (AUS), Tatiana Weston-Webb (HAW), Silvana Lima (BRA)