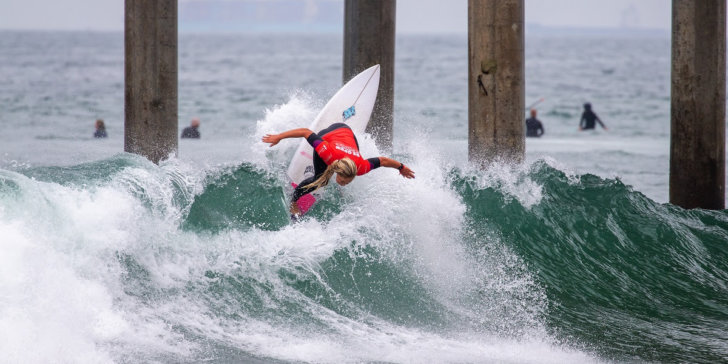 Simmers and Colapinto Claim Maiden Challenger Series Wins in California Sweep (Only Malia Manuel was younger wining the event at 14 in 2008).
Simmers Defeats an In-Form Gabriela Bryan from Hawaii, Colapinto Claims Long-Awaited Major Win
Crucial Points for Coco Ho and Nolan Rapoza with Semifinal Finishes
Hometown Heroes Fall Just Shy of Historic Third Titles
FRONT PAGE IMAGE: Simmers' undeniable backhand took her all the way atop the podium. Credit: WSL/ Morris
Pictured: Caitlin Simmers (USA) (L) and Griffin Colapinto (USA (R) claim their first major WSL wins in Huntington Beach, California. Credit: © WSL/ Kenny Morris
HUNTINGTON BEACH, Calif./USA (Sunday, September 26, 2021) – Caitlin Simmers (USA) and Griffin Colapinto (USA) have claimed the 2021 US Open of Surfing Huntington Beach presented by Shiseido, the opening stop on the 2021 World Surf League (WSL) Challenger Series (CS), victories. Simmers' dynamic win against Gabriela Bryan (HAW) and Colapinto's massive triumph over Encinitas, California's, Jake Marshall, marked the biggest WSL wins in their young careers.
Simmers' decimating backhand put Bryan against the ropes with a 7.17 (out of a possible 10) at the 14-minute mark, leaving the surfer from Kauai, Hawaii, in need of a 7.83 heading in the dying minutes. With the ocean not providing limited high-scoring possibilities, Bryan was left waiting for a wave as time expired. Pure elation from Simmers followed the final horn as the 15-year-old immortalized herself with her first major WSL victory. She has now gone back-to-back in Huntington Beach after winning the US Open Pro Junior trophy in 2019.

"I don't really have much to say other than I'm really happy and stoked everything went my way," expressed Simmers. "I noticed it was really high tide so I couldn't do what I did in my last heat where I waited 20-minutes for a wave so I just tried to get a quick start. I'm not really trying to qualify and just want to have fun in France and Portugal, and just surf, and enjoy myself."
FRONT PAGE IMAGE: Simmers' undeniable backhand took her all the way atop the podium. Credit: WSL/ Morris
In the Semifinals, Simmers had to overcome two-time US Open victor and CT veteran Courtney Conlogue (USA), which she did via a near-excellent 7.83 and and solid 14.83 (out of a possible 20) heat total. While the Oceanside, California, competitor may not be thinking about joining the world's best just yet, her incredible start to 2021 ends with a hoist up the beach.
"Nothing's really changed in my mindset this year and I think it's just doing what I usually do and it's working out," Simmers added. "I'm just so stoked to win this one after winning the Pro Junior the last time this event ran and it feels really good to beat Gabriela (Bryan) because she was ripping this whole event."
Colapinto Claims Long-Awaited Major WSL Win
Pictured: Colapinto's first WSL chair-up in Huntington Beach since his 2015 Pro Junior victory. Credit: WSL/ Morris
It was a phenomenal Final between Colapinto and Marshall with San Clemente, California's Colapinto taking the lead heading into the final ten minutes courtesy of a critical exchange between the two which went Colapinto's way (Colapinto was awarded a 7.57 to Marshall's 7.33). That decisive moment, coupled with Colapinto's progressive forehand attack within the dying minutes, proved to be the difference as Colapinto went on to his first-ever US Open victory.
"It's been a long time, I won my last event in a Pro Junior when I was 16 years old and it's been like a burden on me," said Colapinto. "I had this weird intuition from the beginning of this contest that it was all going to come together and everything was feeling good. There's so many people to thank; my parents are massive, my brother, my friends, my grandparents. I've just had such great support my whole life. They helped make me who I am today."
Colapinto overcame two big matchups on Finals day ahead of his brilliant Final that included rematches with both Liam O'Brien (AUS) in the Quarterfinals, a rematch of the 2019 US Open Semifinals, and Semifinal with two-time US Open victor Kanoa Igarashi (JPN) in their grudge match from the 2018 Final.

"Win or lose I'm always going to smile so it's all good," Colapinto added. "That was the biggest win of my career and a big moment in my life. I'm glad I got to share it with everyone here."
Pictured: Bryan looked unstoppable and overpowered CT veteran Coco Ho (HAW) in brilliant fashion. Credit: WSL/ Morris
This marks Bryan's biggest result of her young career as the 19-year-old adds 8,000 points towards CT qualification. Bryan had to overcome one of her idols Coco Ho (HAW) in a tight Semifinal battle that witnessed the next generation overpower the veteran experience of Ho before her showdown with Simmers. Now, she prepares for a two-event Challenger Series run through Europe to try and solidify herself within the Top 6 and make her dreams of joining the world's best come true.
"I knew the surfing had to be sevens or above and unfortunately I just didn't get the waves that I wanted," said Bryan. "I'm really happy with the way I performed this week and now I'm looking forward to Europe. Second-place is an amazing accomplishment and I'm super proud of myself even though I would've like to have won. But I couldn't ask for a better support crew and everyone sending messages – I really appreciate it."
Pictured: Marshall navigated his way through an international field and fellow Californians to his biggest result yet. Credit: WSL/ Morris
No stranger to Huntington Beach, Marshall has competed in the shadow of Huntington Beach Pier since his early days as an amatuer. After being on the cusp of qualifying for the CT in 2019, the 22-year-old is looking to make a big qualification push in 2021 and starts his campaign with 8,000 points. In the Semifinals he defeated local favorite Nolan Rapoza (USA), who hails from nearby Long Beach, and took out event breakout Callum Robson (AUS) in the Quarters.
"I've watched the US Open my whole life and been up here so many times before I was even competing to watch all my favorite surfers," said Marshall. "To end up making the finals is awesome and thanks so much to all the fans out here. It's great to have people back and supporting us. I'm just really excited to be back and competing so it's super fun."
Noteworthy Finishes for Some of the World's Best and Rising Stars
Pictured: Event standout Nolan Rapoza (USA) made his breakout performance to notch a career-best Semifinal at a major WSL event. Credit: WSL/ Morris
Former CT competitor and world-renowned surfer Coco Ho (HAW) fell just shy of a Finals appearance after a brilliant showing from eventual runner-up Bryan. Ho notches 6,500 points toward rejoining the world's best before heading to Europe in hopes of solidifying another big result.
A dominant run by two-time US Open victor Courtney Conlogue (USA) was cut short by in-form, eventual winner, Simmers. Conlogue now looks to train hard in the offseason and prepare for a World Title run on the CT next year beginning at Pipeline in January.
An incredible Quarterfinal showdown unfolded between two-time US Open winner Kanoa Igarashi (JPN) and in-form Lucas Silveira (BRA) that went down to the wire. Igarashi's ability to overcome Silveira's excellent 8.00 with his own 7.77 showed the determination to try and notch the historic third US Open title but rival Colapinto closed the door at that dream in their 2018 Final rematch showdown that went the San Clemente surfer's way.
Long Beach, California's, Nolan Rapoza surged through this event and notched a career-best Semifinal result after taking down CT veteran Kolohe Andino (USA) in a decisive Quarterfinal duel. Eventual runner-up Marshall overpowered Rapoza on a final wave in the dying seconds to claim a massive Semifinal win and earn 6,500 points toward CT qualification.
Next, competitors prepare for the MEO Vissla Pro Ericeira held at the iconic Portuguese pointbreak of Ribeira D'Ilhas beginning October 2 – 13. It's the first of two stops in the Old World. The second stop will be the Quiksilver Pro France October 16 – 24.

Challenger Series surfers are competing for a chance to advance to the elite Championship Tour in 2022. The top three results will be counted at season's end. For the men, that means finishing in the Top 12. For the women, a Top 6 finish in this year's condensed four-event season earns a spot to the CT.

Global partners for the US Open of Surfing Huntington Beach pres. by Shiseido include Michelob Ultra, Jeep, Hydro Flask, Expedia, Red Bull, Oakley Sunglasses, and BFGoodrich join with event partners Frontier, Flying Ember, US Army, Apple Test, Fu Wax, Super73, Regional, DraftKings, and Waterloo along with local sponsor Visit Huntington Beach representing for Surf City USA.

US Open of Surfing Huntington Beach Women's Final Results:
1 – Caitlin Simmers (USA) 13.90
2 – Gabriela Bryan (HAW) 10.60

US Open of Surfing Huntington Beach Men's Final Results:
1 – Griffin Colapinto (USA) 15.20
2 – Jake Marshall (USA) 12.83

US Open of Surfing Huntington Beach Women's Semifinal Results:
SF 1: Gabriela Bryan (HAW) 11.60 DEF. Coco Ho (HAW) 7.94
SF 2: Caitlin Simmers (USA) 14.83 DEF. Courtney Conlogue (USA) 10.34

US Open of Surfing Huntington Beach Men's Semifinal Results:
SF 1: Jake Marshall (USA) 10.37 DEF. Nolan Rapoza (USA) 9.50
SF 2: Griffin Colapinto (USA) 13.27 DEF. Kanoa Igarashi (JPN) 6.17

US Open of Surfing Huntington Beach Men's Quarterfinal Results:
QF 1: Jake Marshall (USA) 12.73 DEF. Callum Robson (AUS) 10.27
QF 2: Nolan Rapoza (USA) 13.00 DEF. Kolohe Andino (USA) 6.70
QF 3: Griffin Colapinto (USA)13.73 DEF. Liam O'Brien (AUS) 5.60
QF 4: Kanoa Igarashi (JPN) 14.77 DEF. Lucas Silveira (BRA) 14.50