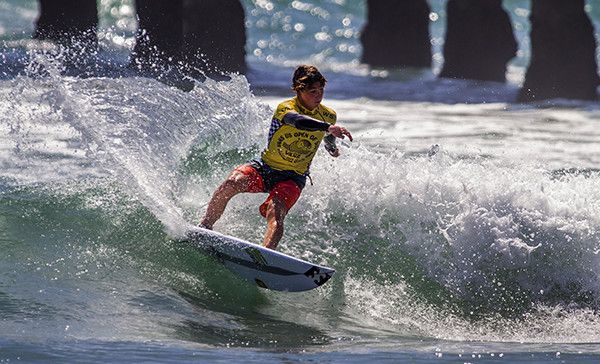 Griffin Colapinto (USA) wins the Vans US Open of Surfing Men's Pro Junior.
Image: WSL / Morris
| | |
| --- | --- |
| Location:    | Huntington Beach, CA, USA |
| Holding period: | July 25 – August 2, 2015 |
| Call: | Pro Junior Finals, Men's QS 10,000 Round 4 |
| Conditions: | 2' – 3' |
SNN: Huntington Beach, CA/USA (Saturday, August 1, 2015) – Griffin Colapinto (USA) and Caroline Marks (USA) have won the World Surf League (WSL) Vans US Open of Surfing Pro Junior in two-to-three foot waves at Huntington Beach Pier. In addition the Men's Quarterfinalists for the WSL Qualifying Series (QS) 10,000 event have been set for tomorrow's finale.
Griffin Colapinto (USA) stormed ahead of the field in the Men's Pro Junior Final with a 16.03 heat total with less than ten minutes gone, putting opponents Cam Richards (USA), Hiroto Arai (JPN) and Kanoa Igarashi (USA) in a combination situation. Huntington Beach standout Igarashi, who is also competing in the Men's QS 10,000, pulled together a series of critical turns for a near-perfect 9.57 to break the combination and steal the lead. The San Clemente local, Colapinto, came back strong and answered with a near-perfect 9.67 for a succession of power turns to claim the win and the title of Vans US Open of Surfing Men's Pro Junior champion.
"I don't even know what to think, that was the longest 8 minutes of my life, each second felt like a minute," said Colapinto. "Kanoa (Igarashi) and all the guys in the Final are super gnarly and I knew I just had to stay calm. I was completely tripping that I was able to pull it out of the bag and get that nine. It was probably the best feeling of my life getting that score, I just had to freak out. I'm going to take experience and confidence from this and hopefully take it to the next event."
Caroline Marks (USA) dominated the women's Final, starting with a 7.50 for a series of good turns and a convincing lead at the halfway mark. The 13-year-old from Florida was in rhythm with the ocean and steadily increased her scoreline throughout the heat. Two powerful turns in the pocket netted Marks a near perfect 9.43 to leave the field combed and solidify her advantage over fellow finalists Meah Collins (USA), Holly Wawn (AUS) and Frankie Harrer (USA). A last-minute 8.37 earned a final heat total of 17.80, the highest of the women's competition, and a WSL Pro Junior win for Marks.
"I just wanted to go big on every wave and get the best waves," said Marks. "I knew in the Final that everyone would go big. This year one of my goals was to win a Pro Junior event, but to win the US Open – I can't even explain how happy I am. I felt good out there and I just felt really in rhythm the whole heat and whole event. I'm going to stay focused, stay hungry — I love surfing."
Caroline Marks (USA) claimed the win to become Vans US Open of Surfing Women's Pro Junior champion.
Image: WSL / Morris
The men's Quarterfinalists for the WSL QS 10,000 event have been set for the final day of the Vans US Open of Surfing tomorrow and the field has been reduced to eight surfers after competition ran through Round 4 today.
Nate Yeomans (USA) put the pressure on Michael Rodrigues (BRA) early in Round 4 Heat 1. He delivered clean, crisp power turns on his first wave and followed it up with a big frontside air reverse. Yeomans looked focused and showed variety to take out Rodrigues, securing his place in the Quarterfinals against Kanoa Igarashi (USA) as well as crucial points on the QS.
"That was huge, these rounds now the points jump tremendously," Yeomans said. "The goal now is CT qualification so each heat is so crucial, especially as the year goes on and everyone is surfing so well. On the QS, that's the goal — college is fun but I want to graduate already and get back on the CT and surf with the world's best. I want to really push myself at that level. To surf at Teahupo'o and those spots would be amazing."
Defending event winner Filipe Toledo (BRA) oozed confidence in his Round 4 match-up against Beyrick De Vries (ZAF). Dominating the heat from early on, Toledo had De Vries in a combination situation with a 14.50 heat total. The South African came back with two turns and an air reverse of his own with 11 minutes remaining to break the combination but couldn't find the score he needed for a win. Toledo sails through to the Quarterfinals where he will match up against Alex Ribeiro (BRA) while De Vries takes home ninth-place finish and 3,700 points.
"The leash is just about confidence," Toledo said. "I'm feeling confident and my board is feeling great. Last year was pretty fun. All my friends and family are here again and it feels good to be back here in California back at home riding my best boards. I'm just enjoying it and having a good time."
Tanner Hendrickson (HAW) held a big lead over Billy Stairmand (NZL) thanks to an 8.43 for a series of quick snaps. Hendrickson backed it up with a 6.37 while Stairmand built his scoreline to a 13.33 heat total to put himself back in the heat. An attempt in the final minute wasn't enough and Stairmand is eliminated with his best result of the season, while Hendrickson moves through to the Quarterfinals to battle Kolohe Andino (USA).
"You definitely have to try and pick waves wisely, but on the other hand you have to get out there and get busy and ride waves and there's not too many of them out there," said Hendrickson. "It's tough making choices out there and you've just got to stick with the choices you make."
Kolohe Andino (USA) looked patient and composed in Heat 8 against Tomas Hermes (BRA), waiting for ten minutes before taking his first wave. The Californian went for broke and opened his account with the highest score of the Round, an excellent 8.87 for a series of risky maneuvers ending with an air reverse. An impressive 16.37 two-wave heat total, the best of the day, sees the CT surfer secure a Quarterfinal berth and send Hermes home.
"Yesterday I was a little bit too frantic and over excited after watching Filipe (Toledo) go mad," Andino said. "Today I wanted to focus on needing two waves. I've actually been really nervous on the days I've been competing because I haven't had that good of a year and I feel I'm surfing great but I'm not getting good results. I don't want to fall off tour so I'm super, super nervous and I put everything I had into this event and I'm stoked to be in the last day."
The day concluded with the Final of the Vans Joel Tudor Duct Tape Invitational presented by Pacifico, which was won by Justin Quintal (USA) from Florida.
Competition will continue tomorrow starting at 8:00 a.m. with Finals Days, starting with Men's Quarterfinals followed by Women's Semifinals, Men's Semifinals, Women's Final and Men's Final.
The Vans US Open of Surfing runs from July 25 through August 2, 2015 and is webcast LIVE via WorldSurfLeague.com and VansUSOpenofSurfing.com.
Each year, the Vans US Open of Surfing features the best in the world tearing up the storied break at Huntington Beach. Along with competitions for skate and BMX and dozens of on-site sponsors, the nine-day festival features four separate surf contests, including Junior Tour contests for men and women, a high-stakes men's Qualifying Series battle, and a women's Championship Tour contest for the Top 17.
Men's Pro Junior Final Results:
1: Griffin Colapinto (USA) 17.77
2: Kanoa Igarashi (USA) 17.24
3: Hiroto Arai (JPN) 14.44
4: Cam Richards (USA) 13.00
Women's Pro Junior Final Results:
1: Caroline Marks (USA) 17.80
2: Meah Collins (USA) 10.34
3: Holly Wawn (AUS) 9.30
4: Frankie Harrer (USA) 7.77
Men's Pro Junior Semifinal Results:
SF 1: Cam Richards (USA) 13.44, Hiroto Arai (JPN) 12.80, Seth Moniz (HAW) 12.43, Kalani David (HAW) 11.50
SF 2: Kanoa Igarashi (USA) 18.17,  Griffin Colapinto (USA) 15.77, Soli Bailey (AUS) 13.67, Dylan Lightfoot (ZAF) 11.70
Women's Pro Junior Semifinal Results:
SF 1: Meah Collins (USA) 15.64, Caroline Marks (USA) 12.04, Zoe McDougall (HSA) 9.83, Tiare Thompson (USA) 6.37
SF 2: Frankie Harrer (USA) 13.93, Holly Wawn (AUS) 11.43, Chelsea Tuach (BRB) 9.20, Brisa Hennessy (HAW) 3.83
Men's QS 10,000 Round 4 Results:
Heat 1: Nathan Yeomans (USA) 14.17 def. Michael Rodrigues (BRA) 13.74
Heat 2: Kanoa Igarashi (USA) 12.50 def. Adam Melling (AUS) 11.70
Heat 3: Ryan Callinan (AUS) 14.23 def. Tim Reyes (USA) 13.33
Heat 4: Hiroto Ohhara (JPN) 11.93 def. Mitch Crews (AUS) 11.43
Heat 5: Filipe Toledo (BRA) 14.50 def. Beyrick De Vries (ZAF) 8.24
Heat 6: Alex Ribeiro (BRA) 12.67 def. Maxime Huscenot (FRA) 8.34
Heat 7: Tanner Hendrickson (HAW) 14.80 def. Billy Stairmand (NZL) 13.33
Heat 8: Kolohe Andino (USA) 16.37 def. Tomas Hermes (BRA) 11.17
Men's QS 10,000 Quarterfinal Match-Ups:
QF 1: Nathan Yeomans (USA) vs. Kanoa Igarashi (USA)
QF 2: Ryan Callinan (AUS) vs. Hiroto Ohhara (JPN)
QF 3: Filipe Toledo (BRA) vs. Alex Ribeiro (BRA)
QF 4: Tanner Hendrickson (HAW) vs. Kolohe Andino (USA)