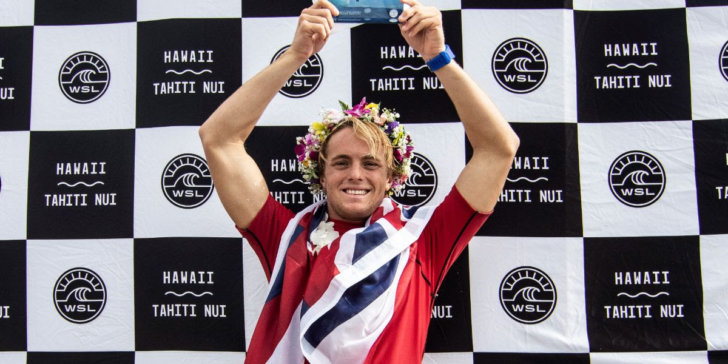 – Young Decimates Final Performance With A 17.77 Heat Total Over Former Sunset Winners
– Robinson, Kemper, and Jabour Earn Finals Appearances To Begin 2019

Front page: Cody Young
Sunset Beach showed its teeth with 20-foot, occasional plus, size faces avalanching through the lineup.
CREDIT: © WSL / Mike Chlala
Sunset Open, Men's QS 1,000
Event Completed, Congratulations Cody Young
8-12′ WNW light offshore to variable winds(SNN)
HALEIWA, Hawaii (Thursday, January 24, 2019) – The World Surf League (WSL) Men's Qualifying Series (QS) Sunset Open QS 1,000 crowned Maui, Hawaii's, Cody Young its 2019 champion in iconic, Sunset Beach conditions that ranged from 12-to-15 foot swell, bringing in 18-foot plus-size faces to finish the event. The 19-year-old powered through the early stages of the day's proceedings before unleashing an explosive Finals performance against the event's standout competitors to earn his maiden QS victory.

Young's decimating forehand attack in action.
Credit: WSL/ Chlala
Young faced three former Sunset victors including defending event champion, and fellow Maui native, Billy Kemper, 2017 Sunset Open winner Jack Robinson (AUS), and 2018 HIC Pro champ Kiron Jabour of Oahu, Hawaii. But, the first-time QS finalist put nerves aside and posted an impeccable 17.77 (out of a possible 20) heat total — including a near-perfect 9.10 (out of a possible 10) and 8.67 back-to-back.
"I've been surfing Sunset since I was 10-years-old, so to make my first Final and take it out here means the world," Young said. "I've had a lot of big Finals where I trip myself out going into it thinking I'm stoked to make the Final, and that was it. This time I treated it like any other heat and I couldn't be happier that it worked out like that. I knew I was going to have to throw huge scores just having Billy (Kemper), who won it last year in that heat. Along with Jack (Robinson) who's been so good out here and was really in-form, and then Kiron (Jabour) who just won here in October so I almost felt like the underdog. I didn't even hear my score for that 9 and just turned around on the next wave but I knew they were going to be big ones."
Young's consistency was the key to earn him a Finals appearance after securing a spot into the Quarterfinals and Semifinals with runner-up advancements before taking over his Semifinal heat against fellow Maui natives Imaikalani deVault and Ian Gentil, along with eventual fourth-place finisher Jabour. Now, the young competitor prepares for a big 2019 with 1,000 points to jumpstart his season before next week's Volcom Pipe Pro QS 3,000.
"It's definitely a good start to the year and I'll carry a lot of confidence into the rest of this season," Young continued. "I could use a little bit of money right now so it's definitely going to pay off. I'm going to carry a lot of confidence into the higher-rated events and hopefully qualify for the Tour eventually."

Robinson right in his comfort zone in pumping Sunset.
Credit: WSL/ Chlala
Young's overpowering presence in the Final put all of his fellow competitors in a combination situation, meaning they needed two new scores to total Young's. Until eventual runner-up Robinson unleashed a near-perfect 9.50, the event's highest single-wave score, under the ten-minute mark to give himself a fighting chance. The Australian posted the event's best heat total of an 18.37 in his Quarterfinal before breezing past his Semifinal bout. But, Robinson couldn't find the score to back up his near-perfection before the final horn sounded.
"I'm stoked to get a warm-up at firing Sunset and surf against some good names and that was a pretty good heat," Robinson said. "It felt great to get some heats in and get the blood flowing. As soon as Cody got those big scores I thought 'Oh yeah, here we go. This will be fun.' I was totally confident about getting another big score but just ran out of time. I've made a fair few Finals at Sunset so hopefully I can keep it rolling forever (laughs). I'm looking forward to getting on the Tour at some point and hoping to do it this year — it's time."
:
Finishing third and fourth place, respectively, Kemper and Jabour put on a powerful display of surfing throughout the event that culminated in a Finals appearance to start 2019. Kemper remains one of the most consistent surfers at Sunset in recent memory with four Finals in the last five years, including his win last year.
"I'm really glad with how consistent I was able to be making back-to-back Finals, that was my goal coming in and I couldn't be more stoked for Cody," Kemper said. "If anyone was going to win I was hoping it'd be in. I always love to see Maui on top."
One of the event dark horses, Jabour, snuck his way into this year's Final with advancing through Round 4, Quarterfinal, and Semifinal affairs before a shot at his second Sunset win in just three months. But, it wasn't to be and now he, along with the other three finalists, moves into the Volcom Pipe Pro.
"It feels good to make another Final out here and I wanted to win but the boys were just in rhythm," Jabour said. "It was pumping conditions and just a good start to the year. Now it's time to keep working at it and get ready for next week. The Volcom Pipe Pro is a 3,000 and that's when points really start to matter."
The Sunset Open/Pro Junior is presented by the Hawaii Youth Surfing Development Organization (HYSDO), a 501c3 nonprofit providing greater opportunities for local youth in and around surfing. Full results and heats scores are available at worldsurfleague.com and on the free WSL app.
Community partners (including WSL) are currently undertaking long-term erosion mitigation efforts at Sunset Beach. The public is encouraged to be mindful of limited parking, carpool or choose public transportation where possible, and use designated beach access points when on-site to protect the new sand dunes.
Sunset Open Finals Day Results
All surfers from Hawaii (HAW) unless otherwise noted.
Final
1 – Cody Young 17.77         1,000 points
2 – Jack Robinson 16.83       750 points
3 – Billy Kemper 14.13          560 points
4 – Kiron Jabour 13.77          525 points
1st and 2nd advance, 3rd=5th place,4th= 7th place
Men's Semifinals
SF 1: 1st Cody Young, 2nd Kiron Jabour, 3rd Ian Gentil, 4th Imaikalani deVault
SF 2: 1st Jack Robinson, 2nd Billy Kemper, 3rd Crosby Colapinto, 4th Joh Azuchi
1st and 2nd advance, 3rd=9th place, 4th=13th place
Men's Quarterfinals
QF 1: 1st Imaikalani deVault, 2nd Cody Young, 3rd Adrian Garcia (PER), 4th Kainehe Hunt
QF 2: 1st Ian Gentil, 2nd Kiron Jabour, 3rd Wiggolly Dantas (BRA), 4th Kaito Kino
QF 3: 1st Jack Robinson (AUS), 2nd Joh Azuchi (JPN), 3rd Ian Walsh, 4th Roi Kanazawa (JPN)
QF 4: 1st Billy Kemper, 2nd Crosby Colapinto (USA), 3rd Kauli Vaast (FRA), 4th Koa Smith
1st and 2nd advance, 3rd=17th place, 4th=25th place
Men's Round 4 (Round of 32)
Heat 1: 1st Adrian Garcia (PER), 2nd Kaito Kino, 3rd Noa Mizuno, 4th Kan Watanabe (JPN)
Heat 2: 1st Imaikalani deVault, 2nd Kiron Jabour, 3rd Dusty Payne, 4th Taro Watanabe (USA)
Heat 3: 1st Ian Gentil, 2nd Kainehe Hunt, 3rd Wyatt McHale, 4th Lahiki Minamishin (USA)
Heat 4: 1st Wiggolly Dantas (BRA), 2nd Cody Young, 3rd Barron Mamiya, 4th Joaquin Del Castillo (PER)
Heat 5: 1st Jack Robinson (AUS), 2nd Billy Kemper, 3rd Torrey Meister, 4th Vitor Ferreira
Heat 6: 1st Ian Walsh, 2nd Koa Smith, 3rd Eli Hanneman, 4th Logan Bediamol
Heat 7: 1st Kauli Vaast (FRA), 2nd Roi Kanazawa (JPN), 3rd Kaito Ohashi (JPN), 4th Tyler Newton
Heat 8: 1st Crosby Colapinto (USA), 2nd Joh Azuchi (JPN), 3rd Gavin Gillette, 4th Jeronimo Vargas (BRA)
About the WSL The World Surf League (WSL) is dedicated to celebrating the world's best surfing on the world's best waves through a variety of best-in-class audience platforms. The organization, headquartered in Santa Monica, is a global sport with regional offices in Australasia, Africa, North America, South America, Hawaii, Japan and Europe.

The WSL has been championing the world's best surfing since 1976, annually running more than 180 global events across the Men's and Women's Championship Tours, the Big Wave Tour, Qualifying Series, Junior and Longboard Championships, as well as the WSL Big Wave Awards. The League possesses a deep appreciation for the sport's rich heritage while promoting progression, innovation and performance at the highest levels, and in doing so crowns the undisputed Men's and Women's World Champions across all tours.

Showcasing the world's best surfing on its digital platform at WorldSurfLeague.com, the WSL has a passionate global fan base with millions tuning in to see world-class athletes like Kelly Slater, Stephanie Gilmore, Tyler Wright, John Florence, Lakey Peterson, Paige Alms, Kai Lenny, Taylor Jensen, Honolua Blomfield, Carissa Moore, Gabriel Medina, Courtney Conlogue and more battle on the most dynamic field of play of any global sport.

For more information, please visit WorldSurfLeague.com