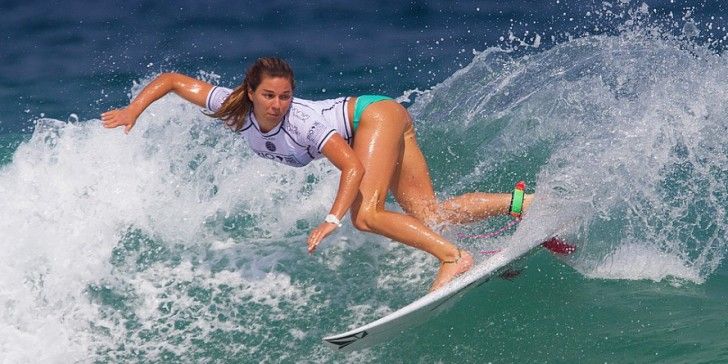 The Mauli Ola Foundation today announced that professional surfer Coco Ho is the winner of its second annual Battle for the Breasts. The competition, which was powered by Surfline and supported by Ambry Genetics, brings together 16 top female surfers to help spread awareness about the importance of early detection and screening for breast cancer, the second leading cause of cancer death among women in the U.S.
In the final round of voting, Coco edged out fellow surfer Courtney Conlogue. That victory earned MLC Cancer Foundation of Martinsville, VA a $50,000 donation of hereditary breast cancer testing vouchers on behalf of Ambry Genetics. Courtney's second-place finish earned the University of Utah in Salt Lake City $30,000 in vouchers. Two semi-finalists, Carissa Moore and Tatiana Weston-Webb, will each receive $10,000 for their charities – the University of Texas Foundation and Dana-Farber Cancer Institute, respectively.
"It was an honor to be a part of this year's Battle for the Breasts competition and to help support the MLC Cancer Foundation and bring genetic breast cancer testing to more women," Coco said. "This surfing event is a fun way to raise awareness about an issue that affects so many women in America. I appreciate my fellow surfers who participated and everyone who showed their commitment to raising awareness and helping women to learn more about their risk."
On November 6, Pat Via, Founder of the MLC Cancer Foundation, accepted the winning check from the Mauli Ola Foundation at an event with the staff members, family, and members of the community. "With these vouchers, we are able to provide vital genetic information to at-risk women who might otherwise not have access to testing. We are grateful to Coco, the Mauli Ola Foundation, and Ambry Genetics in helping us with our mission to help our patients gain more knowledge and insights into their risk for cancer."
The 12 other surfers and clinics they represented will each receive a voucher for BRCA1/2 testing from the Mauli Ola Foundation courtesy of Ambry Genetics.
The second annual Battle for the Breasts featured sixteen of the world's best female surfers competing for votes in an online video contest format during Breast Cancer Awareness Month. The event was created to raise awareness for the importance of early detection in the fight against breast cancer, with the participating surfers competing for $125,000 in hereditary breast cancer testing vouchers donated on their behalf by Ambry Genetics.
"The Mauli Ola Foundation congratulates Coco on her huge win," said Charles Dunlop, CEO of Ambry Genetics. "Coco is a true inspiration to the surfing community and we are pleased that her participation raised the visibility of the Battle for the Breasts and breast cancer awareness. The vouchers she earned will help support the mission of saving lives through early detection, research and treatment."
For more info click here -> www.mauliola.org/battle-for-the-breasts