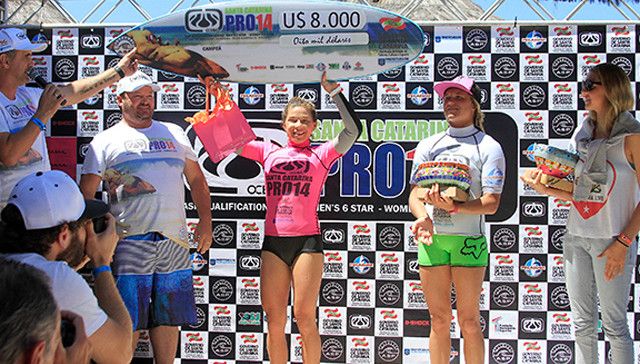 Oceano Santa Catarina Pro
ASP 5-Star Women's QS Event
ASP 6-Star Men's QS Event
Praia da Joaquina, Florianopolis Brazil
18 – 24 October 2014
Hawaiian defeats Keely Andrew & earns third Brazil QS win
Surf News Network, 22 October, 2014 : Praia da Joaquina, Florianopolis, Santa Catarina – Coco Ho (HAW) was victorious today at the ASP 5-Star Oceano Santa Catarina Pro over Keely Andrew (AUS) by a score of 16.33 to 9.03 in waves in the 2-3 foot range (1 meter) and pleasant weather at Praia da Joaquina, in Florianopolis, Brazil. With her win on Wednesday, she becomes the surfer with the most World Qualifying Series (QS) wins in South America.
In 2010, she won two consecutive events in Brazil. One in Salvador, Bahia and the other at Praia Mole, which is the next beach north of Praia da Joaquina in Florianopolis. For her success today, she earns U$8,000 in prize money and 2,000 WQS ranking points that propels her to 2nd place on the ranking right behind Silvana Lima (BRA).
Coco Ho was ecstatic upon receiving the news. "Really! That's sick, yeah that's three wins already. It feels great, it's crazy coming back to Florianopolis, I only knew Praia Mole so I didn't even realize we were on the same island, so to win again is phenomenal," exclaimed Ho.
Further commenting on her performance at the Oceano Santa Catarina Pro, she added, "The Final was really fun, it was all about who got the best waves. I was pretty stoked that I got that 9.00 and it kind of set the pace. It felt really good and I got it without having priority. I just saw the little wall and I knew I had to go." By winning the event today, Ho confirmed her qualification for the 2015 World Championship Tour (WCT).
In the Semifinals of the 5-Star Oceano Santa Catarina Pro, Keely Andrew set the record for the highest heat total by earning an 18.20 (out of a possible 20) from the judges over Nikki Van Dijk (AUS), who scored a 10.73.
"I was fortunate enough to show off my surfing in the event," said Keely Andrew. "I'm kind of bummed I didn't produce enough points in the Final, but it's still a good result for me and it's been such a fun event. I got kind of pulled out with the tide and didn't have very good wave selection. But I had a pretty good year personally on the QS, and I'd love to be on tour one day and if it's not this year, hopefully it'll be the next."
Only two events remain on the ASP Women's Qualification Series. Both will be organized by the ASP South America and will also determine the ASP South America title. The next event will be the ASP 4-Star Mahalo Surf Eco Festival which will run from October 27th-November 1st in Itacare, Brazil and will be followed by the ASP 3-Star Maui and Sons Women's Pichilemu Pro from November 13th-16th in Punta de Lobos, Chile.
FINALS
1. Coco Ho (HAW) 16.33 points (9.00+7,33) – US$ 8,000 and 2,000 points
2. Runner-Up: Keely Andrew 9.03 points – US$ 4,000 and 1,500 points
SEMIFINALS – 3rd place = US$ 2,000 and 1,125 points:
Heat 1: Coco Ho (HAW) 14.26 x 11.77 Philippa Anderson (AUS)
Heat 2: Keely Andrew (AUS) 18.20 x 10.73 Nikki Van Dijk (AUS)
QUARTERFINALS ON TUESDAY- 5th place = US$ 1,250 and 844 points:
Heat 1: Coco Ho (HAW) 12.83 x 11.77 Tatiana Weston-Webb (HAW)
Heat 2: Philippa Anderson (AUS) 11.17 x 7.40 Alessa Quizon (HAW)
Heat 3: Nikki Van Dijk (AUS) 14.10 x 8.74 Pauline Ado (FRA)
Heat 4: Keely Andrew (AUS) 14.84 x 5.86 Chelsea Tuach (BRB)
2014 ASP WOMEN´S QUALIFICATION SERIES RANKING – After 13 events:
1st: Silvana Lima (BRA) – 12,200 points
2nd: Coco Ho (HAW) – 10,700
3rd: Sage Erickson (USA) – 9,870
4th: Nikki Van Dijk (AUS) – 9,305
5th: Laura Enever (AUS) – 9,280 (currently qualified via WCT rankings)
6th: Tatiana Weston-Webb (HAW) – 8,564
7th: Alessa Quizon (HAW) – 8,334