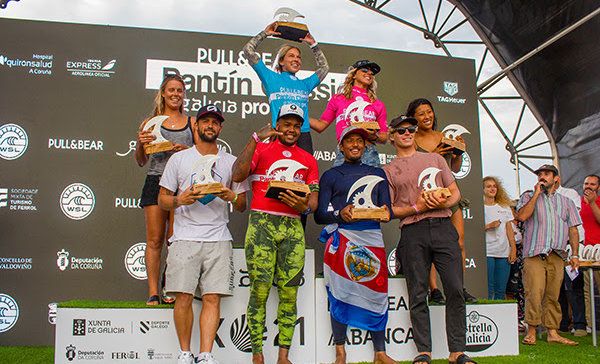 HAWAIIAN HO TAKES BACK-TO-BACK TITLES IN GALICIA, SECURES 2019 CT BERTH
WESLLEY DANTAS CLAIMS FIRST-EVER QS EVENT WIN
The winners and finalists of the 2018 Pull&Bear Pantin Classic Galicia Pro.
Credit: © WSL / Poullenot
PLAYA DE PANTIN, Galicia – Spain (Sunday, September 2, 2018) – Coco Ho (HAW) and Weslley Dantas (BRA) have won the Pull&Bear Pantin Classic Galicia Pro in the Final bouts against Sage Erickson (USA) and Carlos Munoz (CRI) held in pumping four-to-six foot surf in Pantin. Stop No. 10 of 12 on the 2018 World Surf League (WSL) European Qualifying Series (QS), the Pull&Bear Pantin Classic Galicia Pro, has alternated between small and solid surf every day this week, culminating today with the crowning of the 2018 Champions in solid but slow Galician conditions.
The women's final carried much more importance points-wise in the qualifying campaigns of surfers and hit the water first. The new swell expected to reach the Galician shores today didn't disappoint and pumped solid six foot sets closing out the beach while surfers took refuge at first in the far East corner of the beach and looked for the smaller but throaty rights.
The 2012 & 2016 champion Sage Erickson (USA) taking on the defending champion in Pantin Coco Ho (HAW) was a dream final was everyone on-site today. Erickson got two below-average scores early on, and considering the conditions, put a relative pressure on Ho. The Hawaiian briefly came back in the fight with a single-maneuver attempt but Erickson found a set wave that let her perform three turns for a 6.00 to extend her lead.
Things got even more interesting on the ten-minute mark with a good exchange from both surfers. The Californian got a longer wave with softer sections for a 5.27 and Ho only got two turns in but slightly more critical for a 6.57. Ho found a smaller wave with only two minutes on the clock and applied two surgical turns on her backhand to post a buzzer-beater 6.13 and take back-to-back wins in Pantin.
"I'm super excited the waves were really fun today," Ho said. "I'm banking off the QS right now and this means I'm going to be able to relax a bit more and focus on the wave pool, Hossegor and Honolua. I got stuck on a couple of waves in the final from the offshores, nose dove on another one so it didn't start off well for me. But that wave presented itself and I didn't have priority so when I went I really wanted to make it count."
World No. 12 with three Championship Tour events left in the season, Ho decided to defend her chances with a strong QS effort and today secured her re-qualification with the 6,000 points she won in Pantin, and a total 18,650 points on the QS for the second place.
"Coming here for the first time four years ago I didn't know anything about Pantin," she continued. "I grew a little more prepared each time and winning here last year was special. It's the most beautiful I've ever seen Pantin, we had beach days every day and I really admired how beautiful this place is, so this second win was even more special."
The two-time winner Erickson had the lead for most of the Final but found herself out of reach of that final wave, which she had first priority for. But the Californian adds another major result to her track-record in Pantin with the runner-up today and will jump up eleven spots to No. 12 on the Qualifying Series with one more major event remaining this season.
"That was really bitter-sweet for me, I did have priority and with offshores it was hard to tell what waves would stand or not," Erickson said. "Coco took it and got the score but that's just competition. We've known each other since I was 10 years old and I know how competitive she is so it makes me want to beat her even more but I guess today was her day. A part of my connection here with Pantin is all the different shapes, sizes and colors it shows and I love the challenge of adapting and being the surfer successful at surfing whatever the ocean throws at us here."
Ho and Erickson had previously defeated Paige Hareb (NZL) and Mahina Maeda (JPN) respectively in the semis.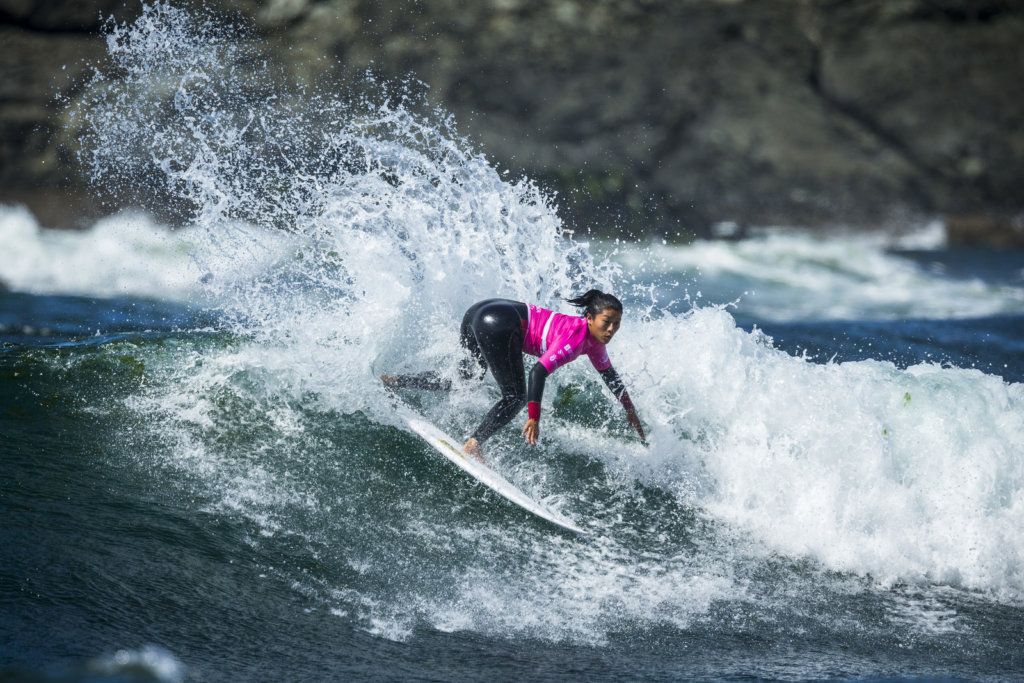 Mahina Maeda Pantin18 Poullenot
The men's final on the other had two first-time finalists in Pantin, Weslley Dantas (BRA) and Carlos Munoz (CRI). Dantas stuck to his air-game at first, opting to surf smaller waves in the wind to throw the forehand rotation he's got on lock. However judges weren't as impressed as they were by his skills in the semis (where he got a 9.50 on a single air) and kept the scores low.
Munoz adopted the same attitude but the gale-force offshores kept blowing both surfers' boards away and the Final stayed a low-scoring affair. Dantas found a good left on the inside and stayed on his board this time, locking in three decent turns for a 4.87 to extend his lead. Munoz' few attempts were unsuccessful and Dantas walked away with the win and a heat total barely over his single best wave of the heat prior.
The Brazilian claimed his first-ever QS title and the additional 3,000 points have rocketed him 36 spots higher on the global Qualifying Series. A heavily muscular surfer, Dantas showed his repertoire includes much more than just power turns and was most impressive in the air this week.
"Of course I'm stoked with my first win on the QS," Dantas said. "I got two third places at Pipe and Chile so it's great to take the win! I'm off to Ericeira for the biggest QS of the leg and I hope I can keep my confidence up and make a big result there as well."
An known aerialist himself, Munoz couldn't find the waves to showcase his best surfing today but still walked away with his best result so far this season. The Costa Rican took a massive leap forward as well with 35 spots gained in Galicia today.
"I'm very happy," Munoz said. "It's been a tough year for me but this is a third good result. I think it played with my mind that Weslley was going to do airs so I tried to do the same thing and he beat me. But that's a good learning experience for me. I'm going home to my 6 months old baby and I feel like my trophy is there waiting for me so all good. I got a third here a few years back and now second so I'll be back to try to win it for sure!"
Dantas had previously defeated Ethan Ewing (AUS) in the semis who celebrated turning 20 yo with an equal third in Pantin; Munoz eliminated Alejo Muniz (BRA) in their matchup.
With the completion of the Pull&Bear Pantin Classic Galicia Pro, the European rankings have once again slightly evolved, here is the new current Top 5:
European Men's QS Top 5:
1 – Jorgann Couzinet (FRA)
2 – Ramzi Boukhiam (MAR)
3 – Andy Criere (ESP)
4 – Gatien Delahaye (FRA)
5 – Aritz Aranburu (ESP)
European Women's QS Top 5: 
1 – Pauline Ado (FRA)
2 – Cannelle Bulard (FRA)
3 – Camilla Kemp (PRT)
4 – Juliette Lacome (FRA)
5 – Justine Dupont (FRA)
QS surfers will now head South and cross the Mediterranean to land at the Anfaplace Pro Casablancain Morocco while the few Championship Tour athletes present in Pantin will head to California for the upcoming Surf Ranch Pro.
The Pull&Bear Pantin Classic Galicia Pro is scheduled from August 27 – September 2, 2018 at playa de Pantin, Galicia / Spain. For all results, photos, video highlights and press releases, log on to worldsurfleague.com.
The Pull&Bear Pantin Classic Galicia Pro is supported by Turismo de Galicia, Pull&Bear, Deporte Galego, Deputación da Coruña, Concello de Ferrol, Concello de Valdoviño, Estrella Galicia, Abanca, Cabreiroá, Tag Heuer and Audi, with the additional collaboration of Hospital QuirónSalud A Coruña, Siroko, Gadis, Iberia Express, Artesanía de Galicia, Galicia Calidade, NB21, Intermax, Coca-Cola, Costa das Ondas, and MagicSeaWeed among others.
PANTIN CLASSIC GALICIA PRO WOMEN'S FINAL RESULTS:
1 – Coco Ho (HAW) 12.70
2 – Sage Erickson (USA) 11.80
PANTIN CLASSIC GALICIA PRO MEN'S FINAL RESULTS:
1 – Weslley Dantas (BRA) 9.54
2 – Carlos Munoz (CRI) 4.10
PANTIN CLASSIC GALICIA PRO WOMEN'S SEMIFINAL RESULTS:
SF 1: Sage Erickson (USA) 12.94 def. Mahina Maeda (JPN) 7.00
SF 2: Coco Ho (HAW) 11.33 def. Paige Hareb (NZL) 7.17
PANTIN CLASSIC GALICIA PRO MEN'S SEMIFINAL RESULTS:
SF 1: Weslley Dantas (BRA) 11.67 def. Ethan Ewing (AUS) 6.67
SF 2: Carlos Munoz (CRI) 9.10 def. Alejo Muniz (BRA) 5.40
PANTIN CLASSIC GALICIA PRO WOMEN'S QUARTERFINAL RESULTS:
QF 1: Sage Erickson (USA) 11.06 def. Teresa Bonvalot (PRT) 10.87
QF 2: Mahina Maeda (JPN) 13.00 def. Nikki Van Dijk (AUS) 12.23
QF 3: Paige Hareb (NZL) 13.97 def. Silvana Lima (BRA) 10.60
QF 4: Coco Ho (HAW) 15.00 def. Bronte Macaulay (AUS) 14.40
PANTIN CLASSIC GALICIA PRO MEN'S QUARTERFINAL RESULTS:
QF 1: Ethan Ewing (AUS) 12.80 def. Leonardo Fioravanti (ITA) 11.77
QF 2: Weslley Dantas (BRA) 15.50 def. Lucas Silveira (BRA) 15.50
QF 3: Carlos Munoz (CRI) 11.67 def. Gatien Delahaye (FRA) 7.50
QF 4: Alejo Muniz (BRA) 12.00 def. Jackson Baker (AUS) 11.54
PANTIN CLASSIC GALICIA PRO MEN'S ROUND 6 RESULTS:
Heat 1: Ethan Ewing (AUS) 12.60, Weslley Dantas (BRA) 11.86, Hiroto Ohhara (JPN) 11.83, Thiago Camarao (BRA) 4.07
Heat 2: Lucas Silveira (BRA) 13.03, Leonardo Fioravanti (ITA) 12.86, Mateus Herdy (BRA) 12.40, Kauli Vaast (FRA) 11.17
Heat 3: Carlos Munoz (CRI) 10.33, Jackson Baker (AUS) 8.90, Alonso Correa (PER) 8.10, Nat Young (USA) 7.27
Heat 4: Alejo Muniz (BRA) 9.00, Gatien Delahaye (FRA) 8.80, Aritz Aranburu (ESP) 7.13, Adin Masencamp (ZAF) 5.06