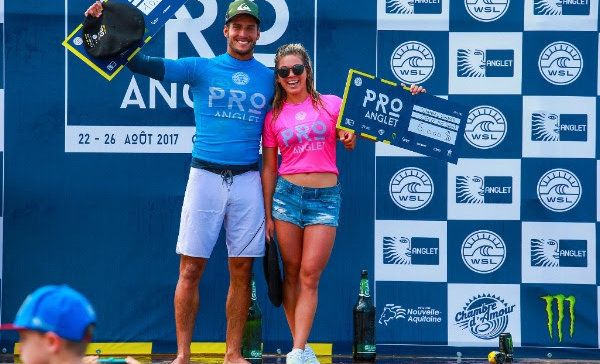 BOUKHIAM DEFEATS JORGANN COUZINET IN MEN'S FINAL
HO WINS OVER VOLCOM TEAMMATE MAUD LE CAR

Your winners of the 2017 Pro 

Anglet.
Credit:
 © WSL / Masurel
LA CHAMBRE D'AMOUR, Anglet – France (Friday, August 25, 2017) – Coco Ho (HAW), 26, and Ramzi Boukhiam (MAR), 23, have claimed the QS1,500 Pro Anglet titles today in two-foot waves. Their victories punctuated an exciting finals day that started with the semifinals in better conditions earlier this morning.Ho and Volcom teammate Maud Le Car (FRA), 25, battled in a shifting lineup for their final, as waves become rarer on the outgoing tide. While both surfers gave a great show to the large crowds watching from the beach and promenade, it was Ho that scored the highest with dynamic surfing on the little lefts on offer.
Coming from her best result on the Championship Tour this season, an excellent third place in Huntington beach, the Hawaiian kept her winning form going and claimed her first event win of 2017.
"It was a dream come true to be in the final with Maud, we both struggled this year in our own way and it was great to share that moment," Ho said. "This whole contest was super good practice, I was working on everything I've been struggling with and it's good to see it pay off. Volcom Europe did such a good job of supporting us and it was very cool to have them here today."
Le Car finally put an end to a string of bad results that have ruined her qualifying efforts in 2017. The talented French surfer built momentum through the rounds in Anglet but unfortunately couldn't quite match Ho's rhythm in the final. Her runner-up finish is a season-best and a great sign heading into the all important Galician event of Pantin.
"It was really cool to have two man-on-man heats with two CT surfers, Pauline and Coco," Le Car stated. "It's such great practice and I'm really happy to be able to show what I'm capable of. I'm super motivated now to go compete again in the next few events. We didn't have many waves in the final unfortunately, but I guess the both of us are dealt the same cards, so you just need to adapt to whatever's on offer."
Le Car had previously dispatched of Pauline Ado (FRA), 26, in a great semifinal matchup.
In the men's final, Ramzi Boukhiam faced Jorgann Couzinet (FRA), 23, and clashed in the same complicated conditions. Both surfers posted an 8+ ride early on but only the Moroccan managed to find a second big score, to win his first event in five years.
Boukhiam is having a solid season with two big results previous to winning the Pro Anglet, and is a serious candidate for the QS Top 10 at the end of the season. Currently ranked 29th, the talented goofy foot will try to carry his momentum into the next two QS6,000 in Europe.
"It's a huge confidence boost to win an event again," Boukhiam stated. "I haven't won anything since Zarautz in 2012, and there were plenty of great surfers here this week. I wanted to surf well, get big scores and make heats so I'm really happy with how it turned out. Seeing Marc (Lacomare) win in Lacanau last week really made me want to do the same here. Jorgann surfed great too, he's improved so much these past few years it's been incredible to watch him. Now my goal is clearly to win again, in Pantin or the Azores."
Couzinet was once again refused his first-ever QS win, reaching the final for the third time this season. But the Reunion Island surfer remains the strongest European competing in 2017, currently ranked 17e on the Qualifying Series. After five disappointing results, it seems he's finally got his act together again and will be a legitimate threat heading into the next few events.
"I'm still smiling but I won't lie, it hurts to see the win get away again," Couzinet said. "I made a couple little mistakes and I thought this final could have been mine to win. I'm still super stoked with a runner-up though, it's made me even hungrier to win my first QS."
With the Pro Anglet completed today, the new European QS Top 5 is as follows:
Men:
1 – Gony Zubizarreta (ESP)
2 – Jorgann Couzinet (FRA)
3 – Marc Lacomare (FRA)
4 – Vasco Ribeiro (PRT)
5 – Jonathan Gonzalez (CNY)
Women:
1 – Carol Henrique (PRT)
2 – Justine Dupont (FRA)
3 – Garazi Sanchez-Ortun (EUK)
4 – Camilla Kemp (PRT)
5 – Maud Le Car (FRA)
The Pro Anglet is scheduled from August 22-26, 2017 at La Chambre d'Amour, Anglet – France. For all results, photos, video highlights and press releases, log on to worldsurfleague.com.
The Pro Anglet is supported by the city of Anglet, the Région Nouvelle Aquitaine, Carlsberg, Monster Energy, Magicseaweed, L'Équipe and Virgin Radio among others.
PRO ANGLET MEN'S FINAL RESULTS:
1 – Ramzi Boukhiam (MAR) 16.30
2 – Jorgann Couzinet (FRA) 11.80
PRO ANGLET WOMEN'S FINAL RESULTS:
1 – Coco Ho (HAW) 11.40
2 – Maud Le Car (FRA) 10.36
PRO ANGLET MEN'S SEMIFINAL RESULTS:
SF 1: Jorgann Couzinet (FRA) 16.67 def. Shane Campbell (AUS) 13.23
SF 2: Ramzi Boukhiam (MAR) 14.17 def. Aritz Aranburu (ESP) 13.34
PRO ANGLET WOMEN'S SEMIFINAL RESULTS:
SF 1: Coco Ho (HAW) 16.40 def. Frankie Harrer (DEU) 13.00
SF 2: Maud Le Car (FRA) 15.00 def. Pauline Ado (FRA) 13.86