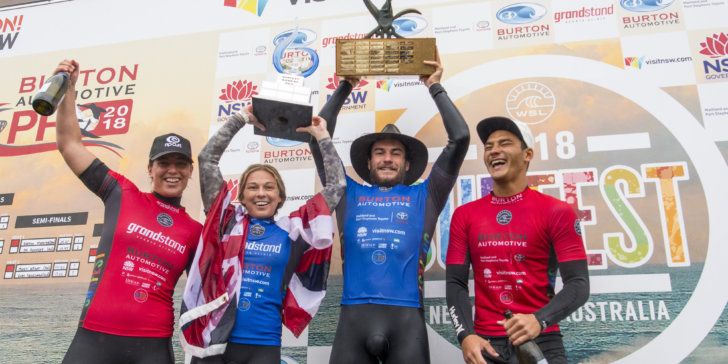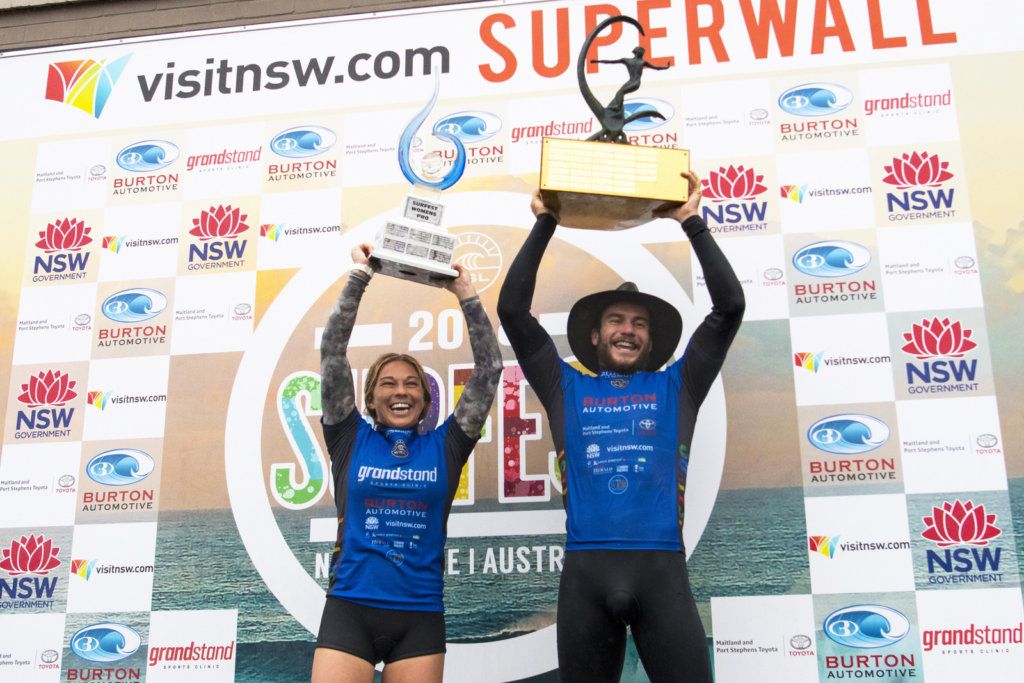 TYLER AND MIKEY WRIGHT MAKE HISTORY AS FIRST SIBLING FINALISTS IN A WSL QS EVENT
– COCO HO (HAW) WINS HER SECOND SURFEST TITLE
– HAWAIIAN BARRON MAMIYA (HAW) FINISHES RUNNER-UP IN BURTON AUTOMOTIVE PRO
Grandstand Sports Clinic Women's Pro finalists Tyler Wright (AUS) and Coco Ho (HAW) with Burton Automotive Pro Finalists Mikey Wright (AUS) and Barron Mamiya (HAW).
Credit: © WSL /  Tom Bennett
Merewether,  NSW/AUS  (Sunday, February 25, 2018) – Fireworks were on display on Finals Day of the Burton Automotive Pro and the Grandstand Sports Clinic Women's Pro. The small, grim conditions were outshone by an incredible display of surfing. Brother and sister, Mikey and Tyler Wright made history as the first siblings to surf in dual finals of a World Surf League (WSL) Qualifying Series (QS) event. Mikey eventually added his name to the winner's list alongside older sister Kirby, who saw success in Newcastle in 2010.  Tyler came just short to Hawaii's Coco Ho who took her second Surfest title.
The Burton Automotive Pro Final saw Mikey Wright (AUS) posting dual 9.00-point-range rides to combo Barron Mamiya (HAW) with a total of 18.20 and take the win. Blasting a weak left-hander for five huge backhand hooks, Wright showed his incredible power base to post a 9.00 with over 25 minutes remaining; putting him a near-unbeatable position in the last heat of the day. After taking out the nudie Australian Boardriders Battle at Newcastle Beach last weekend as part of the Culburra team, and sister Tyler in the women's final at Surfest, Wright and his family have been on fire as of late, and the youngest sibling Mikey consolidated the good form with a 9.20 late in the heat to ensure success.
"The Burton Automotive Pro is the way we start the year so to walk away with a win is huge for me," Wright said. "Last year was my first full year doing the QS and this year I feel more ready because I learnt so much and I'm so much more determined. It was so good to have a Final on at the same event as my sister Tyler. We've been hanging out, and having so much fun together. I will never forget this event."

Mikey Wright is chaired to victory by sister Tyler at his first ever QS win in Newcastle.
Credit: © WSL /  Tom Bennett
Mikey Wright now leads the Men's QS rankings and has started the year perfectly as he looks to qualify for the 2019 Championship Tour and join siblings Owen and Tyler on the elite 'Dream Tour'.
"I'm feeling really good about this year and I really want to qualify and this event couldn't have gone any better for me. The QS is a long year and there's loads of traveling, so it's great to start with a win here in Australia. Newcastle has been good to me, my club won the Boardriders Battle last weekend and then I won here. I always have a good time in Newcastle."

Mikey Wright (AUS) was unstoppable on the Final Day of the  Burton Automotive Pro.
Credit: © WSL /  Tom Bennett
17-year-old Hawaiian Mamiya pushed the eventual champion all the way, posting excellent scores with an incredible display of aerial surfing in the cross-shore conditions. In his first big QS event of the year, a second place finish exceeded the young natural-footers expectations.
"If you told me a week ago I was going to be in the final by the weekend I would have told you that you were crazy," Mamiya said. "This is my first time competing at a big QS outside of Hawaii so I thought I'd try and make a heat or two so I'm so stoked to have made the final. I've loved my time in Newcastle, the waves have been different every day which keeps it interesting. I'm looking forward to heading to Manly and will try to build some momentum."

Barron Mamiya (HAW) finished runner-up at the Burton Automotive Pro.
Credit: © WSL /  Paul Donovaro
Hawaiian crowd favorite and 2011 Surfest Champion, Coco Ho (HAW) took out the Grandstand Sports Clinic Women's Pro in a nail-biting final over reigning two-time World Champion Tyler Wright (AUS). Overcoming 2017 contest winner Johanne Defay (FRA) in the quarterfinals, and 2009 champion and local favorite, Philippa Anderson (AUS) in the Semifinals. Ho's form was undeniable heading into the Final. Ho's best finish on the CT, being 6th place, came in 2011 after her first victory in Newcastle, and the girl from the North Shore of Oahu will be hoping to use the momentum from this early QS 6,000 victory for a serious CT push in 2018.
"It was definitely anybody's day; in very trying conditions, but I was super energized and stoked and I think that always helps you win," Ho said, wearing an infectious smile post-win. "I think the point of difference in these conditions is keeping really busy. I won here in very different conditions to today, but I am so stoked to think I can come back seven years later and still win. It means a lot to me and proves that I am still capable of victories."
"When Tyler sat so far away I did think "should I be sitting there maybe?", but I knew I saw some good ones where I was. She's (Wright) such a fun person to surf with, but it's always good to get a win over her no matter where it is, on the QS or CT. Winning here gives me a good boost to the start of a really long Australian leg and gives me so much confidence."

Coco Ho (HAW) chaired to victory for the second time since 2011 at the Grandstand Sports Clinic Women's Pro.
Credit: © WSL /  Tom Bennett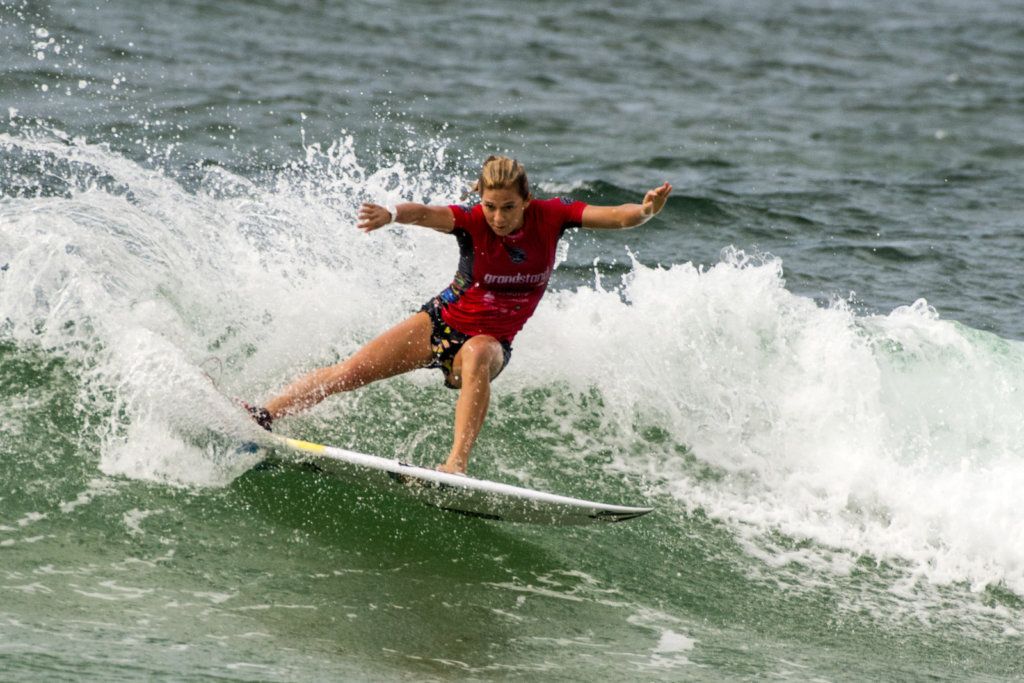 Electing to surf a bank 50 meters north of Ho, Wright's heat never really got started, riding six waves before locking in anything over a 5.00-point ride. However, the eventual champion Ho left the door open for the Culburra surfer, failing to capitalize on early scoring rides, with both girls keeping busy; riding a total of 29 waves between them.
"I'm really happy with how this event has gone," Wright said.  "It was good to get into the contest mode and get some heat practice before the CT kicks off and making the final is definitely good for the confidence. I'm most happy about seeing Mikey in the final, regardless of if he wins or loses I know how hard he has worked and how much he wants to make the CT so seeing him in the final is amazing. Him winning this event shows how important hard work and commitment is."

Tyler Wright finishing runner-up at the Grandstand Sports Clinic Women's Pro.
Credit: © WSL /  Paul Donovaro
The Burton Automotive Pro and Grandstand Sports Clinic Women's Pro ran in conjunction with Newcastle Surfest from February 19 – 26. To watch live action and find more information head to www.worldsurfleague.com or check out the free WSL App.
Surfest is supported by the NSW Government via its tourism and major events agency, Destination NSW.