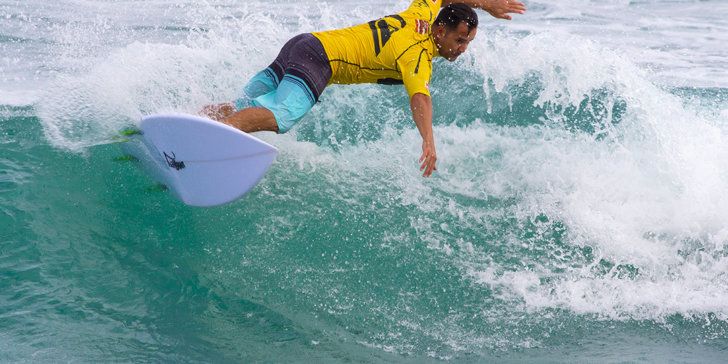 The HIC-Quiksilver All Military Surf Classic
Presented by MWR Hawaii was Epic!  
Full results and more photos at the end~
Kui Lee Murphy ripping into 2nd Place Active Duty Men's Shortboard (30 & Up).
June 14, 2017 – Kalaeloa, Hawaii – The U.S. Coast Guard claimed the "Top Branch" award for the second consecutive year at the Eleventh Annual HIC-Quiksilver All Military Surf Classic, presented by MWR Hawaii. Held this past Saturday, June 10th at White Plains Beach, on the former Barber's Point Naval Air Base in Kalaeloa, Hawaii.

Active duty military surfers from the U.S. Army, Navy, Air Force, Marines, and Coast Guard battled it out in the surf for Top Branch honors as well as individual trophies and prizes. Joined by Department of Defense (DOD) employees, retirees and dependents, over one hundred and fifty individual surfers competed in five Active-Duty and ten Open divisions, which included both shortboard and longboard surfing.
Team U.S. Coast Guard once again clinched the Top Branch award.
The All Military Surf Classic is an annual highlight for Hawaii's military surfers and the tight-knit, family oriented surf community that frequents White Plains Beach on Oahu's south-west shore. Sunny skies, chest high waves and glassy conditions kicked off the morning, providing an ample platform for the surfers to show their moves. An occasional rain squall would blow through here and there, yet the mood remained high as competitors enjoyed a day of surf, sun, competition, and camaraderie with their fellow surfers.
Kailey Bogart, First Place finisher in Open Women's Shortboard. All photos: McEwen
The event is produced by Marvin Nuestra and the White Plains Lifeguard staff, with the support of MWR-Hawaii, whose mission it is to improve the lives of US Military Personnel and their families. A special mahalo to these brands for providing prizes for all division finalists:  Quiksilver, Roxy, HIC, Bubble Gum, Billabong, Aluminati, Kreed, Crush, Sticky Bumps, Sun Bum, Dragon, Globe, Rince Kit, Surfco Hawaii, OAM, Hubbard, Matunas, Creatures of Leisure, Vertra, SP Gadget and Skate One. Hawaiian Island Creations and Quiksilver are honored to support the men and women of the U.S. Armed Forces who so proudly serve our country.  Stay safe, keep surfing and enjoy the ride!
>
OFFICIAL RESULTS:
OPEN DIVISIONS – DOD
Men's Shortboard (17 & Under)
1 Jacob Jakovenko
2 Gage Smith
3 Colin Fergueson
4 Tyler Bogart
5 William Marnoch
6 Nalu Paz
Men's Shortboard (18-29)
1 Emerick Ishikawa
2 Jonathan Murden
3 Joshua Sink
Men's Shortboard (30 & Up)
1 Garrett Seto
2 James A Caban
3 Charles Heisey
4 Bryan Seto
5 Jay Moorman
6 David Long
Keiki Shortboard (12 & Under)
1 Maximus Barker
2 Marley Wyland
3 Aurea Licciardi
4 Kaleo Pascua
5 Chesney Guinotte
6 Peter Licciardi
Women's Shortboard
1 Kailey Bogart
2 Angela Harris
3 Zoe Slaughter
4 April Ikeda
5 Jessi Velino
Men's Longboard (34 & Under)
1 Marc Anthony Hernadez
2 Elijah Pierick
3 Micah Dowsett
4 Nick Cavoli
5 Makena Maenani
Men's Longboard (35-49)
1 Jimmy Covell
2 Devin P Paiva
3 Jon K Miyamura
4 Daniel Monette
5 Justin Rogue
Men's Longboard (50-59)
1 Gino Bell
2 Robert Grover
3 Joe Gaynor
4 Layne Fitzpatrick
5 Jeff Bryson
6 Jeffrey Milhorn
Men's Longboard (60 & Up)
1 Michael Nii
2 Godfrey Akaka
3 John Weikum
4 Herb Pruse
Women's Longboard
1 Ashley Ahina
2 Preeya Prasad
3 Kylee Norton
4 Kristina Anderson
5 Kaleihua Dowsett
6 Lori Gaylor
ACTIVE DUTY DIVISIONS
Men's longboard (17-29)
1 Seth Csan
2 Robin Pietshman
3 David Gaylor
4 Michael B Gallagher
Men's Longboard (30 & Up)
1 Johnnie Dodge
2 Jason Jackorenko
3 John Knight
4 Michael Gallahue
5 Wendell Villanueva
6 Jake Kiyohara
Women's Longboard (18 & Up)
1 Julie Imagane
2 Lorna Blackburn
3 Melissa Cooper
Men's Shortboard (17-29)
1 Joseph Landon Hudgins
2 Dylan Foreman
3 Jerome Curran
4 Terry Randolph
5 Dane Tokumoto
6 John Ott
Men's Shortboard (30 & Up)
1 Dane Casson
2 Kui Lee Murphy
3 Christopher Goody
4 Lawerence Corrado
5 Brooks Koegel
6 Scott Mochkatell