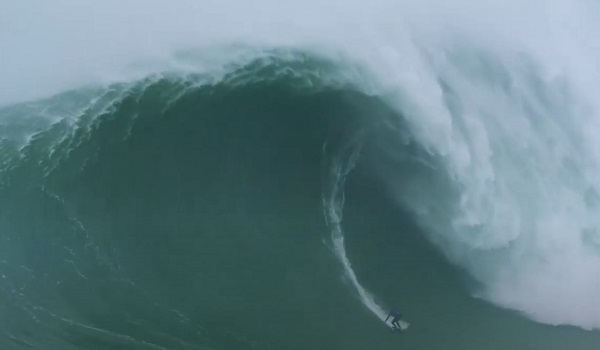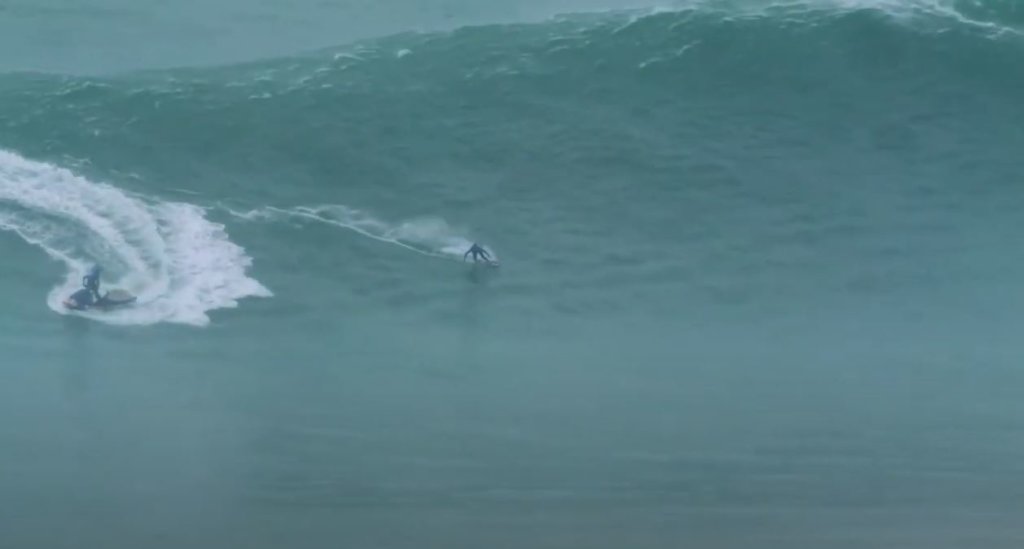 SURFER asked: Is This The Most Terrifying Wave Ever Filmed at Nazare?
(Well, it is one of them, unquestionably. What is also unquestionable is how Kai rode it with unsurpassed skill). SNN.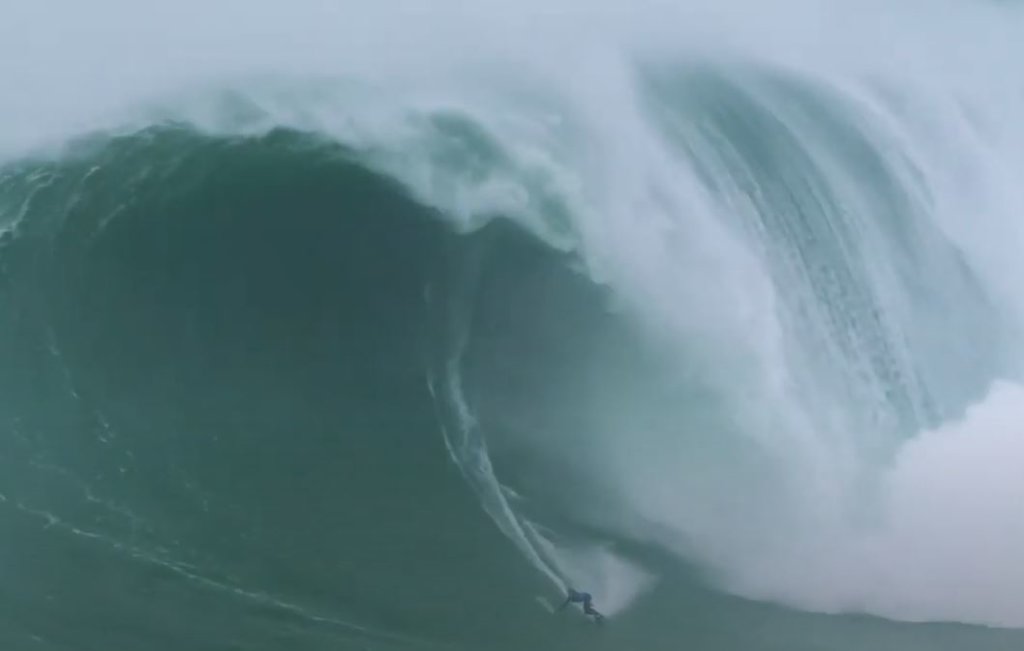 The frame grab shows Kai hitting his sharp bottom turn at the base of 55-60′ Crest-Trough, Top to Bottom Beast…as though it were 6′ or less.
SURFER:
What does it take to top our "Clips of the Month" list? Well, depends on the month.
Wave quality helps. A more technical maneuver or difficult line certainly ups your chances.
We can all appreciate a good, kegging barrel.
But sometimes the thing that puts a clip over the edge is a little harder to define.
Sometimes the winner is simply the clip that causes our jaws to drop and our minds to wonder, "What. The. Actual. F@#$." This was one such month.
While it was filled with WTF rides, from Tom Lowe's Euro tunnel to Koa Smith's below-sea-level screamer, but none was more baffling than the apartment-building-sized tube yawning behind an ant-sized Kai Lenny at Nazare.
Press play and let us know if you beg to differ, and watch the full edits that these clips were pulled from below:
1) Kai Lenny | Nazaré, Portugal Filmed by Pedro Miranda
2) Tom Lowe | Europe Filmed by Tomás Bello
3) Koa Smith | Silverbacks, Panama Filmed by Chris Papaleo
4) Nic Von Rupp | Nazaré, Portugal Filmed by Ricardo Pina
5) Torrey Meister | Backdoor Pipeline, Hawaii Filmed by Thor Larson
6) Sebastian Soto | Puerto Escondido, Mexico Filmed by Vandielli Esmael Dias
7) Luke Davis | Morocco Filmed by Mustapha Elbaz
8) Joao Maria Mendonça | Portugal Filmed by Hugo Almeida
9) Harrison Roach | Noosa, Australia Filmed by Ryan Cannon
10) Kota Iida | Gold Coast, Australia Filmed by Billy Lee-Pope
CHECK IT OUT & SUBSCRIBE AT SURFER YOUTUBE CHANNEL