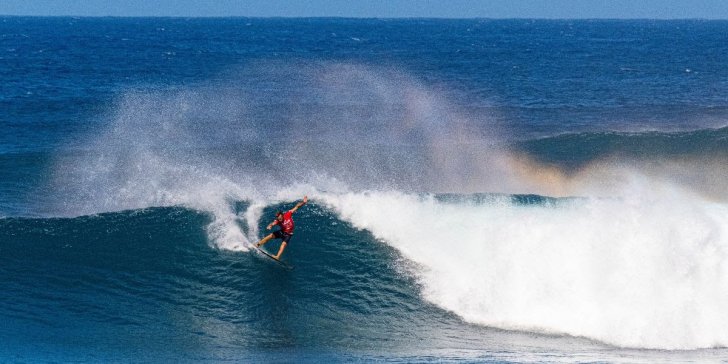 Patrick Gudauskas Honors Brother's Final Heat
Sunset Title-Holder Billy Kemper Scores Best Wave
Pictured: Patrick Gudauskas (USA) garnered an 8.17 in Round 1 and will channel his brother, Tanner's passion for Sunset as he moves on in the competition.
Credit: © WSL / Keoki
Haleiwa, Oahu/HAWAII — (Monday, November 25, 2019) — Local and international contenders frothed as a clean west swell delivered polished conditions to Sunset Beach for opening day of the Vans World Cup of Surfing, the final event of the World Surf League (WSL) Men's Qualifying Series (QS) and second jewel of the Vans Triple Crown of Surfing. Just yesterday, the same swell crowned Frederico Morais (PRT) winner of the 2019 Hawaiian Pro seven miles down the road at Haleiwa Ali'i Beach, and although he now has the edge on the Vans Triple Crown title race, every surfer in the formidable 128-man field is also eager to wear the honor.
Former Championship Tour (CT) surfer and new dad, Patrick Gudauskas (USA) picked up one of the best scores of the morning, an 8.17 for two big swooping carves and a powerful turn off the top on a set wave. Although Gudauskas earned the highest single wave of the heat, Callum Robson (AUS) took the win by .20 of a point for an impressive performance in his first Vans World Cup appearance.
Last week during the Hawaiian Pro, Gudauskas' brother, Tanner Gudauskas (USA) announced his plans to focus on freesurfing, making this Vans World Cup a special moment in his career as he hangs up the jersey for now. Tanner entered the event as an alternate and although his run ended today, he posted a strong 6.93 that showed immense talent and an exciting future.
Pictured: Tanner Gudauskas (USA) has a stylish backside approach that earned him a Final finish in the 2016 Vans World Cup of Surfing.
Credit: © WSL / Heff
"Tanner is my partner in crime, we've done the whole world together and I've watched him in a bazillion heats," said Patrick. "He's one of the best surfers in the world, in my opinion, I just look up to him in so many ways. It's not retirement by any means. For Tanner, he's really passionate about bringing his surfing to a new level and showcasing it on different platforms. It's really cool, I'm proud of him. It takes a lot of courage to change pathways, especially when you've done something for so long, and I'm just stoked for him."
Tanner will amp up his work with Positive Vibe Warriors, a nonprofit he co-founded with brothers Patrick and Dane Guduaskas (USA), and continue to surf and inspire others to surf around the world.
"There's so much passion for him here at this wave," Patrick continued. "I'm just really proud of him and excited. And it's not to say Tanner will never do a contest again, there's always a chance he will and I know he loves competing. For me, I'm just taking it forward, taking the energy. There's a crazy energy on the beach having our family here. I'm just excited to keep performing out here. I love competing, I'm going to keep doing the tour, I absolutely love it. I think you gotta follow your passion, that's what life is all about."
Pictured: Patrick Gudauskas (USA) earned a 7th place at the Vans World Cup in 2017 and will continue his competitive campaign into 2020.
Credit: © WSL / Keoki
A heavily experienced heat saw Billy Kemper (HAW), Imaikalani deVault (HAW), Anthony Walsh (HAW) and Kalani Rivero (HAW) enjoy the west peak off Sunset Point with proficiency. The surfers traded waves and six-point rides, but Kemper's rail work was exceptional as he demonstrated the power of a proven winner. True to Kemper's character, he took control early on with a 6.77 then put a successful stamp on the heat with an 8.83 to advance in first.
"That's all-time Sunset Point right there, right off the reef, off the corner," said Kemper. "This swell direction, size, this is something I grew up surfing and one of my favorites. I grew up surfing out here and just felt like another day in the backyard with some friends. My last wave I felt like I was really able to open up and put a score that I wanted to put up. I'm really having fun. I'm healthy, my family is here, and I just want to take it heat by heat and this event means a lot to me so I want to perform as best as I can."
Pictured: Billy Kemper (HAW), classic bottom turn at Sunset.
Credit: © WSL / Heff
With wins at the 2018 Sunset Open and 2010 Vans Pro along with five final appearances at Sunset Beach, Kemper is one of the most experienced athletes in the field. Today he used his intimate knowledge to choose waves that kept him in first place for the entirety of Heat 3. Meanwhile, a stylish deVault unleashed massive turns off the top and continued to build scores on the inside Vals Reef section for advancement behind Kemper.
The opportunity for high-performance surfing was aplenty and deVault put together a 7.07 and 6.00 for vertical snaps and flowing style. The Maui native has yet to earn a big win in his competitive career but keeps his cup full with plenty of free surfing and travel. He will surf again in Round 2 Heat 4 once competition resumes.
Another local athlete that considers Sunset his home break is Finn McGill (HAW), who surfed through the pain of a back injury today. He posted a 7.83 on a set wave with big carving arcs and secured a backup 5.93 result to take the heat win. Joaquin Del Castillo (PER) replaced Miguel Tudela (PER) and ended up advancing behind McGill with a 13.73.
Pictured: Finn McGill (HAW) moves on to Round 2 in fine form despite a nagging back injury.
Credit: © WSL / Heff
"I hurt my back at the Vans Pro and I was just kind of nursing it," said McGill. "Then at Haleiwa, the heat I Iost in, Round 3, I scorpioned really bad and my back's been really painful since then. I haven't surfed until this morning and I kind of just paddled out just to paddle out. The adrenaline kicked in a little bit, but it was still hurting. I'm going to go to the doctor today and see what he says, but I don't really know yet. Just kind of see when I wake up the next morning."
Mihimana Braye (PYF) exploded on his backhand and chased Kemper's benchmark for excellent scores with an 8.50 in Heat 5 to combo the field from the start. He attacked the point on his backhand and established a confident foundation for his fourth consecutive appearance in the Vans World Cup.
With local shaper Tokoro and CT coach Jake Patterson in his corner, Braye has a leg up on the competition and looked solid in today's conditions. Making his intentions clear, the Tahitian will continue to hammer on the QS until he reaches his ultimate goal.
Pictured: Mihimana Braye (PYF) stomped out the second-highest single wave score of the day, an 8.50 on his backhand.
Credit: © WSL / Keoki
"I just want to go to the CT, that's my goal," said Braye. "Those guys are on the CT and they just teach me, push my level, and I get more content and more visibility for me and that's how it works. Stoked to be here in Hawaii."
Looking comfortable in the powerful conditions, Kiron Jabour (HAW) locked in an 8.0 for a barrel in Heat 12 and then took a tremendous lead after scoring a 7.70 for a variety of maneuvers and riding out the wave until it stood up again at Val's Reef. He demonstrated his knack for Sunset, which is second-to-none, and will be on the prowl for another, more prestigious win, at his home break after earning the victory at the 2018 Vans Pro.
Pictured: Kiron Jabour (HAW) found the best barrel of the day to validate his superior status at Sunset.
Credit: © WSL / Heff
"This is my favorite time of the year," said Jabour. "Being home and the cherry on top is getting married to my partner Leila, so stoked and so happy. Now I get to enjoy myself surfing the last event of the year. I'm still in the Pipe Trials but this is the last QS event of the year, just have fun. I didn't have a good Haleiwa event and at the Vans Pro I didn't do as well as I wanted, so now I'm just having fun."
Surfline, forecast partner of the Vans Triple Crown of Surfing, anticipates a fading swell with waves in the 4-5ft. range tomorrow, however Wednesday, November 27 has the potential for a new mid-period NW swell to build in the 4-6ft. range. The competition will not run on Thursday, November 28, in observance of Thanksgiving but a new N swell looks likely to build toward the end of the holiday weekend.
The Vans Triple Crown has been running for 37 consecutive years on Oahu's North Shore and determines the best competitive surfer at three defining and world-class waves: Haleiwa, Sunset and Pipeline. The Hawaiian Pro at Haleiwa Ali'i Beach had a holding window from November 13 – 24 and saw Frederico Morais (PRT) emerge to take the lead on the Vans Triple Crown rankings. The second stop of the series is the Vans World Cup of Surfing at Sunset Beach from November 25 – December 7, and the final event is the Billabong Pipe Masters at Banzai Pipeline from December 8 – 20.
Witness the action LIVE via state-of-the-art broadcast on WorldSurfLeague.com, VansTripleCrownOfSurfing.com, Facebook.com/wsllive and on the free WSL app. Or tune into Spectrum SURF channels 20 and 1020HD, which will televise the action LIVE and in replay across the state of Hawaii.
About Vans
Vans®, a VF Corporation (NYSE: VFC) brand, is the original action sports footwear, apparel and accessories brand. Vans® authentic collections are sold in 84 countries through a network of subsidiaries, distributors and international offices. Vans® has over 2,000 retail locations globally including owned, concession and partnership doors. The Vans® brand promotes creative self-expression in youth culture across action sports, art, music and street culture and delivers progressive platforms such as the Vans Park Series, Vans Triple Crown of Surfing®, Vans Pool Party, Vans Custom Culture, and Vans' cultural hub and international music venue, House of Vans.
Vans, "Off The Wall" Since '66