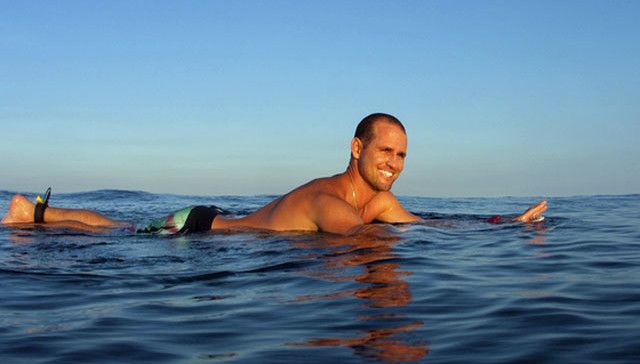 Pic: CJ Hobgood © ASP/Kirstin
 CJ Hobgood sustained injury during Portugal event
Surf News Network, 7 November, 2014. With news of Kelly Slater's broken toes and Taj Burrow's official withdrawal from Pipe, the ASP checked in with C.J. Hobgood (USA) for an update on the injury he sustained during the Moche Rip Curl Pro Portugal.
Hobgood has had a tumultuous couple of years on the World Championship Tour (WCT) and things just got even hairier. In a free-surf during the elite competition in Portugal, Hobgood cut his foot on the fins of his board and was forced to withdraw from competition.
"It was a shame for him at the time because he had to withdraw from the event at a pretty crucial time in the year results-wise but fortunately it wasn't long-term damage," said ASP Commissioner Kieren Perrow. "He's in the recovery process and should be back to challenge for Pipe. He's had a great history out there."
Hobgood is currently No. 23 on the rankings. Only the Top 22 requalify for the 2015 Tour so to stay on the WCT, Hobgood will need to recover in time for the final event of the year, the Billabong Pipe Masters, and get a good result.
Just a month before the Billabong Pipe Masters kicks off, ASP spoke with him while was recovering at home in Orlando, FL.
The cut looked pretty bad for viewers. Can you recap how you did it and what the initial diagnosis was?
C.J. Hobgood: I pulled into the barrel, jumped off and the fin just stuck in my foot. I had talked about the whole altercation with Parko (Joel Parkinson) as he did his foot real bad a few years ago and I wanted some insight. We did the same thing: We both had jumped off a little early in the barrel as to avoid injury and bam!
CJ Hobgood, Super Tubes
Hobgood had to withdraw from competition prior to his Round 2 heat in Portugal.
I had been nursing a concussion before the incident when I hit that rock. I had some pretty bad headaches for about 5 days, so that day I was so pumped that I had a clear head. I wanted to go surf as I didn't catch any waves before the comp that day and I had been taking it pretty easy prior. I remember talking to Sebastian Zietz on the beach saying, "Let's go surf on the side of the comp. It looks fun," and he just kinda laughed, "Dude, looks like closeouts down there."
What was the immediate treatment (stitches, etc.) for it on-site? Have you had treatment in addition to what you received at Supertubos?
CJH: Yeah, stitches (12). The doctor at the comp, Nuno (Dr. Nuno Oliveira), is unreal. He has given me stitches before and was cleaning out my cuts from the week before at the Cascais event. I am very thankful for him and his team that look after us surfers. I have had it looked at by the specialist over here.
What is the current prognosis and what has your rehabilitation been like?
CJH: I got the stitches out today and the cuts were pretty much healed and no infections, which is unreal and a great start. It is pretty deceiving — the nerve damage — and it just hurts really bad when putting any weight on it at the moment. Parko said his foot hurt and was uncomfortable…about 3 months after, but I'm optimistic. I will just keep putting it through the paces with rehab getting everything to wake up.
Will you be competing in the upcoming Vans Triple Crown?
CJH: I pulled out of Haleiwa today. I do believe in miracles, but that event's out of the question. I am just hoping to walk without discomfort by the end of this month. Still entered in Sunset, but the focus is to get as good as possible for Pipe.
Sitting at No. 23 on the WCT rankings heading into Pipe, you'd have to be somewhat confident about achieving a result heading into that event if you felt 100 percent. What are your thoughts on that and potentially competing in the event with an injury?
CJH: It is wild because I keep thinking back to last year when I called [WCT manager] Renato [Hickel] to pull out of the Pipe event. I had just done a grade 1 MCL at Pipe practicing before the event was to start that day and it hurt to walk. And last time I did one of these I couldn't surf for 6 weeks. At the time, Renato said, "they are not going to run the event today and looks like the next go-day won't be for another week, so see how it feels then." I did everything I could do to get it better, taped it to the nines and ended up making a few heats and being in the biggest heat of my life with Mick (Fanning) as he went for a Title. You just never know until you try to surf on an injury.
I have had injuries where I could play basketball and tennis, but couldn't surf and I have had injuries where I had trouble walking, but I could surf. It's all speculation 'til I try and surf on it see what it feels like and, like I said, hoping to try that in early December. If there is a will there is a way. [This is] my lifelong dream and the reason I wanted to be a pro surfer was the excitement and challenge that Pipe brings. I really enjoy surfing and all the talent on Tour is just nuts.