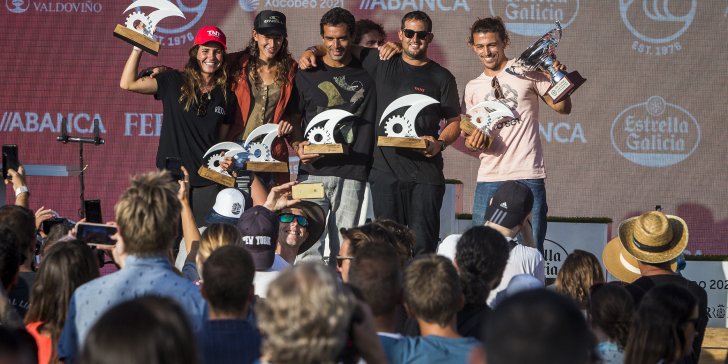 Hawaii's Kai Sallas (now ranked #3) and Honolua Bloomfield (World's #2) take 2nd place in an Epic final day of action in Galicia
Noosa winners continue to dominate longboard scene
PLAYA DE PANTIN, Galicia – Spain (Saturday, August 31, 2019) – Chloe Calmon (BRA) and Justin Quintal (USA) have won the Longboard Classic Galicia in historic fashion today, claiming victory in the Final bouts against Honolua Blomfield (HAW)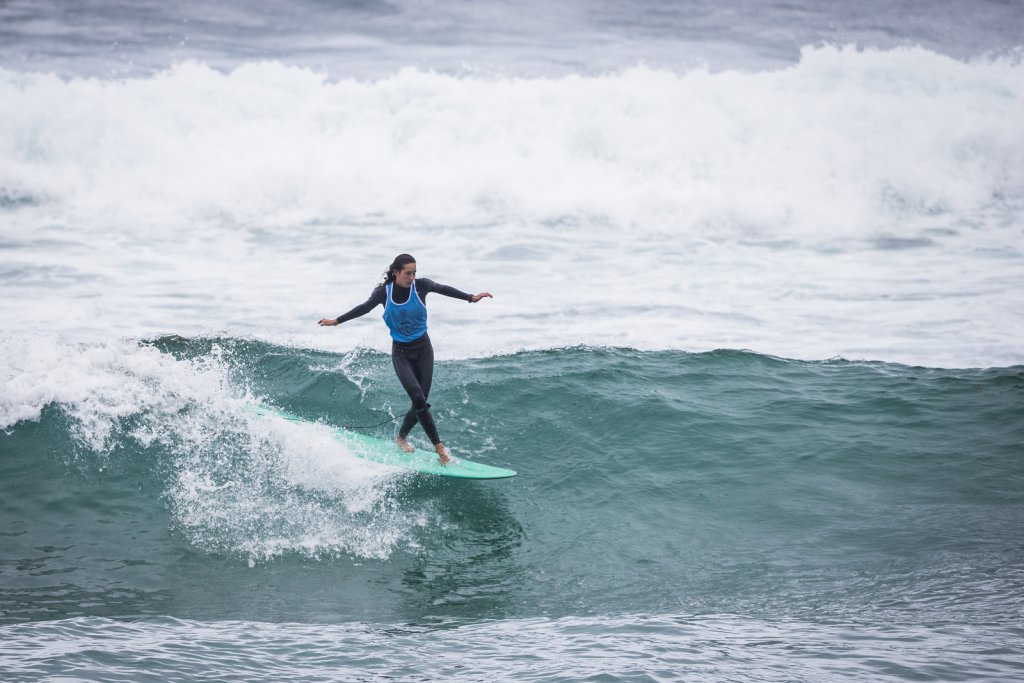 and Kai Sallas (HAW) held in three-to-five foot surf at playa de Pantin.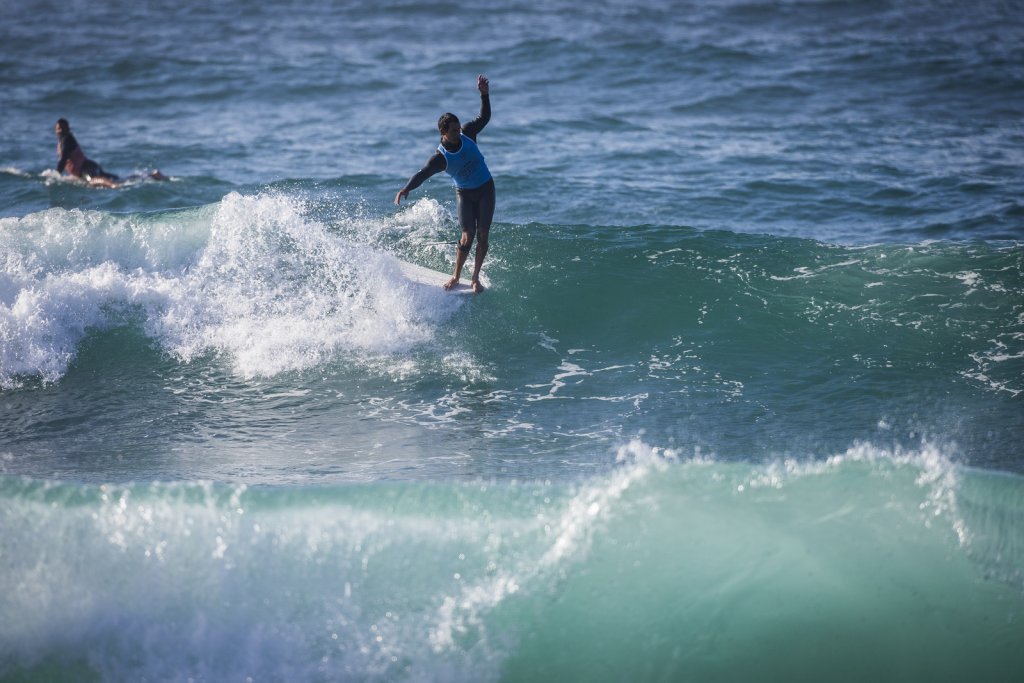 Images: Credit: © WSL / Poullenot
Stop No. 2 of 4 on the 2019 World Surf League (WSL) Longboard Tour (LT), the Longboard Classic Galicia unfolded over the last four days and witnessed incredible performances by the world's best surfers in testing Galician conditions.
Calmon came to Galicia ranked number one in the world after her win at the Noosa Longboard Open earlier this season and will leave in an even stronger position heading into the inaugural Longboard Classic New York and the back half of the 2019 season, as she continues to vie for a first-ever World Title.
"It's always a really good battle against Honolua, she always pushes me to give my best," Calmon said. "To have a proper tour this year and be able to surf in all these different conditions has been a blessing, it really allows us, athletes, to show our repertoire. This wave is super fun and it was an awesome place to have a longboarding event. It's been a great week with fun times and great crowds cheering for us. I woke up this morning feeling good and my very first wave of the day was a 9 so I was just hoping to carry this momentum all the way."
Calmon and Blomfield took on a tricky lineup in the Final with a mix of closing-out sets and fading lefts in the inside that didn't offer quite as many sections as in the Semis. Both surfers struggled to find really high-scoring potential waves as scores remained around and under the 5 point mark.
Blomfield got the better of the first few exchanges and built a thin lead over Calmon but the Brazilian finally found a first nice wave on the five-minute mark to post a 6.23 and regain the lead.
Despite a couple of last efforts from the former World Champion Blomfield, Calmon was able to effectively keep her opponent off of the last good wave in the heat, riding a beautiful left all the way to shore for a 6.17 and the win.
The ever-stylish Brazilian surfer peaked a little early in the semis with a near-perfect 9.17 ride but managed to keep her incredible roll going into the Final and added another stellar result to her career resume.
In a re-match of the Noosa Final, Blomfield had to once again settle for the runner-up spot but by reaching the last heat, the 2017 World Longboard Champion made sure to stay in the fighting distance for the ultimate crown when the season comes to an end. The Hawaii surfer had a spectacular road to the final as she defeated multiple former World Champions as well, namely Rachael Tilly(USA) in the Semis, Lindsay Steinriede (USA) in the Quarters and Kelia Moniz (HAW) in a previous round.
"I really wanted to make the Final coming into this event and I did just that so I'm happy with the result today," Blomfield said. "It's always hard losing but Chloe is such an amazing surfer. I had a really good time here and we had great waves all the way. I'm excited for the rest of the tour and this was super special to have an event here in Galicia this year. Despite being American I've never made it to New York so I'm super excited to go there and I'll try to head to the city a couple of days early to check it out."
Calmon previously killed all of Justine Dupont (FRA)'s hopes of making the Final with a near-perfect 9.17 in the opening minute of their Semifinal matchup. Blomfield, on the other hand, had a super close encounter with Tilly in the second Semifinal.
In the men's Final, Justin Quintal (USA) was on another level and didn't leave opponent Kai Sallas (HAW) any chance as he surfed the preferred peak to a 14.14 heat total while his opponent struggled to put any substantial score on the board.
"It was a slow final at first but this whole contest has been amazing," Quintal said. "Surfing against Kai whom I've looked up to as a grom was amazing. I've had a blast here in Pantin and I'm really looking forward to the next events. With the big event in Taiwan at the end of the year nothing's done but it's good to get those early points and keep the other surfers away from them."
The 2018 runner-up in the World Title race and perennial threat in all sorts of conditions, Sallas with this result will climb up to third on the longboard rankings and keep his chances alive for a potential first world title as well heading into the next two events.
"I had such a great time here in Galicia with tons of waves and good people," Sallas said. "It's one of the best places I've visited ever and I'm stoked. Any chance I get to go experience and compete and surf I find it awesome and this was up there."
Quintal and Sallas had previously defeated Edouard Delpero (FRA) and Taka Inoue (JPN) respectively in the Semifinals. Delpero with his result in Pantin secured a third European Longboard Champion title.
With the completion of the Longboard Classic Galicia, the World Longboard Title race continues to captivate fans, here is the new current Top 5:
World Longboard Tour Women Top 5:
1 – Justin Quintal (USA)
2 – Harrison Roach (AUS)
3 – Kai Sallas (HAW) 
4 – Kaniela Stewart (HAW) 
5 – Taylor Jensen (USA)
World Longboard Tour Men Top 5: 
1 – Chloe Calmon (BRA)
2 – Honolua Blomfield (HAW) 
3 – Rachael Tilly (USA)
4 – Emily Lethbridge (AUS)
5 – Lindsay Steinriede (USA)
Surfers will now travel across the Atlantic for the upcoming Longboard Classic New York unfolding from September 6-12.
The Longboard Classic Galicia is scheduled from August 28 – 31, 2019 at playa de Pantin, Galicia / Spain. For all results, photos, video highlights and press releases, log on to worldsurfleague.com.
LONGBOARD CLASSIC GALICIA MEN'S FINAL RESULTS:
1 – Justin Quintal (USA) 14.14
2 – Kai Sallas (HAW) 7.07
LONGBOARD CLASSIC GALICIA WOMEN'S FINAL RESULTS:
1 – Chloe Calmon (BRA) 12.40
2 – Honolua Blomfield (HAW) 10.03
About the WSL 
The World Surf League (WSL) is dedicated to celebrating the world's best surfing on the world's best waves through a variety of best-in-class audience platforms. The organization, headquartered in Santa Monica, is a global sport with regional offices in Australasia, Africa, North America, South America, Hawaii, Japan and Europe.The WSL has been championing the world's best surfing since 1976, annually running more than 230 global events across the Men's and Women's Championship Tours, the Big Wave Tour, Redbull Airborne, Qualifying Series, Junior and Longboard Championships, as well as the WSL Big Wave Awards. The League possesses a deep appreciation for the sport's rich heritage while promoting progression, innovation and performance at the highest levels, and in doing so crowns the undisputed Men's and Women's World Champions across all tours.Showcasing the world's best surfing on its digital platform at WorldSurfLeague.com, the WSL has a passionate global fan base with millions tuning in to see world-class athletes like Kelly Slater, Stephanie Gilmore, Tyler Wright, John Florence, Lakey Peterson, Grant Baker, Keala Kennelly, Paige Alms, Kai Lenny, Steven Sawyer, Soleil Errico, Mateus Herdy, Kirra Pinkerton, Carissa Moore, Gabriel Medina, Courtney Conlogue and more battle on the most dynamic field of play of any global sport.For more information, please visit WorldSurfLeague.com