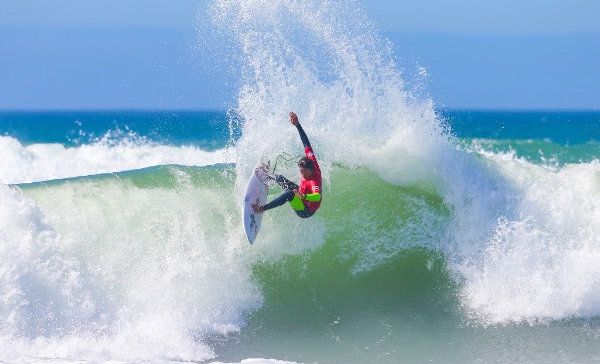 – FLORES & IGARASHI POST HIGHEST SCORES
– NEXT CALL 

TOMORROW

 AT 

7:45AM

 FOR BOTH MEN AND WOMEN'S EVENTHI-LITE VID BELOW!

Kanoa Igarashi (USA) showed commitment to score the highest score of the day 
© WSL / Masurel
Location:   
Cascais, Portugal
Event window:

September 26 – October 5, 2017

Today's call:
Men's QS Rd1, Rd2 H1-12 Completed. Next Call 

7:45 a.m

Wednesday
| | |
| --- | --- |
| Conditions | Bumpy three-to-five foot |
PRAIA DE CARCAVELOS, Cascais/Portugal (Tuesday, September 26, 2017) – The EDP Billabong Pro Cascais launched today in wind-affected three-to-five foot surf at the back-up venue of Guincho. Competition ran through the opening round of the men's QS10,000 as well as half of the second round.
Last year's finalist Jeremy Flores (FRA), 29, dominated Heat 1 of the second round to post the day's strongest numbers for an impressive 16.66 heat total. The current World No. 17 reveled in the challenging conditions and was able to find a couple of long lefts and rights to perform his sharp rail-to-rail surfing.
Kanoa Igarashi (USA), 19, came up a close second on the leaderboard but nailed the highest single ride, an excellent 8.43 for a massive closeout re-entry on a critical section. The young Californian coming off a quarterfinal finish on home turf at Trestles, upset the local community as he eliminated Cascais' Vasco Ribeiro in their Round Two matchup.
"It's a beachbreak that moves around a lot and the banks are a bit fickle so I've been keeping a good watch on it," Igarashi explained. "But I know the spot pretty well so I'm stoked to have a good board and be able to get through that first round. That fifth place at Lowers helped a lot to move up on the CT and I just want to back myself up on the QS. Also I love surfing here in Portugal so why not do this event and try to get a few more points along the way, and hopefully I won't even need it at the end of the year."
Stuart Kennedy (AUS), Italo Ferreira (BRA) and Joan Duru (FRA) advanced into Round Three as well. On the upset front, the elimination of current QS No. 2 Yago Dora (BRA) was the highlight of the day.
Jadson Andre (BRA), 27, has a long and rich history with this event, winning back-to-back titles in 2013 and 2014 when he needed a big result the most. Andre is in a similarly difficult position on both the Championship Tour and Qualifying Series this season and can count on a lot of good memories to build his morale back up.
"I really love this place and all the Portuguese guys they really like me so I feel like everything clicks together for me here and somehow I often do well," Andre said. "All my career I've needed a big result by the end of the season and this event just comes at the perfect time. I feel like I'm surfing well this year but I made a few small mistakes on the CT and at that level you really can't afford mistakes. I'm coming off my best result a week ago in Trestles so I'm feeling great."
To add to the pressure of the whole re-qualifying situation, Andre also has to fight one of the  QS plagues, not receiving his equipment after a multi-connexion flight to Portugal. The Brazilian however still wore a massive smile on his face and looked focused on the task at hand.
"I have no bags at all, no surfboards no clothes," he continued. "It's a good thing I'm staying with Italo, I've been riding his boards, borrowing his clothes and wetsuits, I've basically become him aha. His boards are totally different from mine, but I just had a free surf this morning and it felt fine so I'm not too worried and anyway getting worked up about things like this would not make my boards arrive faster."
Mikey Wright (AUS), 21, and Mihimana Braye (PYF) teamed up to eliminate the World No. 28 Jack Freestone (AUS) and make their way into Round Three. The third Wright to try and make his path onto the elite tour, currently sits in 20th position in striking distance of a qualifying spot with another one or two good results in the last three massive QS events.
"I took two years off to free surf and grow up but I was always coming back to surf competitively," Wright stated. "I sort of stopped using the front grip in events, it's fine in free surfs, I actually prefer it, but it does catch a little bit on some small turns and so for heats, I had to change it up."
Form surfers of the moment Keanu Asing (HAW) and Jorgann Couzinet (FRA) also scrapped their way out of Round Two in a low-scoring affair battle. Current rookie of the year rankings leader Connor O'Leary (AUS) also managed to advance in the day's final heat, in second position behind Thiago Camarao (BRA).
Competitors and event officials will reconvene at 7:45 a.m Wednesday for a potential start of the women's event or the remaining heats of the men's second round.
Mid period NW swell builds through Wednesday afternoon and holds Thursday, with the most size at Guincho, which will be in the head high/overhead range on sets (Carcavelos small). Favorable morning wind is likely both days. Another NW swell may build in late Friday and peak Saturday and looks a couple notches larger than the Wed/Thur swell at this point, although strong N/NW wind is also possible. An even larger WNW/NW swell is possible toward the end of the waiting period, around October 3rd.Surfline.
The EDP Billabong Pro Cascais 2017 runs in conjunction with the Cascais Women's Pro, stop No. 8 on the WSL Women's Championship Tour.
The events will be broadcast LIVE via WorldSurfLeague.com, the WSL app and on Facebook LIVE via the WSL's Facebook page.
For more information, check out WorldSurfLeague.com.
The EDP Billabong Pro Cascais 2017 is supported by the Câmara Municipal de Cascais (Cascais City Council), Edp, Billabong, Tourism Portugal (Portuguese Waves), Jogos Santa Casa, MEO&Moche, Hertz, MEO Beach Cam and CP (Comboios de Portugal/Trains of Portugal) among others.
UPCOMING CASCAIS WOMEN'S PRO ROUND 1 MATCH-UPS:
Heat 1: Sage Erickson (USA), Lakey Peterson (USA), Pauline Ado (FRA)
Heat 2: Stephanie Gilmore (AUS), Carissa Moore (HAW), Malia Manuel (HAW)
Heat 3: Sally Fitzgibbons (AUS), Coco Ho (HAW), Teresa Bonvalot (PRT)
Heat 4: Courtney Conlogue (USA), Keely Andrew (AUS), Bianca Buitendag (ZAF)
Heat 5: Tyler Wright (AUS), Tatiana Weston-Webb (HAW), Bronte Macaulay (AUS)
Heat 6: Johanne Defay (FRA), Nikki Van Dijk (AUS), Silvana Lima (BRA)
REMAINING EDP BILLABONG PRO CASCAIS ROUND 2 MATCHUPS:
Heat 13: Frederico Morais (PRT), Adam Melling (AUS), Gony Zubizarreta (ESP), Tomas Fernandes (PRT)
Heat 14: Tomas Hermes (BRA), Willian Cardoso (BRA), Marco Fernandez (BRA), Lucas Silveira (BRA)
Heat 15: Leonardo Fioravanti (ITA), Flavio Nakagima (BRA), Victor Bernardo (BRA), David Do Carmo (BRA)
Heat 16: Ian Gouveia (BRA), Carlos Munoz (CRI), Rafael Teixeira (BRA), Tanner Hendrickson (HAW)
Heat 17:  Caio Ibelli (BRA), Bino Lopes (BRA), Tanner Gudauskas (USA), Maxime Huscenot (FRA)
Heat 18:  Ethan Ewing (AUS), Nat Young (USA), Beyrick De Vries (ZAF), Jonathan Gonzalez (CNY)
Heat 19:  Jesse Mendes (BRA), Hiroto Ohhara (JPN), Mitch Crews (AUS), Dusty Payne (HAW)
Heat 20:  Wiggolly Dantas (BRA), Soli Bailey (AUS), Marc Lacomare (FRA), Jackson Baker (AUS)
Heat 21:  Ezekiel Lau (HAW), Alejo Muniz (BRA), Mitchel Coleborn (AUS), Jack Robinson (AUS)
Heat 22:  Miguel Pupo (BRA), Cooper Chapman (AUS), Oney Anwar (IDN), Robson Santos (BRA)
Heat 23:  Michael February (ZAF), Griffin Colapinto (USA), Luel Felipe (BRA), Timothee Bisso (GLP)
Heat 24:  Sebastian Zietz (HAW), Marco Giorgi (URY), Ryan Callinan (AUS), Mateus Herdy (BRA)
EDP BILLABONG PRO CASCAIS ROUND 2 RESULTS:
Heat 1: Jeremy Flores (FRA) 16.66, Joshua Moniz (HAW) 12.57, Peterson Crisanto (BRA) 9.47, Dion Atkinson (AUS) 6.20
Heat 2: Cam Richards (USA) 14.44, Patrick Gudauskas (USA) 13.50, Michael Rodrigues (BRA) 11.43, Krystian Kymerson (BRA) 10.53
Heat 3: Stuart Kennedy (AUS) 14.07, Alex Ribeiro (BRA) 11.00, Seth Moniz (HAW) 10.13, Marcos Correa (BRA) 8.70
Heat 4: Kanoa Igarashi (USA) 15.43, Michael Dunphy (USA) 12.36, Vasco Ribeiro (PRT) 11.30, Heitor Alves (BRA) 9.70
Heat 5: Davey Cathels (AUS) 14.74, Italo Ferreira (BRA) 14.23, Aritz Aranburu (ESP) 11.23, Jordy Collins (USA) 10.37
Heat 6: Deivid Silva (BRA) 13.56, Ricardo Christie (NZL) 10.63, Josh Kerr (AUS) 10.10, Reef Heazlewood (AUS) 9.30
Heat 7: Wade Carmichael (AUS) 12.94, Parker Coffin (USA) 11.20, Yago Dora (BRA) 11.07, Koa Smith (HAW) 10.90
Heat 8: Noe Mar McGonagle (CRI) 12.04, Joan Duru (FRA) 11.43, Evan Geiselman (USA) 11.40, Samuel Pupo (BRA) 10.87
Heat 9: Jadson Andre (BRA) 11.63, Kalani Ball (AUS) 10.13, Hizunome Bettero (BRA) 9.13, Ramzi Boukhiam (MAR) 6.96
Heat 10: Mikey Wright (AUS) 13.67, Mihimana Braye (PYF) 12.40, Jack Freestone (AUS) 12.37, Hiroto Arai (JPN) 6.00
Heat 11: Keanu Asing (HAW) 11.06, Jorgann Couzinet (FRA) 10.10, Shane Campbell (AUS) 9.67, Tomas Tudela (PER) 8.17
Heat 12: Thiago Camarao (BRA) 13.10, Connor O'Leary (AUS) 12.03, Reo Inaba (JPN) 11.17, Ian Crane (USA) 9.13
EDP BILLABONG PRO CASCAIS ROUND 1 RESULTS:
Heat 1: Peterson Crisanto (BRA) 11.94, Marcos Correa (BRA) 11.80, Miguel Blanco (PRT) 11.67, Nomme Mignot (FRA) 11.57
Heat 2: Michael Dunphy (USA) 11.33, Jordy Collins (USA) 11.14, Leandro Usuna (ARG) 8.67, Manuel Selman (CHL) 6.87
Heat 3: Samuel Pupo (BRA) 11.50, Kalani Ball (AUS) 8.73, Kilian Garland (USA) 8.67, Dimitri Ouvre (FRA) 8.43
Heat 4: Mihimana Braye (PYF) 12.53, Reo Inaba (JPN) 10.40, Adrien Toyon (FRA) 9.97, Jake Marshall (USA) 7.33
Heat 5: Tomas Fernandes (PRT) 12.66, David Do Carmo (BRA) 9.84, Diego Mignot (FRA) 9.60, Joshua Burke (BRB) 8.57
Heat 6: Tanner Hendrickson (HAW) 14.50, Maxime Huscenot (FRA) 13.17, Brett Simpson (USA) 11.17, Dylan Goodale (HAW) 9.77
Heat 7: Jackson Baker (AUS) 11.70, Jack Robinson (AUS) 11.67, Jacob Willcox (AUS) 10.44, Lliam Mortensen (AUS) 9.07
Heat 8: Robson Santos (BRA) 12.20, Mateus Herdy (BRA) 12.16, Titouan Boyer (FRA) 10.20, Shun Murakami (JPN) 10.13