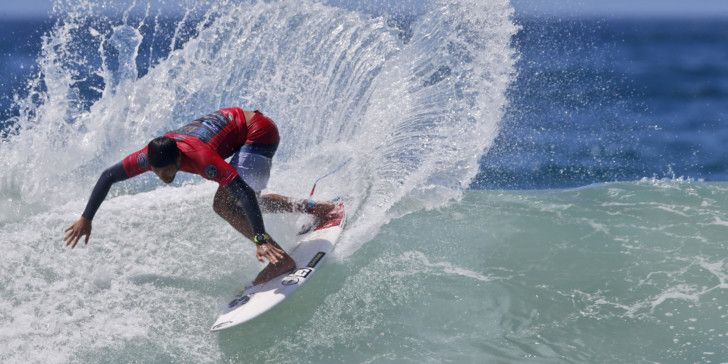 LAU (front page WSL), MACAULAY, FITZGIBBONS…. LEAD THE FIELD AT MEREWETHER


Bronte Macaulay took down her hero in 6X World Champion Stephanie Gilmore in Round Four at Merewether
Credit: © WSL / Bennett
 Merewether, Newcastle NSW/AUS (Friday, February 24, 2017) –  The field has been whittled down at Surfest Newcastle as Round Four of the Maitland and Port Stephens Toyota and Anditi Women's Pros have been completed. The world's best surfers were treated to 2-to-3 foot clean waves at the beautiful Merewether Beach.
Heat 6 of Round Four resembled that of an opening round Championship Tour (CT) Heat, with CT Rookie Bronte Macaulay meeting last year's event finalists Sally Fitzgibbons and Stephanie Gilmore. Six times World Champion Gilmore came into the heat looking ominous after her near-perfect heat (19.00 out of a possible 20) in Round Three but would be up against it with reigning event champion Fitzgibbons hungry to go back-to-back at Merewether Beach.
Young West Australian Bronte Macaulay had other plans however, coming out of the gates strong. Macaulay opted to sit on a different bank to her opponents and it paid off as she posted her winning heat total of 13.17 (out of a possible 20) on her first two waves with a searing backhand attack.
"That was a pretty stacked heat," Macaulay said. "That was something you would expect in a CT event, so to get it here was pretty cool. Steph is my favourite surfer, she is an amazing talent and a really cool person. Coming up against her is always an experience. I'm stoked to walk away the winner of that heat."
Left to battle it out for the second progressing position were superstars Fitzgibbons and Gilmore. Fitzgibbons stuck to her gun surfing the right rip-bowl bank she paddled out at while Gilmore searched for a decent wave. Unable to find a rhythm, Gilmore remained in third position and bows out of the contest while Fitzgibbons moves through to Round 5. "That was a cool heat," Fitzgibbons said. "Surfing against the likes of Steph and Bronte is always great and pushes your surfing to the next level. Bronte was ripping in that heat which was great to see. I'm feeling good to have made the next Round."
Sally Fitzgibbons moved one step closer to going back-to-back at Merewether today.
Credit: © WSL / Bennett
After just scraping back onto the CT in 2016, Keely Andrew went away and worked on a few things. The young Sunshine Coaster trained and surfed hard and has come back in 2017 in the best shape of her life. She put that on display in Round Four, sliding and slicing on her forehand to post a modest heat total of 13.44 to progress one step closer to the finals. "That was a really busy heat for me," Andrew said.
"I saw a few heats before mine where people stuck to waiting for a wave that never came, so I made a point of getting my wave count up from the start. I had a really good offseason with training and surfing so it is good to be back in a jersey putting all that work into action."
2017 CT Rookie Ezekiel Lau is no stranger to QS events like the Maitland and Port Stephens Toyota Pro. These days he can attend them without the pressure of needing to win heats to make the CT. For a lot of people, this reduced pressure can transition into good results which it seems to be doing for Lau who progressed through another Round today at Merewether.
"This event is a great opportunity for me to work on a few things," Lau said. "I have been trying a few new strategies and heat plans so it is nice to put them into practice. Now that I'm on the CT I feel like I can come to these events and relax a little more and experiment with a few things. I'm so pumped for the CT this year so much so that I need to remind myself to relax. I feel like competing here can help me achieve that."

Ezekiel Lau prepping for the biggest competitive year of his career.
Credit: © WSL / Sproule
With no local male competitor ever winning the Maitland and Port Stephens Toyota Pro, Ryan Callinan carries the weight of expectation on his shoulders every year the QS6,000 event comes to town. With a Quarterfinal finish last year, Callinan is hopeful that 2017 could be the year a local stands atop the dais. With a seesaw battle going his way in Heat 2 of Round Four, Callinan moves ever closer to making history in Newcastle.
"No local ever winning this event seems to be all anyone talks about," Callinan said. "Obviously I would love to win my home event but no more than any other contest that I enter. I'm always in it to win it. It does add a little pressure but I enjoy it and just focus on each heat as they come, not the comp on a whole."
Ryan Callinan doing his hometown of Merewether proud.
Credit: © WSL / Sproule
Heat 6 of Round Four was an all-Brazilian affair with Jean de Silva coming up against 2015 event Champion Alejo Muniz. Muniz locked in a 13.60 heat total early and left the other two to battle it out for the second qualifying spot. Although Muniz said it's tough to knock out his countrymen, he is also realistic that it is all just part of competition surfing.
"I had to be really patient in that heat once I had those scores," Muniz said. "I got lucky to find those waves early as it slowed right down towards the end of the heat. It is always hard surfing against friends, but it is cool as we have all done this together since we were really young. I feel like we were all well prepared for the conditions today as it has been a slow summer for waves in Brazil."

Alejo Muniz going big in the all-Brazillian battle of Round Four.
Credit: © WSL / Bennett
Check back tomorrow as we move in Round Five of Men's and Women's at Newcastle Surfest