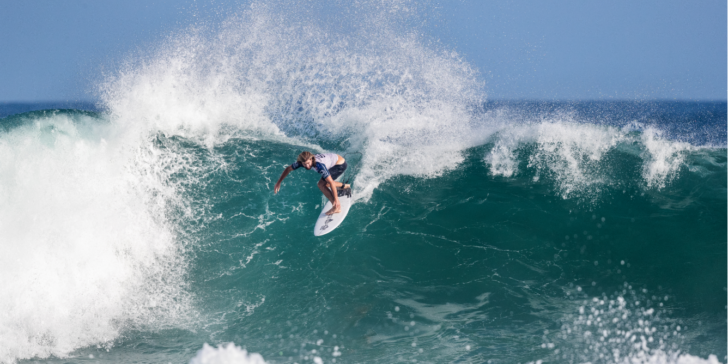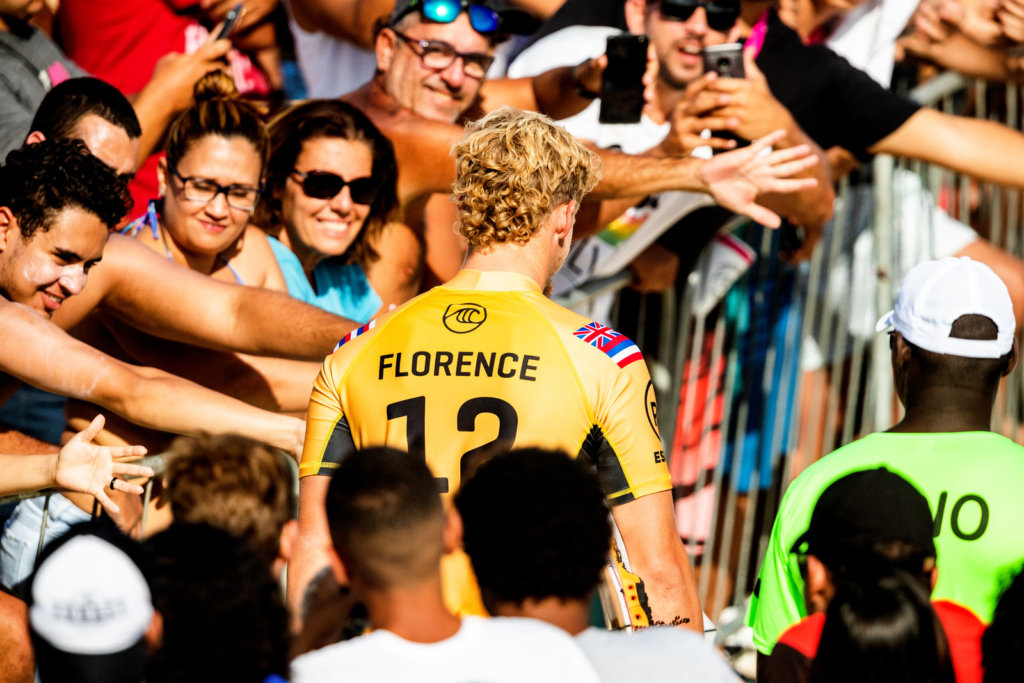 The current #1 popularity is a big as the Rio Crowds…and it seems to be working in his fav.
Wildcards Hinckel and Kymerson Triumph in First Elimination Round
Morais Upsets with Win Over Ferreira, De Souza Falls to Toledo
Carmichael and Smith Post Standout Scores in Heavy Surf
World Champions Medina, Florence and Slater Advance to Round of 16
Wade Carmichael (AUS) earned the highest single-wave score of the day, an 8.50, during the R/32 at the Oi Rio Pro.
Credit: © WSL / Diz
SAQUAREMA, Rio de Janeiro/Brasil (Friday, June 21, 2019) – The Oi Rio Pro, Stop No. 5 on the 2019 World Surf League (WSL) Championship Tour (CT), continued today in six-to-eight foot (1.8 – 2.4 meter) waves at Itaúna. The second day of the holding period sent home 22 competitors after running the women's and men's Elimination Rounds (Round 2), and the men's Round of 32.
Wildcards Hinckel and Kymerson Triumph in Elimination Rounds
Wildcard Taina Hinckel (BRA) upset the competition today by eliminating Nikki Van Dijk (AUS), current World No. 10. Van Dijk is known to perform well at the Oi Rio Pro with Quarterfinal finishes in 2017 and 2018. The Australian planned to continue her run until 16-year-old Hinckel turned the heat in the final minutes with only a 0.57-point advantage over her and a 0.10-point lead over Sally Fitzgibbons (AUS). Van Dijk leaves Saquarema with her first 17th place result of 2019, while Hinckel and Fitzgibbons advance to the Round of 16.

"This is the best day of my life and I am so happy," said Hinckel, the local from Guarda do Embaú. "I've been having an incredible time here with my father, and everything has been working out. I just want to surf and have fun. I love surfing, and I love my life and everything that's been happening. I feel so blessed, and I just want to keep advancing in the contest. I just want to give it my all and keep doing my best."

Krystian Kymerson (BRA), the runner-up in the local Trials, received the last-minute invitation to surf in the Oi Rio Pro after wildcard Mateus Herdy (BRA) withdrew due to an injury. Kymerson took advantage of the opportunity and eliminated CT veteran Adrian Buchan (AUS) in Elimination Round 2.

"I am so thankful for the opportunity and so excited to win that heat," said Kymerson. "It's unfortunate that my friend was injured, but I felt like I got to show my surfing, and I've always dreamt about getting a spot on Tour. I've got chicken-skin because this is the first time I've competed in front of such a big audience. It's like playing in a match at Maracanã Stadium. It's so emotional to get the chance to surf in front of the Brasilian crowd."

Kymerson advanced to the Round of 32 but was stopped by John John Florence (HAW), the two-time event winner and World Champion. Kymerson surfed nine attempts but failed to string together the maneuvers to overcome the Jeep Frontrunner.
Morais Upsets with Win Over Ferreira, De Souza Falls to Toledo
Adriano de Souza (BRA), 2015 WSL Champion, was eliminated in the first heat of the R/32 by Filipe Toledo (BRA), the defending event winner. De Souza started with a 7.50 (out of a possible 10) but failed to find a backup while Toledo captured the lead with a 7.33 and a 6.93. The Oi Rio Pro marked De Souza's return to the elite CT after suffering a knee injury at the 2018 MEO Rip Curl Pro Portugal and he will now set his sights on the Corona Open J-Bay, the next stop on the CT.

"It was unquestionably difficult out there," said Toledo. "The waves have gotten a lot bigger since this morning, and there's a lot of current and different peaks breaking everywhere. But thankfully, I found some good waves without priority after Adriano (de Souza) opened up with a good score, that's why I tried to go for that big air. If my board hadn't been creased, I feel like I would have landed it. I want to congratulate Adriano; it's always a pleasure to surf against him. I felt sad for beating him, but I'm still happy that I advanced. Without a doubt, it was the most nervous I've felt before a heat all year. I knew that even though he's coming back from an injury, he's always dangerous in competition."

"It was a hard fight with me and Filipe (Toledo) trying to find the right spot out there, but there was such a strong current," said De Souza. "After getting that good opening score, I tried to stay patient and look for another solid one, but it never came through. I'm still happy for Filipe and so happy to be back and see everyone from the WSL crew and all the athletes. I've been missing this a lot because this feels like home. Thank you to everyone who helped me get back to this point."

Frederico Morais (PRT), the injury replacement for Mikey Wright (AUS), dispatched World No. 3 Italo Ferreira (BRA) from the draw in Heat 5, R/32. Morais failed to requalify for the elite CT last season and has been awaiting his opportunity as a replacement surfer to compete on the main stage this year. The 27-year-old received a place in the Margaret River Pro earlier this month but was knocked out in last place. Morais' win over the event favorite, Ferreira, is a big confidence booster as he prepares for his next heat against Michael Rodriges (BRA).

"It's hard being an injury replacement because you fell off Tour, but you always feel like you can get another chance," Morais said. "It was a little sad for me at the start of the season, but I got over that and just began focusing on the QS and these two opportunities showed up, so I'm just trying to make the most of it. This morning I had a session, and it was two foot, and now there's some proper size with heaps of water moving, so choosing the right equipment is very important."

Ferreira was ranked third in the world heading into this event, and this second 17th place result could drag him further away from his maiden World Title. Ferreira has never advanced past 13th place at the Corona Open J-Bay and will need a breakthrough result in South Africa to strengthen his World Title campaign.
Carmichael and Smith Post Standout Scores in Challenging Conditions
Current World No. 5 Jordy Smith (ZAF) scored the highest heat total of the day, an incredible 15.83 (out of a possible 20). Smith attacked an Itaúna left-hander for an 8.33 and demonstrated his powerful forehand on a right to earn a 7.50 opening score.

2018 event runner-up Wade Carmichael (AUS) eliminated CT sophomore Yago Dora (BRA) in Heat 10. Carmichael posted an excellent 8.50 (out of a possible 10) to kick off the heat, showcasing commitment and power in the challenging closeout section.

"I am just enjoying my time here," said Carmichael. "It is good that there is a bit of size. It is hard grinding out here when you have the bumps, and it is difficult, but at least you can get that open wall and really rip in and come hard off the bottom. The end sections are gnarly too, you kind of freefall."

Dora's first CT event was here at the Oi Rio Pro as a wildcard in 2017 when he earned a third-place result and made the Quarterfinals the following year as a rookie. Despite holding the highest single-wave score of the event so far (9.00 in Round 1, Heat 3), he exists in Equal 17th.
Brisa Hennessy (CRI) has flown through her rookie season with three appearances in the Final Series and one 9th place result. Today Hennessy suffered her first early elimination in 17th place after falling to Johanne Defay (FRA) and Malia Manuel (HAW) in Heat 2 of Elimination Round 2.

Julian Wilson (AUS) is through to the Round of 16 for the third time this season with his win over Ezekiel Lau (HAW) in Heat 7. Although a low-scoring heat, Wilson surfed 11 waves and his efforts move him into the Round of 16 where he will face Jesse Mendes (BRA), who eliminated Conner Coffin (USA)in his R/32 heat.
World Champions Medina and Slater Advance to Round of 16
Gabriel Medina (BRA), two-time WSL Champion, closed the day with a victory over compatriot Jadson Andre (BRA). After a slow start, Medina found the waves to overcome Andre's 15 attempts with a 13.00 combined score. Andre exits with his fourth-consecutive R/32 elimination. Medina will advance to the Round of 16 against Michel Bourez (PYF).

"I'm happy that I won that heat, but it's a shame that it was against Jadson (Andre) because he's a surfer that I admire a lot," said Medina. "He's a warrior and since he's a little older, I remember watching him scoring a bunch of 10s in Finals and beating Kelly Slater. Conditions were really hard today for both of us, and I had to use a bit of strategy at the end to guarantee my victory. It was hard having to wait until the end of the day to finally hit the water, but I woke up feeling not so good, so in the end, it actually worked in my favor. The forecast is predicting that conditions will improve tomorrow, so it'll be another great day of surfing."

11-time WSL Champion Kelly Slater (USA) took notes during De Souza and Toledo's heat to help his positioning in Heat 2 against Sebastian Zietz (HAW). His strategy paid off with a win that pushes him into the R/16 against Toledo.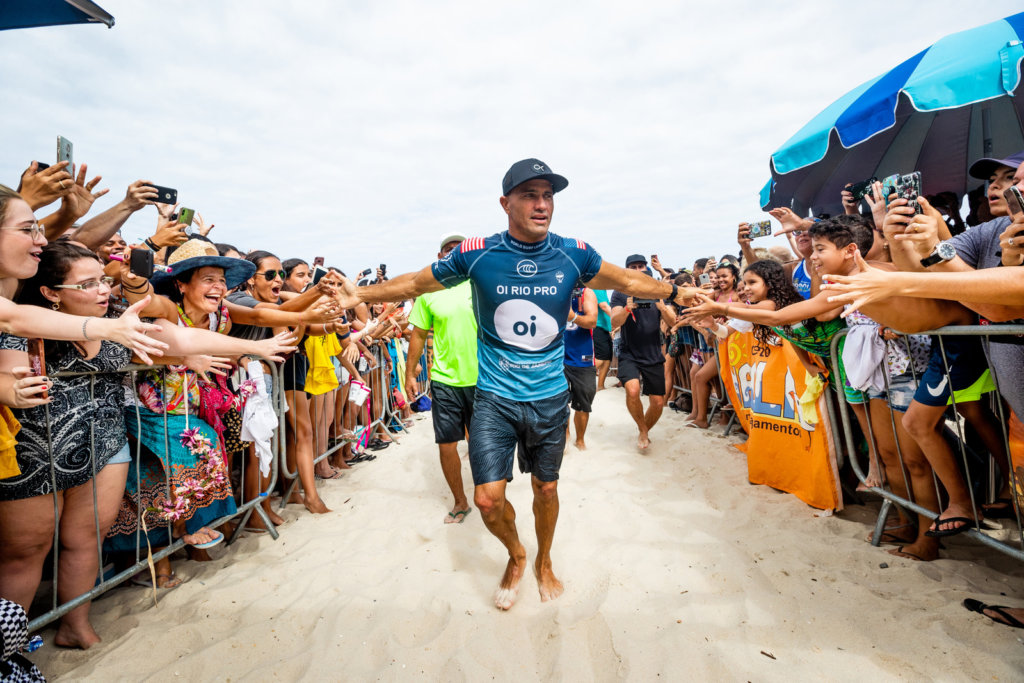 Who da GOAT? PHOTO: © WSL / Poullenot
"It was just giant out there it reminded me of being a kid in Florida when we get our biggest swells," said Slater. "There's a lot of energy out there and it was surprising how big some of the faces were. It was just hard work. I was kind of confused on where to sit, so I worked on where Filipe (Toledo) and Adriano (de Souza) were in the heat before. It's important to just clear your mind out, so you can be present with what you can do and not try to do more than what the wave allows you to. Just go out with a clear headspace and not worry too much about your expectations. Listen to what the ocean's telling you and just be present."
Surfline Brief Overview
Saturday: Easing, but overhead, SSW swell with side-offshore to sideshore wind. Likely run day.
Sunday: Head high to overhead+ S swell with light AM wind. Likely run day.
Monday: Head high to overhead S swell. Possible run day.
Longer Range: Smaller Tue-Wed, new swell possible Thu-Fri.
The next call for the Oi Rio Pro will be tomorrow, June 22 at 6:30 a.m. BRT for a possible 7:05 a.m. start at Itaúna.
For more information, please visit WorldSurfLeague.com.
Oi Rio Pro Women's Elimination Round (Round 2) Results:
Heat 1: Taina Hinckel (BRA) 11.10 DEF. Sally Fitzgibbons (AUS) 11.00, Nikki Van Dijk (AUS) 10.53
Heat 2: Johanne Defay (FRA) 12.40 DEF. Malia Manuel (HAW) 10.57, Brisa Hennessy (CRI) 7.16Oi Rio Pro Women's Round of 16 (Round 3) Matchups:
Heat 1: Lakey Peterson (USA) vs. Macy Callaghan (AUS)
Heat  2: Sally Fitzgibbons (AUS) vs. Johanne Defay (FRA)
Heat  3: Caroline Marks (USA) vs. Keely Andrew (AUS)
Heat  4: Malia Manuel (HAW) vs. Silvana Lima (BRA)
Heat 5: Carissa Moore (HAW) vs. Taina Hinckel (BRA)
Heat 6: Tatiana Weston-Webb (BRA) vs. Coco Ho (HAW)
Heat 7: Stephanie Gilmore (AUS) vs. Paige Hareb (NZL)
Heat 8: Courtney Conlogue (USA) vs. Bronte Macaulay (AUS)Oi Rio Pro Men's Elimination Round (Round 2) Results:
Heat 1: Sebastian Zietz (HAW) 12.77 DEF. Kolohe Andino (USA) 12.00, Alex Ribeiro (BRA) 7.33
Heat 2: Krystian Kymerson (BRA) 11.43 DEF. Jordy Smith (ZAF) 9.67, Adrian Buchan (AUS) 7.54
Heat 3: Conner Coffin (USA) 14.83 DEF. Ezekiel Lau (HAW) 10.73, Peterson Crisanto (BRA) 7.54
Heat 4: Wade Carmichael (AUS) 11.77 DEF. Jack Freestone (AUS) 9.10, Jeremy Flores (FRA) 8.46Oi Rio Pro Men's Round of 32 (Round 3) Results:
Heat 1: Filipe Toledo (BRA) 14.26 DEF. Adriano de Souza (BRA) 10.27
Heat 2: Kelly Slater (USA) 11.93 DEF. Sebastian Zietz (HAW) 8.20
Heat 3: Kanoa Igarashi (JPN) 13.67 DEF. Ricardo Christie (NZL) 10.37
Heat 4: Joan Duru (FRA) 12.40 DEF. Owen Wright (AUS) 10.13
Heat 5: Frederico Morais (PRT) 13.27 DEF. Italo Ferreira (BRA) 7.13
Heat 6: Michael Rodrigues (BRA) 12.06 DEF. Willian Cardoso (BRA) 6.20
Heat 7: Julian Wilson (AUS) 8.90 DEF. Ezekiel Lau (HAW) 6.10
Heat 8: Jesse Mendes (BRA) 11.60 DEF. Conner Coffin (USA) 11.10
Heat 9: John John Florence (HAW) 11.83 DEF. Krystian Kymerson (BRA) 9.24
Heat 10: Wade Carmichael (AUS) 12.37 DEF. Yago Dora (BRA) 11.40
Heat 11: Jordy Smith (ZAF) 15.83 DEF. Jack Freestone (AUS) 11.00
Heat 12: Griffin Colapinto (USA) 10.73 DEF. Ryan Callinan (AUS) 7.57
Heat 13: Kolohe Andino (USA) 12.87 DEF. Soli Bailey (AUS) 8.56
Heat 14: Deivid Silva (BRA) 14.83 DEF. Seth Moniz (HAW) 8.33
Heat 15: Michel Bourez (FRA) 11.44 DEF. Caio Ibelli (BRA) 6.10
Heat 16: Gabriel Medina (BRA) 13.00 DEF. Jadson Andre (BRA) 10.90Oi Rio Pro Men's Round of 16 (Round 4) Matchups:
Heat 1: Filipe Toledo (BRA) vs. Kelly Slater (USA)
Heat 2: Kanoa Igarashi (JPN) vs. Joan Duru (FRA)
Heat 3: Frederico Morais (PRT) vs. Michael Rodrigues (BRA)
Heat 4: Julian Wilson (AUS) vs. Jesse Mendes (BRA)
Heat 5: John John Florence (HAW) vs. Wade Carmichael (AUS)
Heat 6: Jordy Smith (ZAF) vs. Griffin Colapinto (USA)
Heat 7: Kolohe Andino (USA) vs. Deivid Silva (BRA)
Heat 8: Michel Bourez (FRA) vs. Gabriel Medina (BRA)