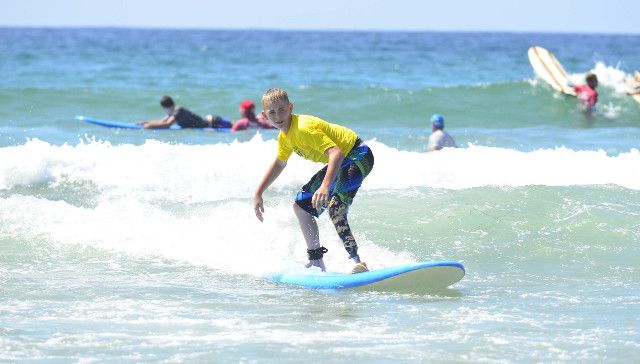 Program helps kids with physical challenges surf. CAF event © Cruse. 
Surf News Network, 13 April, 2016 – The Junior Seau Foundation presented a $250,000 check to the Challenged Athletes Foundation to launch the Junior Seau Foundation Adaptive Surf Program, presented by CAF.
As an avid surfer, Junior Seau's legacy will live on through this life-changing program that will provide universal access to surfing to kids with physical challenges. The partnership with the Junior Seau Foundation will support CAF's mission by giving the opportunity to people with physical challenges to pursue an active lifestyle through physical fitness, in this case, surfing.
CAF believes that involvement in sports at any level increases self-esteem, encourages independence and enhances quality of life. The program will be developed to help kids with physical challenges enjoy the stoke of surfing.
These funds will purchase surfboards, waveskis, beach wheelchairs, gear and a custom trailer for equipment. It will also provide coaching and travel grants for challenged athlete kids to participate in multiple annual kid's surf clinics and camps per year. The first kid's camp will take place this year in collaboration with the band Switchfoot's 2016 BRO-AM on July 9th, 2016.
The BRO-AM surf contest and concert was created to give back to the San Diego community while benefiting local San Diego youth charities like CAF. The goal of the Junior Seau Foundation Adaptive Surf Program, presented by CAF is to serve as a catalyst for growth of global adaptive surfing.
This program seeks to develop youth adaptive surfers, stimulate the surf industry to evolve and create adaptive equipment, establish educational programs in surf schools and include adaptive surfing divisions in competitions.
Ultimately, from a young age, adaptive surfers will dream to compete at the sport's highest stage as Surfing aspires to become a Paralympic sport.
Executive Committee Director of the Junior Seau Foundation, Michael Kinkelaar remarked, "On behalf of the Junior Seau Foundation, we believe this gift of $250,000 will be a transformative seed investment to enable CAF to accelerate and grow the newly named Junior Seau Foundation Adaptive Surf Program, presented by CAF and to improve the lives of children and young adults.
We at the Foundation believe that Junior himself would be very happy with this gift to fund this innovative program."
Challenged Athletes Foundation CEO Bill Geppert said, "We are delighted the Junior Seau Foundation chose CAF as their partner in this unique program. Through the legacy of Junior Seau, we will be able to provide life-changing opportunities to hundreds of kids with physical challenges, so they can pursue an active lifestyle through surfing."
http://www.challengedathletes.org/