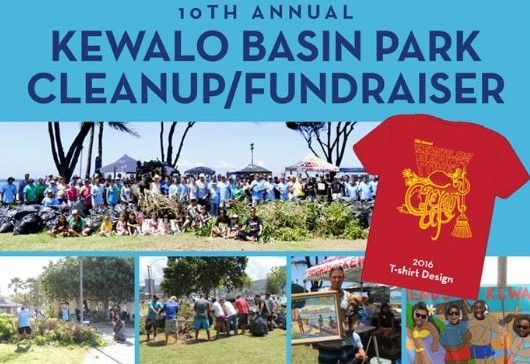 Aloha Friends,
FRIENDS OF KEWALOS invites you to our 10th Annual Kewalo Basin Park Clean-Up and Fundraiser on Saturday, June 18, 2016.  Come with your "smiling clean up faces" to "Celebrate Kewalos" and give back to our beloved park for all that it does to enhance our lives.
Fundraiser >  We will be selling our Clean up T-shirt designed by Todd Yoshizawa. It depicts a tako spelling out the word "Clean Up".  Check it out. It is really nice.
Our drawing offers a surfboard and other good stuff.
This event is FOK's major fundraiser for the year with all proceeds go to fulfill our mission.
After we clean, all will be rewarded with an ono BBQ meat and chix plate lunch, hot dogs, and shaved ice prepared by the "The East Side Gang" and our neighbor, KUPU.  We will be offering lucky numberprize giveaways.
If we get enough donations we will have enough for all.
Donations > We are accepting donations of any kind for our drawing, prize giveaways, trash bags, gloves, rakes, pick ups, etc. We welcome monetary donations at the clean up or at   http://www.kewalo.org/donations/.  We are a non profit 501 C3 so your donation is tax deductible.  Please let us know what you can donate at info@kewalo.org
Parking >  will be available at the former NOAA site like last year.  Attendants will assist you.
50 years & Still Surfing
FOK will be honoring those who have surfed at Kewalos for 50 years more
SAVE THE DATE AND SEE YOU THERE!



Mahalo,
Friends of Kewalos
PROTECT, PRESERVE, MALAMA