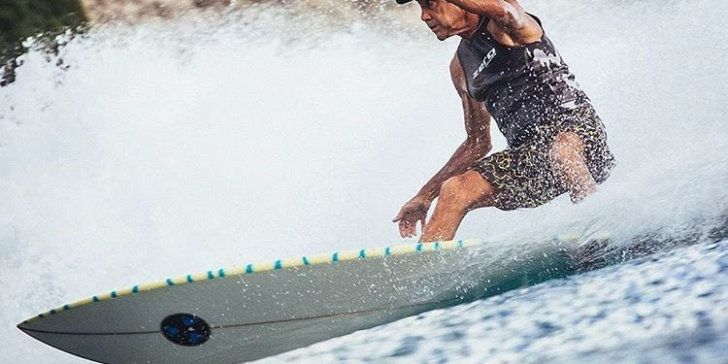 Very awesome that Sticky Bumps continues to support our iconic figures who have inspired millions. This guy, Gerry has been doing it for 4 decades.

Here's StickyBumps hanging out with Da Man. SNN.

"Few carry the number of accolades attached to the name Gerry Lopez, yet the ever-humble Pipeline pioneer remains one of surfing's most iconic figures with a renaissance approach to life. Part of the Sticky Bumps family for too many years to count, we caught up with Gerry and searched for the heavy answers we've been looking for—his biggest influences, daily yoga practice, and his favorite wax!

Surrender to a moment of Zen and find out what Gerry Lopez has been up to in our exclusive Q & A."
1. What is a day in the life of Gerry Lopez look like?
Wake up to whatever will be, will be…then 1 or 2 or 3 or 4 hours of yoga, whatever I have time for. Head down to the shop and shape some boards. Go surf the river wave if it's working. Then home, eat dinner, watch American Ninja Warrior and go to sleep…
2. If you had to choose to either only surf or snowboard for the rest of your life, which would you choose?
As much as I love snowboarding, I think I like surfing more…surfing just seems to be more complete.
3. Did you get tired on Kelly's left and did it even feel like surfing, being a man-made wave? Do you prefer it in any way to surfing a nature-made wave?
Kelly's wave was unbelievable. Alex and I only had the one day there with Shane Dorian, his son, Tommy Carroll and Bethany Hamilton but I think I can safely say that all of us had an absolutely wonderful time and it was just like surfing anywhere else except it was in a pool. But it was good, as good as any wave anywhere….
Top left, Gerry on the Bend, OR river wave. PC Toni Lopez
Top right, Alex and Gerry Lopez in the snow. PC Dana Edmunds
Bottom photo, arriving at the Surf Ranch. PC Kelly Slater
4. When was the last time you surfed at Pipeline and what was it like?
Rory and I paddled out for an exhibition once about 8-10 years ago…well, I paddled out; Rory rode the jetski. It was a man on man heat between Kelly and Shane, I think …so I was paddling out with Kelly and here comes a solid 8'+ set, I'm on Kelly's right side so I'm closer to the shoulder and I'm paddling like hell wondering if I was going to be able to duckdive underneath it before it broke, we were side by side and as I push down underwater, the last thing I see is Kelly whipping around and taking off…I knew right then and there, that my days of surfing the Pipe were truly over.
5. Tips to those who wish to lead a life like yours… which we are assuming is full of yoga, surfing, snowboarding, fun involvement with surf and snow companies, and cool like-minded friends and family!
Try to live a life in harmony with nature that incorporates proper exercise, proper breathing, proper relaxation, proper diet and positive thinking and meditation.
6. Is there one wave you would have loved to surf as a regular footer?
Maalaea on Maui, it was pretty challenging backside.
7. Have you been experimenting with any new designs in the shaping room?
Yes, every time I shape, I try to make in better than the last one so in that way, it's always new. But Alex and I have been trying out a few different asymmetrical shapes after riding some of Ryan Burch's and Ryan Lovelace's asym boards which really work great and give wave riding a whole new twist.
Left, a young Gerry and Alex. Right, the iconic lightening bolt.
8. What's the most memorable session you've had recently, on snow or in the water?
Definitely, Kelly's wave, think that will be something I'll remember for a long time.
We'd agree this wave is memorable! PC Kelly Slater
9. Books that have influenced your outlook on life?
Autobiography of a Yogi by Yogananda, it's a book I've been reading since 1968 and I still enjoy and learn from it.
Gerry practices yoga daily. Namaste. PC Ben Moon
10. What is the next thing you'd love to learn or work on mastering?
Working hard on becoming a foil surfer, Kai Lenny has inspired me as well as a lot of others.
11. What are three surf accessories that are essential to you?
A good surfboard, a good leash and good wax…oh, and a good pair of surf trunks…
12. Who was your biggest influence in the surf industry growing up?
In the industry, I'd have to say Gordon Clark whom with his company, Clark Foam, I seriously doubt that the modern surfboard would be as evolved as it is today. Now he is becoming an influence in the sheep ranching industry…and I'm surfing a standing wave in the Deschutes River…how the mighty have fallen!
13. Which Sticky Bumps wax is your favorite? We had to ask 🙂
Depends where I'm surfing, cold Oregon or Indo or Baja, it has come to where we are able to rely on specialized formulas of wax designed for specific water temps from the whole wonderful range that Sticky Bumps offers…it's a beautiful thing!
On the Indies Trader III back in 2002 when he and Wax Man John Dahl surfed Sumatra. PC John Dahl