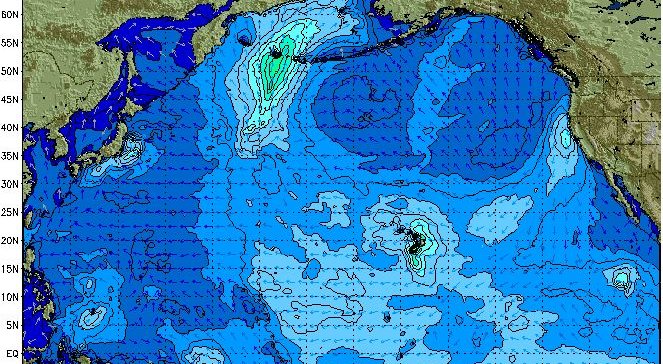 Earlier models show the final real power of Calvin...below is Sunday the 16th. 


The South shore didn't get a fetch for some swell...it was all the earlier stages of the former Major Hurricane. 
It pumped up the East shores and the adjacent shores like Sandy's and Kahuku...SNN. 

Post-Tropical Cyclone Calvin Discussion Number 33
NWS Central Pacific Hurricane Center Honolulu HI   
1100 AM HST Wed Jul 19 2023

Visible satellite imagery shows that Calvin's fully exposed low-
level center is becoming increasingly broad and ill-defined... 
central convection has been absent for sufficiently 
long that Calvin can safely be deemed post-tropical. 


Gale force winds continue in the northern semicircle for now, but increased 
vertical wind shear along the forecast track will prevent Calvin 
from redeveloping...dissipation expected 
in about 36 hours as the environment becomes increasingly hostile.

This is the last advisory issued by the Central Pacific Hurricane 
Center on this system.
EARLIER UPDATE FROM JULY 15TH 
Cat 3 Major Hurricane (as of Friday) churns toward Hawaii….
Luckily, Hurricane Calvin is forecast to weaken over the next couple of days as it passes over cooler water and eventually become a tropical depression — which means winds of less than 39 mph — by the time it passes over Hawaii island and Maui County around Wednesday, hurricane center forecast models show.
Still lotsa heavy rain and solid 4-6′ East swell will be here for the experienced wave riders…Surf will build Tuesday to 4′ later in the day if current models pan out. SNN
Hurricane Calvin Discussion Number  16
NWS National Hurricane Center Miami FL       EP032023
500 AM HST Sat Jul 15 2023

The ragged eye of Calvin has been apparent at times in conventional 
satellite imagery this morning, but overall it has become less 
defined. Overnight GMI and more recent SSMIS passive microwave data 
show that some deep convection has eroded within the eastern portion 
of the eyewall. The vortex also appears somewhat tilted with height, 
as the 37 GHz low-level center was displaced a bit to the south of 
the 89 GHz mid-level one. A blend of the latest objective UW-CIMSS 
satellite estimates and subjective Dvorak classifications from TAFB 
and SAB support an initial intensity of 85 kt.    

The weakening trend that began last night is expected to continue 
for the next several days due to Calvin moving over cooler waters 
and into a drier and more stable environment.
www.nhc.noaa.gov
SNN