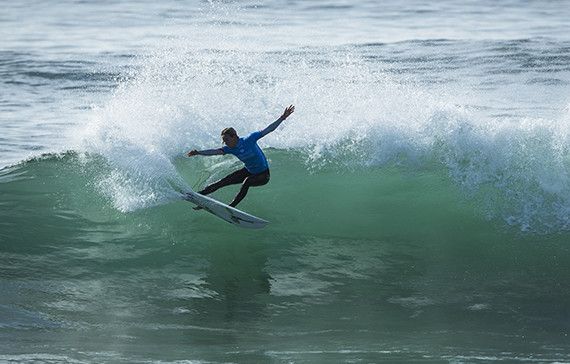 FOUR HEATS OF MEN'S ROUND 2 FOLLOWED BY WOMEN'S ROUND 4
7 Hawaii Boys coming up in the field of 96
Sally Fitzgibbons (AUS) will take on Malia Manuel (HAW) in Round 4 Heat 3 on the hunt for a Quarterfinal berth.
Image: © WSL / Poullenot
| | |
| --- | --- |
| Location:    | Cascais, Portugal |
| Event window: | September 24 – October 2, 2016 |
| Today's call: | Men's & Women's called on |
| | |
| --- | --- |
| Conditions: | 3 – 4 foot (1 metre), light wind |
CASCAIS, Portugal (Wednesday, September 28, 2016) – Competition will resume today at the Cascais Women's Pro, stop No. 8 of 10 on the Samsung Galaxy World Surf League (WSL) Championship Tour (CT), and the QS10,000 Billabong Pro Cascais pres. by Allianz, the final stop on the European Qualifying Series. They day will begin with four heats of Men's Round 2 followed by Women's Round 4 in three-to-four foot (1 metre) surf at the back-up venue of Guincho. Event organizers will reconvene to make another call at 11:15 a.m. local time.
"The wind this morning is a lot calmer than what we've seen over the past few days and there is still some nice swell in the water" said Deputy Commissioner, Jessi Miley-Dyer. "We're actually going to start with the men today. We're going to do four heats of men followed by four heats of women and finish Round 4. Then we'll make another call and decide what we're going to do for the rest of the day."
Alejo Muniz (BRA), Jesse Mendes (BRA), Vasco Ribeiro (PRT) and Vicente Romero (ESP) will be first to take to the water in Round 2 Heat 5 of the Billabong Pro Cascais.
Johanne Defay (FRA) and Laura Enever (AUS) will battle for a place in the Quarterfinals in the opening heat of Round 4 of the Cascais Women's Pro.
Surfline, official forecaster for the WSL, are calling for:
Expect a lingering mix of NW/WNW swells early on Wednesday before reinforcing WNW swell moves in during the afternoon and offers bigger surf towards the end of the day. WNW swell continues into Thursday but gradually eases. Better wind conditions expected for Guincho Wednesday and Thursday. Lingering swell fades on Friday before new NW/WNW swell builds on Saturday into Sunday. Note that Carcavelos will be smaller than Guincho the next several days.
The Cascais Women's Pro runs in conjunction with the Billabong Pro Cascais pres. by Allianz, the WSL Men's QS 10,000 event, and both will be webcast LIVE viaWorldSurfLeauge.com and via the WSL mobile app.
Cascais Women's Pro Round 4 Match-Ups:
Heat 1: Johanne Defay (FRA) vs. Laura Enever (AUS)
Heat 2: Sage Erickson (USA) vs. Alessa Quizon (HAW)
Heat 3: Sally Fitzgibbons (AUS) vs. Malia Manuel (HAW)
Heat 4: Coco Ho (HAW) vs. Lakey Peterson (USA)
Remaining Billabong Pro Cascais Men's Round 2 Match-Ups:
Heat 5: Alejo Muniz (BRA), Jesse Mendes (BRA), Vasco Ribeiro (PRT), Vicente Romero (ESP)
Heat 6: Stu Kennedy (AUS), Bino Lopes (BRA), Nomme Mignot (FRA), Taylor Clark (USA)
Heat 7: Sebastian Zietz (HAW), Mitchel Coleborn (AUS), Marco Fernandez (BRA), Miguel Blanco (PRT)
Heat 8: Miguel Pupo (BRA), Ramzi Boukhiam (MAR), Charly Martin (GLP), Robson Santos (BRA)
Heat 9: Keanu Asing (HAW), Santiago Muniz (ARG), Aritz Aranburu (ESP), Miguel Tudela (PER)
Heat 10: Ryan Callinan (AUS), Ethan Ewing (AUS), Heitor Alves (BRA), Luel Felipe (BRA)
Heat 11: Patrick Gudauskas (USA), Cooper Chapman (AUS), Granger Larsen (HAW), Torrey Meister (HAW)
Heat 12: Italo Ferreira (BRA), Hizunome Bettero (BRA), Frederico Morais (PRT), Hiroto Arai (JPN)
Heat 13: Caio Ibelli (BRA), Tanner Hendrickson (HAW), Pedro Henrique (PRT), Brett Simpson (USA)
Heat 14: Maxime Huscenot (FRA), Dusty Payne (HAW), Jonathan Gonzalez (CNY), Victor Bernardo (BRA)
Heat 15: Connor O'Leary (AUS), Tanner Gudauskas (USA), Willian Cardoso (BRA), Marlon Lipke (PRT)
Heat 16: Matt Banting (AUS), Ricardo Christie (NZL), David Do Carmo (BRA), Leandro Usuna (ARG)
Heat 17: Jack Freestone (AUS), Ian Gouveia (BRA), Mateia Hiquily (PYF), Kiron Jabour (HAW)
Heat 18:  Evan Geiselman (USA), Tomas Hermes (BRA), Tom Whitaker (AUS), Tomas Fernandes (PRT)
Heat 19:  Deivid Silva (BRA), Dion Atkinson (AUS), Jack Robinson (AUS), Andy Criere (FRA)
Heat 20:  Davey Cathels (AUS), Billy Stairmand (NZL), Krystian Kymerson (BRA), Thiago Camarao (BRA)
Heat 21:  Jeremy Flores (FRA), Mitch Crews (AUS), Marc Lacomare (FRA), Parker Coffin (USA)
Heat 22:  Ezekiel Lau (HAW), Soli Bailey (AUS), Joshua Moniz (HAW), Noah Schweizer (USA)
Heat 23:  Leonardo Fioravanti (ITA), Wade Carmichael (AUS), Marco Giorgi (URY), Timothee Bisso (GLP)
Heat 24:  Kanoa Igarashi (USA), Beyrick De Vries (ZAF), Noe Mar McGonagle (CRI), Dimitri Ouvre (BLM)