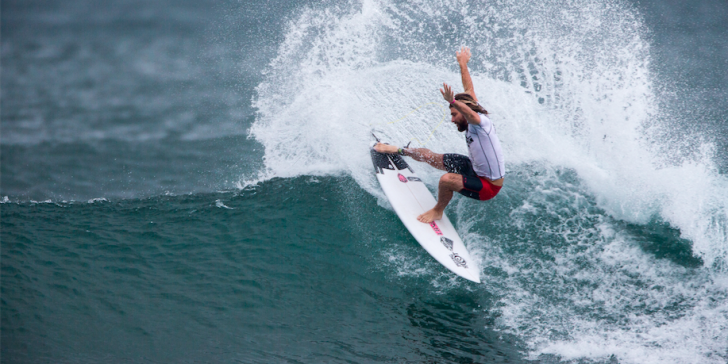 Hacks like this worked in this years Haleiwa Pro.
 Images: WSL / Freesurf / Heff
Story below
Wade Carmichael (AUS) .Hawaiian Pro 2015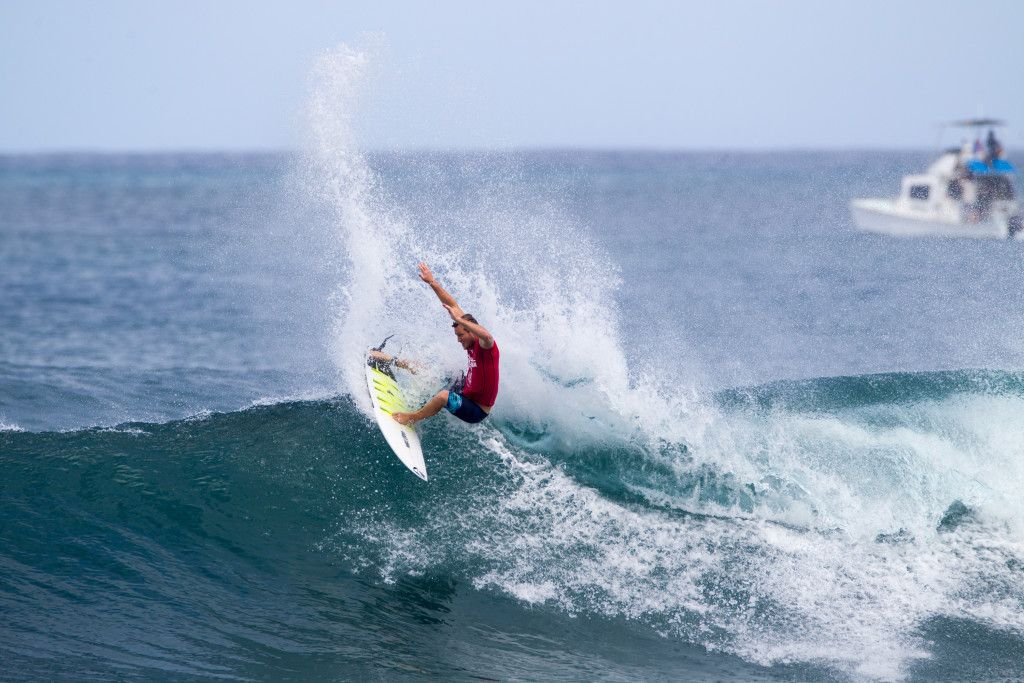 Dusty Payne of Hawaii advances to the final round of the Hawaiian Pro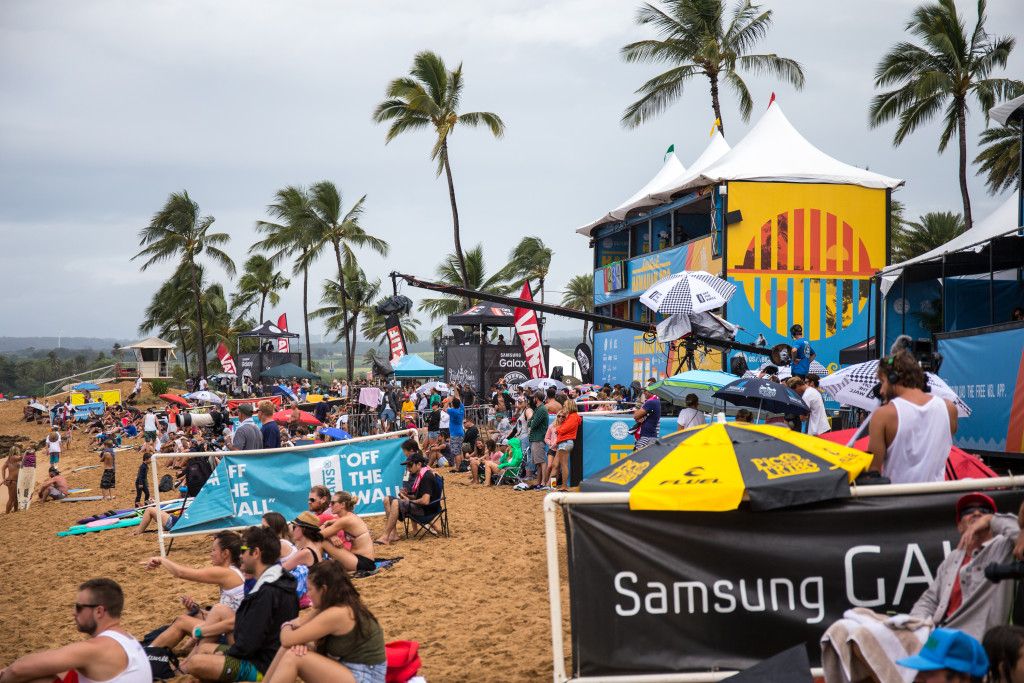 the crowd on hand to watch the 2015 hawaiian pro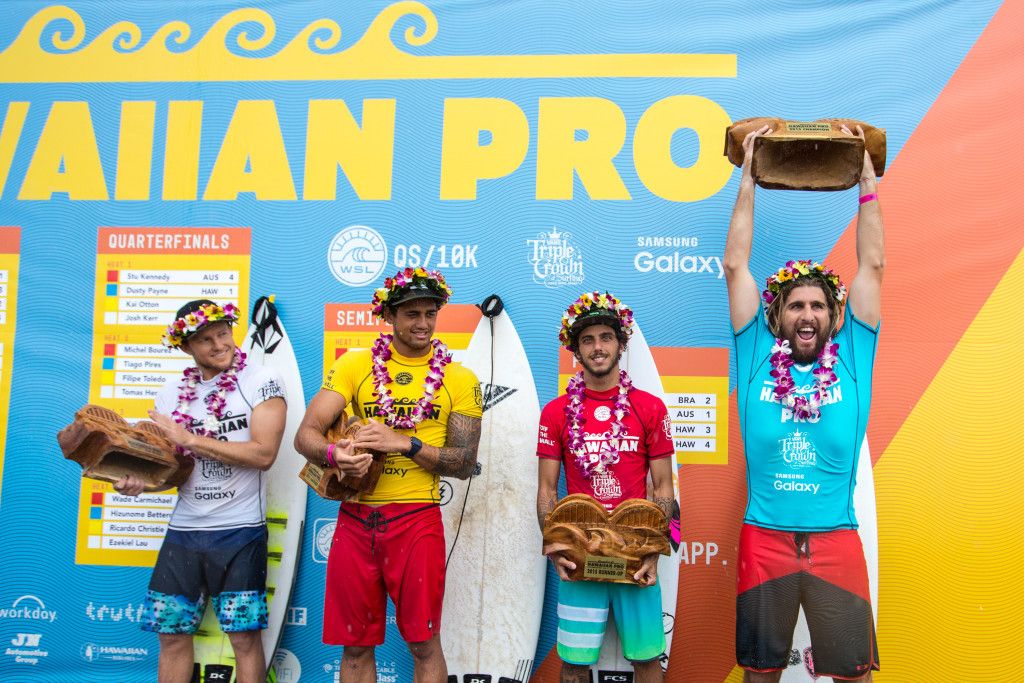 Wade Carmichael of Australia wins the Hawaiian Pro 2015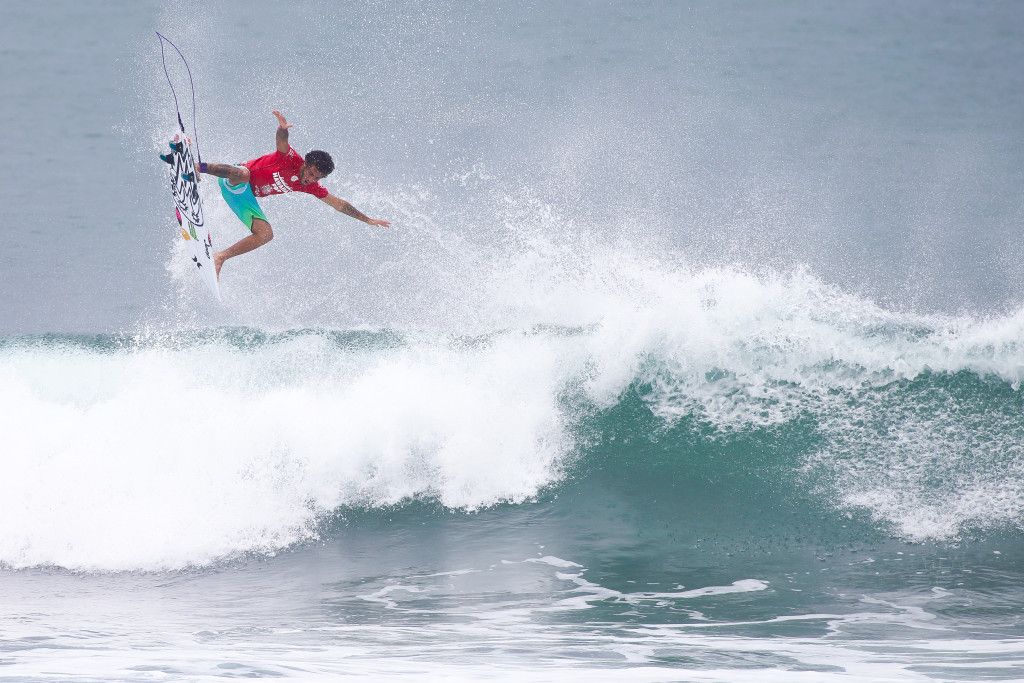 Filipe Toledo (BRA) . Hawaiian Pro 2015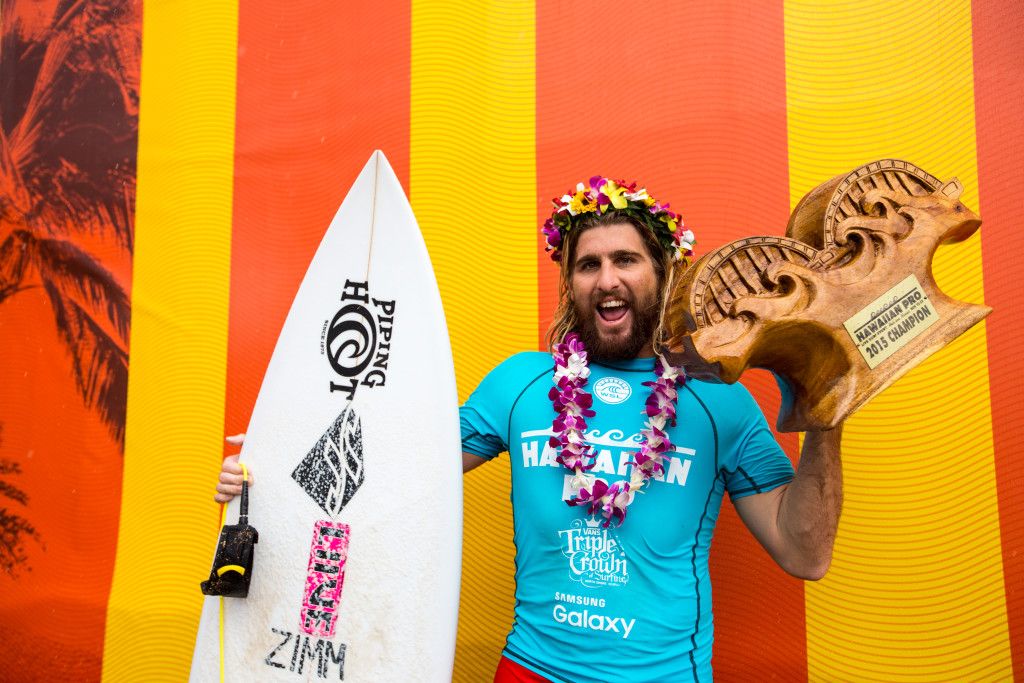 Wade Carmichael of Australia wins the Hawaiian Pro 2015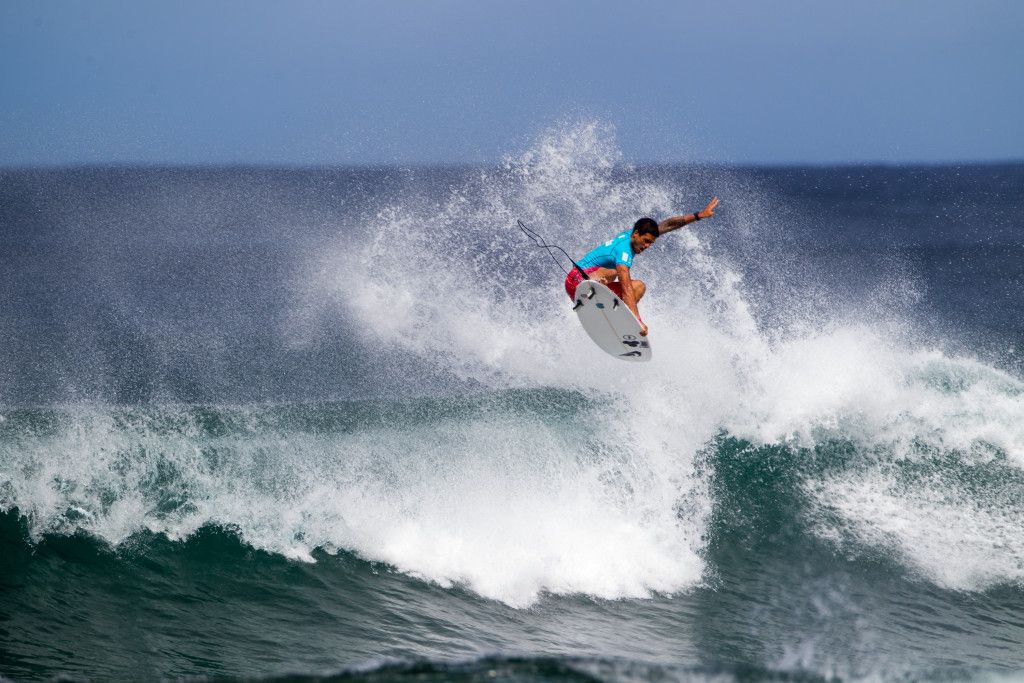 Ezekiel Lau of Hawaii advances to the final round of the Hawaiian Pro
 Wade Carmichael (AUS) uses precise power surfing to clinch the Hawaiian Pro title. Image: WSL / Freesurf / Heff
Location:   
North Shore Oahu, Hawaii
Event:
Dates & Rating:
Hawaiian Pro – Event No. 1 of the Vans Triple Crown of Surfing
November 12 – November 23, 2015
WSL Men's QS 10,000
Haleiwa Ali'i Beach, North Shore, Oahu, HAWAII – (Saturday, November 21, 2015) –Australian Dark Horse Wade Carmichael powered from Round 1 to claim a win at the Hawaiian Pro today, and in so doing catapulted from 59th to 13th on the World Surf League (WSL) Qualifying Series (QS) ratings. This is clearly the biggest result of his career. Carmichael is now in a strong position to qualify for the 2016 WSL Samsung Galaxy Championship Tour and will be looking for a strong finish at next week's Vans World Cup – the second leg of the Vans Triple Crown of Surfing. By virtue of today's win, he is the early leader for the Vans Triple Crown title.Employing brute force and classic power maneuvers, Carmichael, 23, was hard to match in the glassy, head-high waves on offer. The flamboyant aerials of Filipe Toledo fell short of reigning in Wade on his determined path to the podium, leaving the Brazilian in runner-up place. Ezekiel Lau (HAW) was third, and the defending Hawaiian Pro champion Dusty Payne (HAW) was fourth.
Carmichael's performance during this event closely mirrored Payne's triumph last year – both athletes were ranked low on the QS series and used the win at Haleiwa to propel them toward the top, and in Payne's instance, a spot on the tour. It's the kind of exciting turn of events that the Vans Triple Crown is most famous for.
"I don't even know what to say," said Carmichael of his win. "I was waiting around for 20 minutes out in the water and I thought everyone got scores in the end and I couldn't believe all the boys on the beach, I was just freaking out."
The 35-minute Final heated up right off the start as all four surfers went wave for wave, each showing unique talent. Anxiety built when the ocean fell quiet at the halfway mark, but not even a final couple of rides by Payne and Toledo could turn the tables on the Australian.
"The year has been tough," said Carmichael. "I started off well at Trestles with my third but I haven't had much since then. I just got a little bit of a down stage with small waves and kept making a couple mistakes. But I feel like with this win here I'll hopefully get a little roll at Sunset. I'm just stoked."
Second place finisher Toledo was the odds on favorite in the competition, given the high-performance conditions he is known to master. The Brazilian posted a 9.50 in the final, the highest wave score of the day, with a full rotation spanning impressive distance. Unfortunately he couldn't find a solid back-up.
"The last ten minutes was completely flat, I was like, 'Oh my God, I just need one wave,'" said Toledo. "And that middle wave came, it wasn't a set but it was a good wave and I couldn't do anything better than a 5.30. But yeah, second place is not bad and I'm really stoked with a second. Just happy for all the boys, also Zeke and Dusty but of course for Wade."
Lau (Honolulu) and Payne (Lahaina) went air for air to start the Final off strong. Payne's backside tail whipping reverse garnered a 5.83 from the judges and Lau answered back with a 7.27 from a huge opening power turn, followed by an air to mix it up. Lau was eager to find waves from the onset as the swell dropped and the waves went quiet.
"Beginning of the heat had a lot of waves, so maybe I lost my cool a little bit and got a little too excited and went on some waves I shouldn't have," said Lau. "Wade got the better of the exchanges so things kind of went his way."
Payne also had his best two waves in the start of the heat, a 5.83 and a 7.00. But it wasn't enough to overtake his fellow Hawaiian, and Payne found himself in a fourth place finish.
"I had no expectations today," said the former Haleiwa winner. "I'm a little bit more comfortable when it's overhead at least. But I'm happy to make the final."
The holding period for the Vans World Cup – stop two of the Vans Triple Crown of Surfing, commences Tuesday, November 24. It is the final QS10,000 of the 2015 WSL QS tour and will have major implications on next year's Championship Tour lineup.
Hawaiian Pro Final Results
1st – Wade Carmichael AUS) 15.40pts – $40,000 and 10,000 ratings points
2nd – Filipe Toledo (BRA) 14.83pts – $20,000 and 8,000 points
3rd – Ezekiel Lau (HAW) 13.0 – $12,000 and 6,700 points
4th – Dusty Payne (HAW) 12.83pts – $10,000 and 6,300 points
Semi-Finals
1st and 2nd advance to Final
S1: Filipe Toledo (BRA) 17.66pts, Dusty Payne (HAW) 14.46pts, Michel Bourez (PYF) 13.13pts, Kai Otton 10.44pts
S2: Ezekiel Lau (HAW) 16.17pts, Wade Carmichael (AUS) 15.44pts, Ryan Callinan (AUS) 11.20pts, Gabriel Medina (BRA) 7.87pts
Quarter Finals
1st and 2nd advance to Semi-Finals
QF1: Dusty Payne (HAW) 15.33pts, Kai Otton (AUS) 15.16pts, Josh Kerr (AUS) 13.50pts, Stu Kennedy (AUS) 4.33pts
QF2: Michel Bourez (PYF) 16.60pts, Filipe Toledo (BRA) 15.67pts, Tomas Hermes (BRA) 12.40pts, Tiago Pires (PRT) 9.67pts
QF3: Gabriel Medina (BRA) 17.66pts, Ryan Callinan (AUS) 12.73pts, Tanner Gudauskas (USA)12.57pts, Nat Young (USA) 11.77pts
QF4: Wade Carmichael (AUS) 17.64pts, Ezekiel Lau (HAW) 15.10pts, Ricardo Christie (NZL) 14.43pts, Hizunome Bettero (BRA) 8.40pts
Round of 32
1st and 2nd advance to Quarter Finals
(Picking up from yesterday's competition…)
H7: Wade Carmichael (AUS) 17.10pts, Gabriel Medina (BRA) 16.04pts, Conner Coffin (USA) 9.46pts, Cooper Chapman (AUS) 6.57pts
H8: Ricardo Christie (NZL) 13.67pts, Nat Young (USA) 11.93pts, Jadson Andre (BRA) 10.17pts, Connor O'Leary 9.00pts