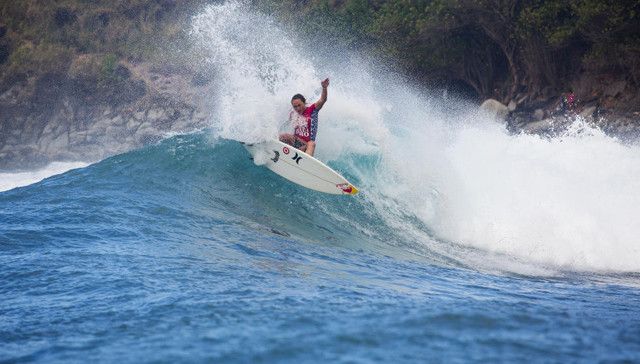 Photo: Carissa Moore © ASP/Masurel
Target Maui Pro 
ASP Women's World Tour Event
Honolua Bay, Maui Hawaii
22 November – 6 December 2014
Australian Gilmore is back on top after Moore claims title in Maui
Surf News Network, 27 November, 2014. Carissa Moore (HAW) has won the Target Maui Pro presented by Schick Hydro Silk after defeating Tyler Wright (AUS) in a hard fought Final. The victory marks her third Samsung Galaxy ASP Women's World Championship Tour (WCT) win of the season and sees her become the first surfer from Hawaii to triumph at Honolua Bay.
The two form surfers went blow-for-blow in the Final match, but it was Moore who nailed the coffin shut on her final ride with a 9.73 (out of a possible 10), taking the Target Maui Pro win and handing Stephanie Gilmore (AUS) her 6th ASP Women's World Title.
"This is definitely one of the best wins I've ever had," said Moore. "To have it here at home in front of my whole family means so much to me. The crowd was amazing, so thanks to everyone for coming, and I'm just so appreciative to Target, Schick Hydro Silk and everyone who made this event happen. This has been an incredible year.
"Of course I was really bummed that I fell out of the Title race in Portugal but I came home for a month and relaxed and spent time with my family. I just wanted to have fun at this last event. This morning I actually teared up because I felt it, I felt really good about this event. It was a tough year but I'm really happy to finish it off like this.

Carissa Moore & Stephanie Gilmore © ASP/Masurel
"I just want to say that Tyler (Wright) you rip, and congratulations to Steph (Gilmore) on your sixth World Title. I'm more inspired than ever after surfing with all the girls this year. I have to give huge props to all girls, we've all pushed each other this year and I'm really excited to see the seasons beyond and what we're going to do. It's really fun to be part of it."
Wright, needing to win the event to send the title race to a three-heat surf-off, proceeded to smash her Quarterfinals and Semifinals heats before meeting Moore in the Final. Today was the third time that the pair have met each other in a Final this season, with the Hawaiian clinching the win each time. Wright previously dispatched Bianca Buitendag (ZAF) and Lakey Peterson (USA).
"Today was amazing, we had a blast and I had a fantastic day," said Wright. "I loved all the close heats and all the women really pushed me. Today was definitely character building for me. Thanks to everyone for coming down and supporting me it really helps. I'm just in a good place right now, enjoying my surfing and I've never been this inspired."
Moore previously defeated event standout Courtney Conlogue (USA) in the Semifinals. Moore took an early lead with an 8.67 and backed it up with a 7.00, leaving the American in search of an excellent score.
"Carissa (Moore), she's been on her A-game the whole event, and any time you surf against her it's always a lot of fun and a great contest," said Conlogue. "I'm looking forward, and this is a great way to finish off the season. This is definitely the start of my 2015 Title campaign, I'm going to go back to the drawing board and take some notes from this year. Next year is going to be big and I can't wait."
Conlogue, who posted the only Perfect 10 of the competition yesterday, caused a huge upset earlier in the day by eliminating Gilmore in the Quarterfinals, leaving the World No. 1 to watch anxiously from land for the remainder of the competition. The pair went wave-for-wave but the American stole the win in the final minutes, with 13.67 (out of a possible 20) to Gilmore's 13.03.

Tyler Wright © ASP/Masurel
"That was probably the most emotional I've ever been watching someone else surf in my life," Gilmore said of the Final. "I know how focused Tyler (Wright) is and I was completely prepared for a surf-off. However, I also knew how incredibly capable Carissa (Moore) is at virtually every venue. I feel like I had a year's worth of emotions packed into one heat. I won my first title here at Honolua Bay, but after my loss in the Quarterfinals, I was prepared for anything to happen. I'm really emotional right now.
"The caliber of surfing on tour this season is the highest it has ever been. There are no easy heats. This was the hardest title I've ever won. The talent level is only going to increase in future years but I'm so pleased I've won and want to thank everyone who has supported me this year – my family, my friends and my sponsors."
Bianca Buitendag (ZAF) caused another big upset when she defeated Sally Fitzgibbons (AUS) in the Quarterfinals, ending her hunt for the long-elusive world surfing crown. Fitzgibbons kept busy, taking five waves to Buitendag's two, but with a 7.67 and an 8.30 it was the South African that edged the win. She would ultimately fall to Wright in the Semifinals.
"That Quarterfinal was definitely a tough one for me and a real nail-biter," saidFitzgibbons. "I just had to tell myself that I gave it everything. It was still a great day for me, my family's here to support me and I've had amazing people around the world supporting me all season.
"I wish I could have got there today, it was such a heartbreaker but I just have to pick myself back up. You never know how you'll feel, but I definitely felt devastated. It's something you pour all your heart and energy into, and it's a long year.
"It's been a really exciting finish to the year and so great that the Title race has gone right down to the end with three Aussie girls. I'm really excited for the 2015 season and I'm going to give it everything – it's still my dream and I'm going to go after it."
Johanne Defay (FRA) leaves the competition in equal 9th place and claims the 2014 Rookie of the Year award after reaching the Quarterfinals, where she was defeated by eventual event winner, Moore.
Target Maui Pro Final Results:
1 – Carissa Moore (HAW) 18.23
2 – Tyler Wright (AUS) 14.03
Target Maui Pro Semifinal Results:
Semifinal 1: Carissa Moore (HAW) 15.67 def. Courtney Conlogue 11.93
Semifinal 2: Tyler Wright (AUS) 17.76 def. Bianca Buitendag (ZAF) 9.74
Target Maui Pro Quarterfinal Results:
Quarterfinal 1: Carissa Moore (HAW) 12.20 def. Johanne Defay (FRA) 9.50
Quarterfinal 2: Courtney Conlogue 13.67 def. Stephanie Gilmore 13.03
Quarterfinal 3: Bianca Buitendag (ZAF) 15.97 def. Sally Fitzgibbons 15.33
Quarterfinal 4: Tyler Wright (AUS) 17.03 def. Lakey Peterson (USA) 16.30