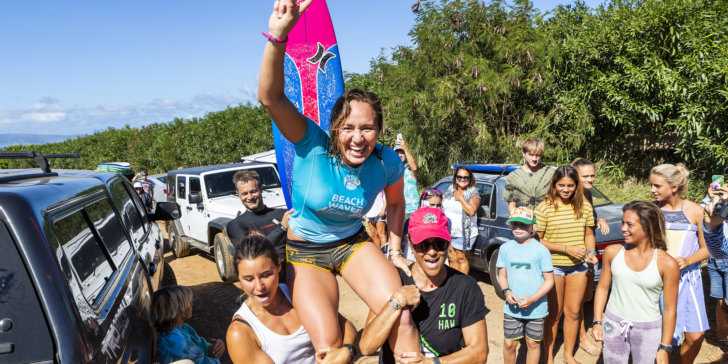 Malia Manuel Qualifies for 2019 CT with Runner-Up Finish
Third Big Wave Pe'ahi Win for Maui Local Billy Kemper
Newly Crowned Gilmore 7x WSL Champion Eliminated in Semifinals
Front page: Happy Mrs. Moore_WSL: Cestari
More Information Available at WorldSurfLeague.com
HONOLUA BAY, Maui, Hawaii/USA (Tuesday, November 27, 2018) – The conditions at this year's Beachwaver Maui Pro, the final stop on the 2018 World Surf League (WSL) Women's Championship Tour (CT), were all-time and 3X WSL Champion Carissa Moore (HAW) took full advantage, winning over Malia Manuel (HAW) in the Final heat of the season with a Perfect 10-point ride.
Moore clinched her 20th CT victory today, her third at Honolua Bay, and rounds out the season at No. 3 on the Jeep Leaderboard.
"It's so special," said Moore. "My whole family came over and the waves were perfect. Probably the best competitive day I've had in my life and just to finish off the season like that is so good. I'm so in love with everything in my life right now. My support crew, surfing and I'm so grateful for the WSL. I'm speechless right now."
"It was a dream come true to get a 10," continued Moore. "There was so much emotion at that point, I just started crying and I can't thank the locals enough for letting us surf your beautiful wave. I'll definitely take some time off to soak it in. Nothing beats winning in the ocean in perfect surf. The Surf Ranch was awesome, but this is pretty sweet. I'm just loving what I'm doing and so fired up. I'm excited for next year and stoked for Steph (Gilmore), it's been a big event and a big year and everyone deserves some time off."
Manuel finished runner-up for the second consecutive year, after blitzing through her Quarterfinal match-up against an injured Sally Fitzgibbons (AUS)and eliminating the newly crowned WSL Champion Stephanie Gilmore (AUS)in the Semifinals before facing Moore in the Final. Today's result, Manuel's best of the year, sees her move up to ninth place on the Jeep Leaderboard and secure her place on the CT for 2019.
"It's such an honor to share the stage with Steph (Gilmore) and Carissa (Moore), two of the best surfers of my generation," Manuel said. "I'm happy to be here and having an event at home, and having my friends from Kauai here is so lovely. I'm feeling a lot of good vibes right now. I have a new spark in me now that I've qualified for the Tour next year. I've got a lot of plans. Sally (Fitzgibbons) had a tough day yesterday but she's an animal. I knew she was going to want to surf even with the injury. We're both just looking forward to next year and hopefully, we will both be in the World Title conversation together."
Full round-up of the today's action at the Beachwaver Maui Pro
Although eliminated in the Semifinals, 7X World Champion Gilmore will come back on the 2019 Championship Tour ranked No. 1 on the Jeep Leaderboard.

"Malia (Manuel) is always on the best waves," said Gilmore. "I tried to fight my way back but it's all good. I've had an incredible couple of days. This year has been beyond anything I could've dreamed of. Surfing is so fun. People always ask me why I'm smiling so much but if they did what I did they would know why."
Billy Kemper Wins Jaws Challenge at Pe'ahi, Hawaii
Across the island, Maui's own Billy Kemper (HAW) won the Jaws Challenge at Pe'ahi, one of three stops on the World Surf League (WSL) Men's Big Wave Tour (BWT), for the third time in his career. Competition resumed with Round 1 Heat 2 after being called off yesterday and Kemper picked up where he left off to set today's tone with more exhilarating performances as he battled back and forth with Kai Lenny (HAW) in the Final.

"Yesterday was probably the most radical day of surfing competition and I'm glad I got to kick that day off and got to end this event," Kemper said. "This is for my mom and if you're looking down on me right now mom, this one's for you."

This marks a career-defining moment for Kemper as his third Big Wave Tour win on home turf. Kemper's ability to hunt down some of the heaviest waves and attack the barrels on offer separated him from the rest of the competition today with a brilliant 23.84 (out of a possible 30) heat total.

"I put everything into this year and I was second guessing if I'd be able to surf again by the end of the year," Kemper continued. "My team got me back here and this is for us. I didn't do this on my own. My beautiful wife, my children, I love you guys so much."
Men's Jaws Challenge at Pe'ahi, Hawaii Final Results:
1 – Billy Kemper (HAW) 23.84
2 – Kai Lenny (HAW) 23.56
3 – Albee Layer (HAW) 17.40
4 – Tyler Larronde (HAW) 16.06
5 – Grant Baker (ZAF) 8.10
6 – Koa Rothman (HAW) 2.19Beachwaver Maui Pro Final Results:
1 – Carissa Moore (HAW) 18.67
2 – Malia Manuel (HAW) 14.67Beachwaver Maui Pro Semifinal Results:
SF 1: Malia Manuel (HAW) 13.50 def. Stephanie Gilmore (AUS) 13.36
SF 2: Carissa Moore (HAW) 15.67 def. Courtney Conlogue (USA) 14.44Beachwaver Maui Pro Quarterfinal Results:
QF 1: Malia Manuel (HAW) 15.00 def. Sally Fitzgibbons (AUS) 4.67
QF 2: Stephanie Gilmore (AUS) 12.94 def. Johanne Defay (FRA) 12.57
QF 3: Courtney Conlogue (USA) 15.40 def. Tatiana Weston-Webb (HAW) 14.60
QF 4: Carissa Moore (HAW) 14.66 def. Paige Hareb (NZL) 12.40

For more information, please visit WorldSurfLeague.com.
Watch LIVE
The Beachwaver Maui Pro will be broadcast LIVE on WSL's Facebook page and WorldSurfLeague.com.Also check local listings for coverage from the WSL's broadcast partners. Follow WSL Social platforms for coverage of behind-the-scenes preparation for an epic week of surfing.