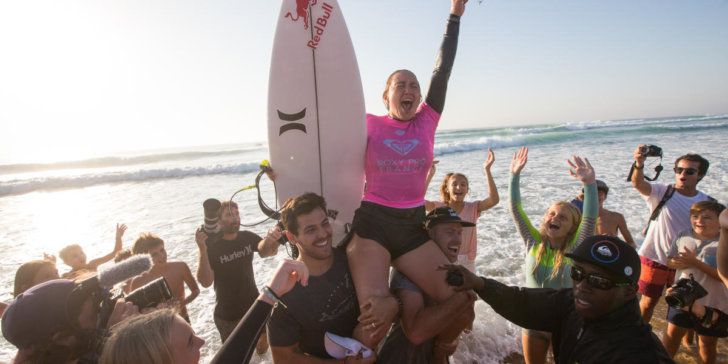 Back on top, at the Roxy Pro France in October.WSL / LAURENT MASUREL
Event #1 starts March 11th-22nd (this Saturday the 10th in Hawaii). This should be a very good year for Carissa Moore, no matter what the results.
Carissa Moore, the three-time WSL World Champion, has had an all-time off-season. First, she married her longtime partner, Luke Untermann, on their home island of Oahu, Hawaii. Next, the two of them hit the road for their honeymoon, exploring some surf-free destinations. Then, Moore packed up her boards and headed to the South Pacific with Hurley for some drool-worthy waves.
The trip, which also produced a seductive set of photos is something of a reset for Moore, who slogged through a series of middling results in 2017. Despite her hegemony for much of the last decade, no number of trophies can serve up immunity to the ups and downs of pro surfing. But somehow, by late September Moore's competitive drive resurfaced and suddenly, she was back. She finished runner-up at the Cascais Women's Pro, followed by a win at the Roxy Pro France in October, and a fifth place at the Maui Women's Pro in December.
"I was in a funk," she told Surfline. "And I can be really hard on myself, which is part of what makes me who I am, but it can also work against me sometimes."
Moore's trip to the South Pacific then was something of a reboot. Leaving her own island in search of waves let her focus on the surf, instead of getting caught up in the throes of daily life (read: Family visits. Housecleaning. The works). Not only did the trip rejuvenate her, but it also provided ample time to fine-tune for the 2018 Tour, which kicks off March 11 at the Roxy Pro Gold Coast. Each day on the trip, Moore and her father Chris, who's also her coach, would review footage from the day as well as footage from some of Moore's favorites — fellow Oahu Champ John John Florence, South African Jordy Smith, and Californian Kolohe Andino.
"The best part about surfing is that there is always something you can improve on," she told the WSL. "I've been working on being more innovative, pushing more turns above the lip, trying to surf faster and tighter. With the season it's been a goal to find a good balance between being creative and looking polished. And, most importantly, having fun."
READ the rest of Carissa's story HERE