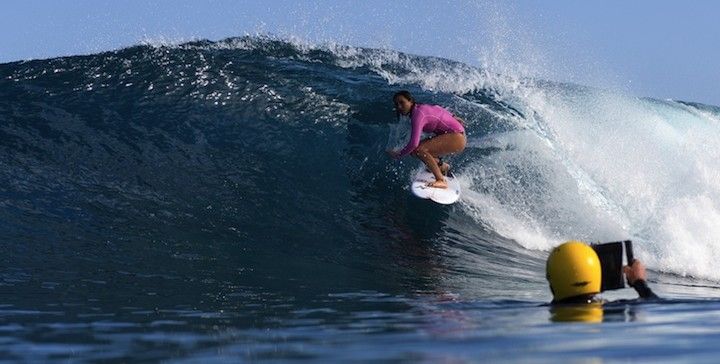 Wednesday: The Surf n Sea event is postponed as well as the Pro Junior and Body Surfing Pro.
| | |
| --- | --- |
| Location:    | Banzai Pipeline, Oahu, Hawaii |
| Holding period: | March 16-27, 2015 |
| Call: | Next call 7am tomorrow |
| Conditions: | Forecast is for moderate Hawaiian scale surf later in the week. |
Surf News Network: HONOLULU  (Tuesday, March 17, 2015): 
Current world #1 Carissa Moore (HAW), home for a brief respite between Samsung Galaxy Championship Tour events in Australia, scored a few clean barrels during warm-up this-morning at the Surf n Sea Pipeline Pro, presented by Brazilian Show Room. But when the competition officially began, Moore seemed content to encourage her challengers and share in their experience than assert the dominance that took her to #1 at the Roxy Pro Gold Coast last week. While she didn't advance today, her presence alone was inspirational for the wave of young, aspiring women who reveled in the opportunity to gain a few tips and take pictures with the champ to post on their social media.
A World Surf League sanctioned QS1,000 women's competition, this event does not offer points toward the 2015 world title that Moore is chasing, but does offer uncrowded time at the most famous surf break on the planet: the Banzai Pipeline, and Moore was all about showing up for that.
"This event for me is about the opportunity, with no pressure, to learn more about Pipeline," said Moore. "Everyone wants this kind of time alone at Pipe. Also, my sister Cayla is coming up in the event later in the round and I'm just enjoying being here to cheer her and the other girls on.
"Hawaii is such a special place to me and it's so rejuvenating, so any opportunity I get to come home and get a break from all the pressure of the tour is great.
"It was fun to have a heat with Keala Kennelly this-morning and catch up with her. She's a legend of the sport and one of the women that I really looked up to when I was starting out."
As it turned out, Kennelly – former world #2 and best known for her big wave pursuits at Teahupoo and Mavericks – was more driven to advance today and took the heat from Emilia Perry (HAW) and Moore.
An international field of 32 women comprise the Surf n Sea Pipeline Pro, and that was reflected in today's results. Among those advancing were Natalie Ansivino (USA); Jessica Anderson (CHL); and locals Bailey Nagy and Honolua Blomfield (HAW).
A champion will be crowned on the next day of competition, which will be shared with the Pipeline Pro Junior Men's competition that is also sanctioned by the World Surf League.
Organizers will assess conditions at first light tomorrow for a possible continuation of surfing. When competition does resume, look for highlight performances from Cayla Moore and her fellow Hawaii hopefuls Moana Jones, Mainei Kinimaka, Dax McGill, and Anastasia Ashley (USA).
RESULTS: (Heats 1-4 of round 1 completed)
Surfers listed from 1st to 4th. From Hawaii unless noted otherwise.
H1: Keala Kennelly; Emilia Perry; Carissa Moore.
H2: Sophia Bartlow; Natalie Anzivino (USA); Susann Walczak-Pol; Emily Erickson
H3: Bailey Nagy; Jessica Anderson (CHL); Stephanie Da Silva; Carly Wilson (USA)
H4: Honolua Blomfield; Zoe McDougall; Aloha Lopez; Trinidad Segura (CHL)
Aloha!