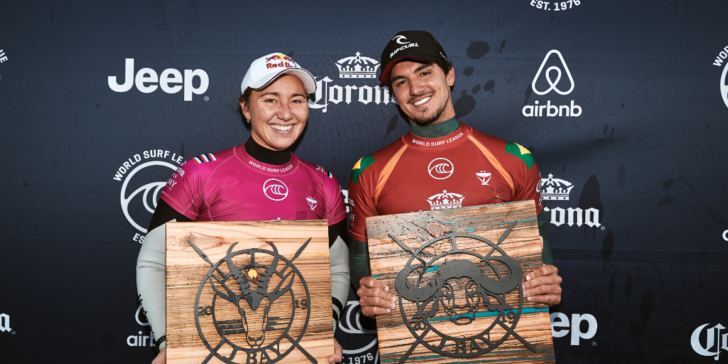 Carissa Moore Captures Top Spot on Jeep Leaderboard with J-Bay Victory

Gabriel Medina Back in the World Title Hunt After Near-Perfect Final

California's Kolohe Andino Claims Jeep Leader Jersey Heading into Tahiti
Front page: Carissa Moore (HAW) and Gabriel Medina (BRA), winners of the 2019 Corona Open J-Bay. Credit: © WSL / Sloane
2019 Women's CT Jeep Leaderboard (following Corona Open J-Bay):
1 – Carissa Moore (HAW) 41,175 pts
2 – Sally Fitzgibbons (AUS) 37,325 pts
3 – Stephanie Gilmore (AUS) 35,065 pts
4 – Lakey Peterson (USA) 33,850 pts
5 – Caroline Marks (USA) 32,135 pts

2019 Men's CT Jeep Leaderboard (following Corona Open J-Bay):
1 – Kolohe Andino (USA) 33,845 pts
2 – Filipe Toledo (BRA) 33,280 pts
3 – John John Florence (HAW) 32,425 pts
4 – Italo Ferreira (BRA) 29,950 pts
5 – Kanoa Igarashi (JPN) 29,450 pts
JEFFREYS BAY, South Africa (Friday, July 19, 2019) – Today, Carissa Moore (HAW) and Gabriel Medina (BRA) won the Corona Open J-Bay, the sixth stop on the 2019 World Surf League (WSL) Championship Tour (CT), in four-to-six foot (1.2 – 1.8 meter) waves at Jeffreys Bay in South Africa. The win is a first in South Africa for World Champions Moore and Medina, and also marks their first CT wins this season to strengthen their respective World Title campaigns.

The action-packed Finals Day at the Corona Open J-Bay saw no shortage of drama and with six near-perfect 9-point rides and extremely close heats to complete the CT's halfway marker.
Carissa Moore Captures Top Spot on Jeep Leaderboard with J-Bay Victory
Event winner Carissa Moore (HAW) now leads the World Title race with Sally Fitzgibbons (AUS) in second, Stephanie Gilmore (AUS) in third, and Americans Lakey Peterson and Caroline Marks not far behind in fourth and fifth, respectively. En route to her victory today, three-time WSL Champion Moore defeated Peterson in the Final and Marks in the Semifinal.

"I haven't been in the yellow jersey in a few years, so it's extra special," said Moore. "I know there's a lot of work to be done for the rest of the year, but I'm just so excited! Getting to share this win with my support group, my husband, my dad, Duncan (Scott) who's been helping me here in South Africa, all my sponsors, I couldn't do it without them. South Africa didn't disappoint. I'm stoked to be back in the Title race with everyone. It's probably going to come down to Maui. I'm really stoked and couldn't have asked for a better end to the day."

Moore's 22nd CT win comes after an incredibly consistent season so far with no result below 5th place. The 26-year-old failed to take the win in two previous Finals this year on the Gold Coast and in Rio but now claimed her breakthrough result heading into the Freshwater Pro pres. by Outerknown, where she is the defending event winner.

"It's kind of come full circle for me from last year," continued Moore. "Just to come back and feel really good and happy, I'm ecstatic. I've been in the Title race from the very beginning. I just want to give my best at every stop and I'm just really happy. I'm super stoked to be in the yellow jersey. Of course, there's a lot of work that has to be done but it gives me confidence heading into a month break and I can breathe a little bit easier."
The Final saw Moore and Peterson go blow-for-blow in the Supertubes sets. Peterson stuck to her strategy of securing a good score on her first wave, opening with a 6.83 (out of a possible 10) in the first few minutes of the Final. Moore kept her focus and found a set wave, drawing out her signature carves, and the judges awarded her an 8.50 to jump into the lead. Peterson got a 7.27 while Moore was still trying to make her way back into the lineup. Moore improved her lead with a wave under priority to take the win.

Peterson's second Final at the Corona Open J-Bay fell just shy of the win again, but the American feels the momentum swinging her way into the final four events of the season. Peterson has one win so far this season at the Margaret River Pro and will be after her second at the upcoming Freshwater Pro from September 19 – 21, 2019.

"It was so awesome to finish with such incredible surf," said Peterson. "Thanks to everyone for letting us have the lineup the last couple weeks. It's truly an incredible place. It's awesome to come back this year and make the Final again and hopefully, I'll win it one day. Congratulations to Carissa (Moore). She is surfing unbelievably. She always pushes me to surf my best and brings the best out of myself so huge congrats to her, but I'm super stoked to keep rolling with the year now and hopefully get some momentum here and keep it going."
Reigning WSL Champion Gabriel Medina Back in the World Title Conversation After J-Bay Win
Gabriel Medina's win not only jumpstarted his World Title campaign but meant a goofy-footer earned the CT victory in J-Bay for the first time since Mark Occhilupo in 1984. This is the 13th CT win of Medina's career and the first of 2019 after failing to move past the Quarterfinals so far this season. The 25-year-old took down Italo Ferreira (BRA) in the Final, Kolohe Andino (USA)in the Semifinals and Owen Wright (AUS) in the Quarterfinals.

"That felt so good!" said Medina. "This is a hard contest to win. I had a lot of fun this week, it was amazing and I wasn't expecting that. I'm really happy right now. Something clicked in that heat that was really special. I knew I could match up with Italo (Ferreira) or Filipe (Toledo), both of them were ripping. I just want to thank God for giving me the waves and I'm so happy I did the job."

Although Medina only moves up one place to 7th on the Jeep Leaderboard, he is heading into the five events that he has previously won and three of which where he is the defending event winner (Tahiti Pro Teahupo'o, Freshwater Pro, Billabong Pipe Masters). Medina is known to clinch results in the back-half of the season and will be a threat in his hunt for a third World Title.

"It feels so good to get one over Italo (Ferreira)," continued Medina. "He surfs so well, even when he was combo'd I wasn't comfortable because I know he can do anything. Being in the Final with another goofy-foot was amazing. All the Brasilians are doing so well and to share a Final with Italo means so much. It means a lot and this contest was really special because it's hard to win out here. I'm back and I feel amazing. I just want to surf and do my best. The year is still long, so I'm happy with a win here."

The CT event in J-Bay had never seen an all goofy-foot Final before today. The all-Brasilian battle was a momentous clash between Ferreira and Medina. Ferreira opened with a 9.10 (out of a possible 10) to set the tone, but Medina replied with a near-perfect 9.73. It took a while for both surfers to find a winning backup score. Ferreira got a 7.67 and with Medina only requiring something in the 7-point range. He didn't hold back and matched the speed of the wave, completing his turns in the critical part of the wave with a smooth, flowing rhythm. Medina scored a barreling section to the roar of the crowd and came out flying for a 9.77, capturing 19.50 two-wave total (out of a possible 20) to place Ferreira in a combination situation in the dying minutes.

Ferreira dominated the event with some of the biggest scores in his first run past a 13th place result in J-Bay. The 25-year-old was responsible for the eliminations of J-Bay standout Filipe Toledo (BRA) in the Semifinals, Kanoa Igarashi (JPN) in the Quarterfinals, and 11-time WSL Champion Kelly Slater (USA) in the Round of 16. Ferreira now sits at World No. 4 on the Jeep Leaderboard behind No. 3 John John Florence (HAW), who withdrew from this event due to injury, No. 2 Toledo, and No. 1 Andino.

"It was a long week, but I was glad to be in the Final with Gabriel (Medina)," said Ferreira. "It was a good heat, I started with the 9.10, but after that Gabriel smashed me. It was so fun to surf that wave. I came here early and tried to surf it without a crowd and tried to test my boards and everything. I'm so happy, it's a good result and let's keep it ripping."
Filipe Toledo Falls Short of Three-peat at Corona Open J-Bay
Two-time, defending event winner Filipe Toledo (BRA) was eliminated in the second Semifinal by compatriot Ferreira. Toledo looked set for another Finals appearance in Jeffreys Bay when he scored a near-perfect 9.00 for his opening ride, but Ferreira was unphased and answered back with a 9.50. Toledo only managed a 5.00 on his second wave, and Ferreira scored an 8.00 to send Toledo home. Toledo is only 565 points behind Andino heading into the Tahiti Pro Teahupo'o.

"Italo (Ferreira) has been in-form the whole event, and he's probably my favorite backhand surfing this wave," said Toledo. "He's really fun to watch and I was really inspired by him trying the most vertical and fastest turns on this wave. I knew it was going to be really tough, that's why I waited for the bombs. I got that first one and it felt pretty good. I was just waiting on another one and it didn't happen, but he actually had priority so it just wasn't my day. Besides that, I'm stoked with the Semifinal, another keeper, and I'm in a good position for the World Title right now. I'm happy to be part of the Brasilian generation that's once again making history here in J-Bay."

The last Quarterfinal saw Ferreira knock out Kanoa Igarashi (JPN) with an 8.50and a 7.03 to Igarashi's 6.77 and 5.60. Igarashi will now focus his attention on the Vans US Open of Surfing pres. by Swatch Qualifying Series (QS) event, where he is ready to defend his own three-peat in his hometown.

"I am so excited to go back home," said Igarashi. "I haven't been back to Huntington Beach since Snapper Rocks in April. I cannot wait to go see my parents and to see my friends back in Huntington. To be able to compete in front of the crowd and the local fans is the best way to go back home. I am going to do whatever I can to win it. Even though it has nothing to do with the World Title or the Olympics, but for me, there is nothing more than I want than to win it three years in a row."
California's Kolohe Andino Jumps to World No. 1, Will Wear Jeep Leader Jersey in Tahiti
It was a close matchup between Medina and Kolohe Andino (USA) with only 0.30 points separating them in the end. Andino tried to use the blustery offshore to his advantage and launched into a big aerial maneuver for a 7.50, but the score fell short of what was required to get into first place. He continued looking for opportunities, leaving Medina out the back, but unfortunately could not complete his aerial attempts.  Andino previously eliminated Adrian Buchan (AUS) in the Quarterfinals. His third-place finish marks his best result in Jeffreys Bay and now vaults him to World No. 1 on the Jeep Leaderboard for the first time in his career.
Caroline Marks and Malia Manuel Eliminated in Semifinals
Caroline Marks (USA) Credit: © WSL / Tostee
17-year-old surfing phenomenon Caroline Marks (USA) was stopped by Moore in the first Semifinal. Moore seemed more comfortable on her board in the bigger conditions, while Marks struggled to find a long ride to fit in her backhand maneuvers and only acquired two mid-range scores. Moore was in tune with the pace of Supertubes, locking in an excellent 8.33 to move into the Finals. Marks now stays at No. 5 on the Jeep Leaderboard.

Peterson defeated Malia Manuel (HAW) in the second Semifinal. Peterson posted the best score of the heat, a 7.67 as her opening ride to put pressure on Manuel right from the start. Manuel tried to catch up, but Peterson found another set wave for a 7.60 backup score for her second Finals appearance in Jeffreys Bay.
For full replays and highlights from the Corona Open J-Bay, please visit WorldSurfLeague.com.

The next stop on the 2019 Men's WSL Championship Tour is the Tahiti Pro Teahupo'o, which holds a competition window from August 21 – September 1, 2019. The next stop on the 2019 Women's Championship Tour will be the Freshwater Pro pres. by Outerknown, held at the Surf Ranch Lemoore, California from September 19 – 21, 2019. Both events will be broadcast LIVE on WorldSurfLeague.com and Facebook.com/WSL. Also, check local listings for coverage from the WSL's broadcast partners.
Corona Open J-Bay Women's Final Results:
1 – Carissa Moore (HAW) 15.47
2 – Lakey Peterson (USA) 14.60Corona Open J-Bay Women's Semifinal Results:
Heat 1: Carissa Moore (HAW) 14.33 DEF. Caroline Marks (USA) 12.67
Heat 2: Lakey Peterson (USA) 15.27 DEF. Malia Manuel (HAW) 11.00Corona Open J-Bay Men's Final Results:
1 – Gabriel Medina (BRA) 19.50
2 – Italo Ferreira (BRA) 16.77

Corona Open J-Bay Men's Semifinal Results:
SF 1: Gabriel Medina (BRA) 14.30 DEF. Kolohe Andino (USA) 14.00
SF 2: Italo Ferreira (BRA) 17.50 DEF. Filipe Toledo (BRA) 14.00

Corona Open J-Bay Men's Quarterfinal Results:
QF 1: Gabriel Medina (BRA) 15.67 DEF. Owen Wright (AUS) 14.60
QF 2: Kolohe Andino (USA) 15.43 DEF. Adrian Buchan (AUS) 14.10
QF 3: Filipe Toledo (BRA) 15.00 DEF. Sebastian Zietz (HAW) 14.40
QF 4: Italo Ferreira (BRA) 15.53 DEF. Kanoa Igarashi (JPN) 12.37

2019 Women's CT Jeep Leaderboard (following Corona Open J-Bay):
1 – Carissa Moore (HAW) 41,175 pts
2 – Sally Fitzgibbons (AUS) 37,325 pts
3 – Stephanie Gilmore (AUS) 35,065 pts
4 – Lakey Peterson (USA) 33,850 pts
5 – Caroline Marks (USA) 32,135 pts

2019 Men's CT Jeep Leaderboard (following Corona Open J-Bay):
1 – Kolohe Andino (USA) 33,845 pts
2 – Filipe Toledo (BRA) 33,280 pts
3 – John John Florence (HAW) 32,425 pts
4 – Italo Ferreira (BRA) 29,950 pts
5 – Kanoa Igarashi (JPN) 29,450 pts