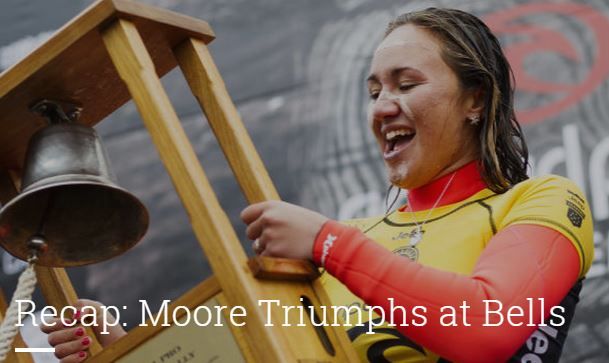 Carissa is now arguably the greatest ever at the Iconic Bells Beach with 3 back to back victories.
Carissa Moore (HAW) claims her third consecutive victory at the Rip Curl Women's Pro Bells Beach.
Image: WSL / Kirstin
| | |
| --- | --- |
| Location:    | Bells Beach, Victoria, Australia |
| Holding period: | April 1 – 12, 2015 |
| Call: | Women's event complete – congratulations Carissa! |
| Conditions: | Light winds, three-foot surf |
BELLS BEACH, Victoria/Australia (Friday, April 10, 2015) – Carissa Moore (HAW) has won the Rip Curl Women's Pro Bells Beach after battling Stephanie Gilmore (AUS) in the Final for the right to ring the Bell. Victory for the two-time world champion today sees her take three consecutive Rip Curl Pro Bells Beach titles and become the first female surfer in Championship Tour (CT) history to achieve this feat. Moore defeated Tyler Wright (AUS) in both 2013 and 2014 for her prior wins.
Moore and Gilmore have previously had 20 CT heats together, with 10 wins apiece until Moore took the edge today following their 21st match-up. Most recently the pair faced off in the Final at Snapper Rocks, where Moore took victory and claimed the first CT win of 2015.
"It's such an honor, I love coming down here and it's such a magical place," Moore said. "It's just been such a beautiful experience and I feel super blessed. It's challenging not only to regroup after a win, but you're also competing against the best in the world so you really have to be in tip top shape."
Today's win is Moore's third CT victory in a row after triumphing in Maui last season and on the Gold Coast at the start of 2015, and sees her hold on to the Jeep leader jersey heading into the third event on the Samsung Galaxy World Surf League (WSL) Championship Tour (CT) in Margaret River.
"I'm just stoked I got to continue my momentum here," continued Moore. "It's a long year, there has only been two contests so far and I know that all of the girls are fired up and they want it really bad. Everyone is going to be surfing their best. I'm just living in the moment and I'm just so glad to be here spending it with all of you, so thank you.
Gilmore opened up strong in the Final, posting an excellent 8.77 for typically smooth and concise surfing, linking together a series of turns and backing it up with a 4.50 for the initial lead. The Hawaiian fought back with an 8.00 of her own to turn the heat and claim the lead, holding priority through the closing minutes and taking the win with just two waves ridden.
Gilmore, the reigning WSL Champion, has rung the Bell three times. First she went back-to-back in 2007 and 2008, facing Sofia Mulanovich on both occasions. The pair matched up again in the Final in 2010 and Gilmore took the win. The runner-up finish for Gilmore today, her second of the year, sees her remain in second place on the rankings.
"Every single year it gets harder and harder to win these events," Gilmore said. "It's a real testament to all the girls on tour and just how much work and time they put out in the surf. I'm really proud to make it to the Final."
"Carissa is always a tough one to beat," continued Gilmore. "We have had a great battle for the world title the last few years and every single heat with her is hard. Thanks everyone for coming to watch. I love this event, I love coming down here, rugging up and trying to ring the bell."