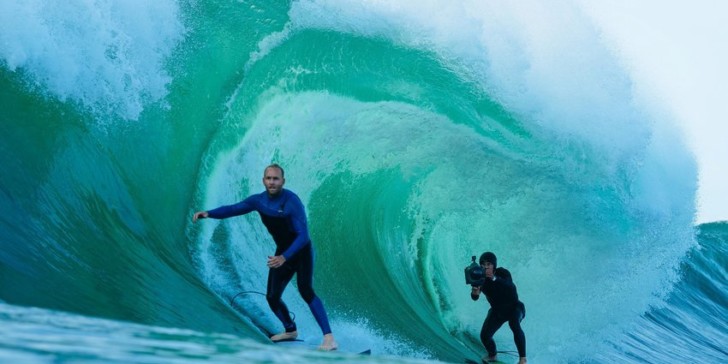 Image of Mark Mathews © Ed Sloane/Red Bull.
What if he'd landed on his head?
With the highest level the Surf World has ever seen….of hard charging big wave riders, slab chargers and heavy reef break performances the world over….it's amazing & lucky more injuries like this do not happen very often. SNN.
Surf News Network, 7 February, 2017 – Late last year Mark Mathews landed feet first on the reef at a heavy East Oz slab and snapped his leg. He dislocated his knee, suffered nerve damage and snapped two ligaments.
He was airlifted out of danger to a Canberra Hospital. And that's where all the hard work started. Now Mathews confesses that the injury put him out of a job.
"This injury actually looks like it could end my career," Mathews told The Daily Telegraph before adding  "— but I'm not sure yet,"
Mathews, 35, says doctors have been amazing, successfully saving a leg which under different circumstances would have been amputated. Doctors warned that the nerve damage to his knee would keep him from surfing at the level he's used to.
"The way I hit the reef I could have ended up in a wheelchair, so as bad as it is, it could be a lot worse," said Mathews. "I can't really control my foot, so I definitely won't be able to continue my pro career," he said. "But I am speaking to a company about developing a custom brace that hopefully will allow me to be able to surf … I'll figure out a way to do it."
Mathews was towing with Richie Vass and Scott Dennis when things went wrong. Photographer Ed Sloane was on location for the shoot and gave an account of what happened.
"We were working on a shoot with Leroy Bellet," he told Red Bull Media.  "Mark and Leroy were double-towing on a set wave in the six-to-eight-foot range and it was only Mark's second wave. The wave looked like it was going to start closing out as it hit the reef, so he tried to hit the eject button early by jumping off – but in doing so he got sucked over the falls. It looks like he landed feet-first on the reef, causing injury. We brought the skis around and got him to the beach, and the ambulance arrived within 10 minutes."