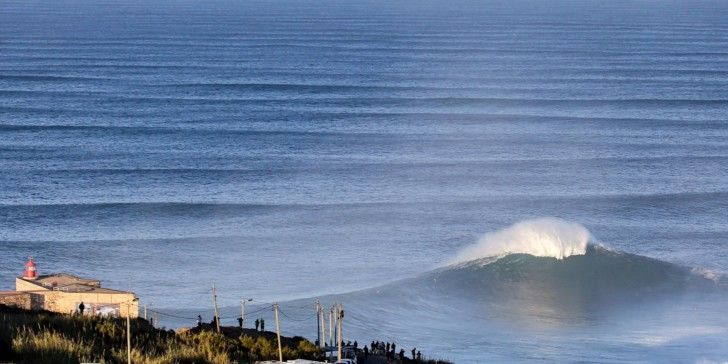 – HUGE SWELL ON OFFER AT ICONIC PORTUGUESE BREAK
THEY'RE 10 HOURS AHEAD
 The BWT Nazaré Challenge will launch today in huge surf..
Image: © WSL / Guillaume Arrieta 
| | |
| --- | --- |
| Location:    | Nazaré, Portugal |
| Holding period:  | December 20, 2016 |
| Call: | Round 1 Starts at 8:10AM |
| | |
| --- | --- |
| Conditions: | 35-45′ surf (10 metre +) |
NAZARÉ, Portugal (Tuesday, December 20, 2016) – The World Surf League (WSL) Big Wave Tour (BWT) Nazaré Challenge has been called on today and will commence at 8:10am (local time) with the opening round in 35 to 45 foot-plus (10 metre +) waves.
"Heats will be 45-minutes long and we're already underway!," said Peter Mel, WSL BWT Commissioner. "It's the first time ever we have a paddling challenge here at Nazaré and it looks amazing. What's unique to this place here is that we're not looking for the biggest swells or the biggest storms because if you get it too big it's really one of those tow-in only waves. The barrier is just now being touched on those bigger paddling waves."
The Nazaré Challenge will feature 24 of the world's best big wave surfers and see BWT Champion Greg Long (USA) in the opening heat of Round 1 facing long-time Championship Tour competitor Damien Hobgood (USA) among other big names. Current rankings' leader Grant Baker (ZAF) will follow shortly in the second heat.
Competitors will take on the challenging left and right peaks of Nazaré for the first time in WSL Big Wave Tour history, and provide an unprecedented show for the huge crowds expected to flock to the iconic point and lighthouse.
The Nazaré Challenge will be webcast LIVE at WorldSurfLeague.com and on the WSL app.
The prize money on offer for the Nazaré Challenge is $100,000.
Nazaré Challenge Round 1 Match-Ups:
Heat 1: Greg Long (USA), Damien Hobgood (USA), Gabriel Villaran (PER), Aaron Gold (HAW), Kealii Mamala (HAW), Joao De Macedo (PRT)
Heat 2: Nic Lamb (USA), Grant Baker (ZAF), Koa Rothman (HAW), Pedro Calado (BRA), Alex Botelho (PRT), Andrew Cotton (GBR)
Heat 3: Billy Kemper (HAW), Cristian Merello (CHL), Trevor Carlson (HAW), Kai Lenny (HAW), Nic Von Rupp (PRT), Antonio Silva (PRT)
Heat 4: Carlos Burle (BRA), Ramon Navarro (CHL), Jamie Mitchell (AUS), Will Skudin (USA), Hugo Vau (PRT), Tom Butler (GBR)