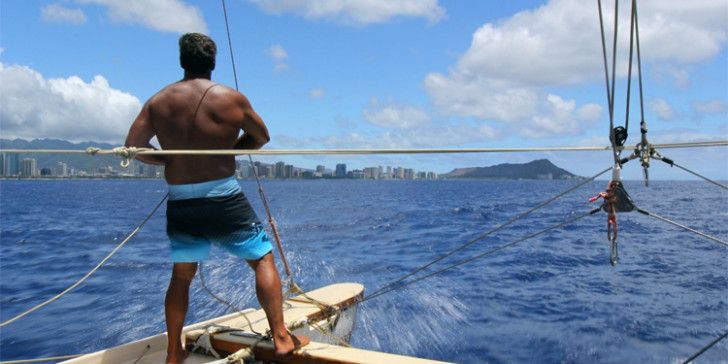 The ceremony took place at the Outrigger Canoe Club on Tuesday night the 23rd of August, the eve of what would be the 126th birthday of Duke Kahanamoku, the Father of modern surfing.
"The Hawaii Waterman Hall of Fame honors legends and celebrates those who help perpetuate the spirit and legacy of Duke Kahanamoku," notes Bill Pratt, co‐chair of the Hawaii Waterman Hall of Fame.
Bruce Blankenfeld (Photo: Hokule'a) is one of the most influential figures in canoe paddling and Polynesian Voyaging Society. He is a distinguished pwo navigator and captain of the Polynesian voyaging canoe Hokulea and was the president of Hui Nalu Canoe Club for more than 20 years.
Diane Stowell is an All-America swimmer at UCLA. She went on to claim more than 100 national and international titles in swimming. Stowell was also a dedicated volunteer in her community, serving on numerous charitable boards and serving as a counselor in the Hawaii prison system.
Paul Strauch, Jr. was one of the most influential figures in the world of surfing back in the 1960s. Founder of the "Cheater Five" and the first to use bottom turns in large waves, Strauch won numerous surfing titles and was a member of the prestigious Duke Kahanamoku Surf Team.
Sharron Weber is a two-time world surfing champion and member of the Surfing Walk of Fame. Weber is also known today as a leader in her community. Weber was recently bestowed with the prestigious Kauai Living Treasures Award, given for her lifetime commitment and kokua to her community.
The Hawaii Waterman Hall of Fame awards dinner recognizes these honorees, and raises money for Outrigger Duke Kahanamoku Foundation's (ODKF) college scholarships and athletic grants program.
Since its inception in 1986, ODKF has gifted more than 2.5 million dollars to scholar athletes and non‐profit organizations in Hawaii. Past Hawaii Waterman Hall of Fame inductees include Duke Kahanamoku, Eddie Aikau, Fred Hemmings, Mark Cunningham, Randy Rarick, Duane DeSoto and much more.